A list of over 20 famous and influential figures in the American Civil War (1861 – 1865) Includes politicians, generals, soldiers, spies and social activists.
Politicians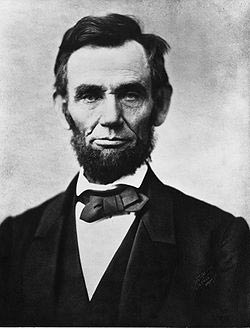 Abraham Lincoln (1809-1865) 16th President of the US from 1861-1865. Lincoln's election caused the south to secede from the US. Lincoln led Union forces to resist the split and preserve the Union. After a long war, Union troops prevailed. The Civil War enabled Abraham Lincoln to promise the end of slavery, and in 1865 a bill to outlaw slavery was passed. Lincoln was assassinated shortly after the end of the war.

Jefferson Davis (1808 –  1889) Davis was a senator from Mississippi. During the Civil War, he was the President of the Southern Confederate States who wished to retain slavery and break away from the Union. Davis was considered an ineffective leader, often getting lost in detail and lacking popular appeal. Despite some military successes, the Confederate States slowly lost ground economically, politically and on the battlefield. After the war, he was arrested for treason though he was never tried.

Andrew J. Johnson (1808 – 1875) A Senator from Tennessee, Johnson rejected the southern secession and remained with the Union cause. He was a Union military governor of Tennessee, and in 1864, Lincoln chose him as Vice-President. Johnson as a Southern Unionist was an ideal candidate for Lincoln who wanted to unite the country. After Lincoln's assassination, Johnson became President (1865 – 1869) He opposed the implementation of federal voting rights to Black Americans and enabled southern states to rejoin the Union while denying voting rights to former black slaves.

Salmon P. Chase (1808 – 1873) Chase was a leading opponent of slavery and supported voting rights for black Americans. He also helped to found the modern Republican party as a new party opposed to slavery. After losing the 1860 nomination, he served as US Secretary of the Treasury during the Civil War. In his tenure, Chase set up a national banking system to help fund the war effort. After the Civil War, Chase served as Chief Justice of the US.