A list of famous and influential composers throughout history, including the greatest composers Bach, Mozart, Beethoven and Franz Schubert.
Composers of the Medieval period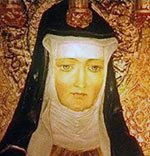 Hildegard von Bingen (1097 – 1179) German writer, mystic, composer and polymath. Hildegard wrote many liturgical songs, which pushed the boundaries of traditional Gregorian Chant. Her greatest work was Ordo Virtutum (Play of the Virtues) – a morality play.
Composers of the Renaissance period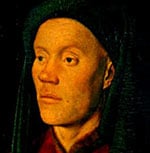 John Dunstable (1390 – 1453) English composer of polyphonic music. Dunstable had a big influence on the development of music through his creation of chords with triads, which became known as the Burgundian School: la countenance angloise or "the English countenance" e.g Quam pulchra es.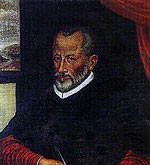 Giovanni Pierluigi da Palestrina (c. 1525 – 1594) Italian Renaissance composer of sacred music. Palestrina was a prolific composer of masses, motets, madrigals and offertories. An influential work was Missa Papae Marcelli (Pope Marcellus Mass)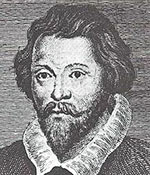 William Byrd (1543 – 1623) English composer of the Renaissance. He wrote in many of the forms current in England at the time, including various types of sacred and secular polyphony. He helped the development of Anglican church music, and also secular vocal music with his use of Tudor consort and keyboard fantasia.
Composers of the Baroque Period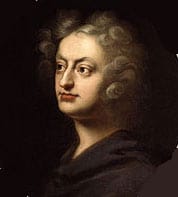 Henry Purcell (1659-1695) English composer of the Baroque period. Purcell wrote some early baroque classics such as Te Deum and Jubilate Deo. He also wrote for theatre and England's first opera.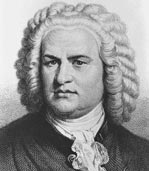 Bach (1685 – 1750) German composer of the Baroque period. One of the most prolific composers of all time. Bach brought Baroque music to its pinnacle of musical maturity. Famous works of Bach include: Brandenburg Concertos, the Mass in B minor, St Matthew's Passion, St John's Passion; Bach also wrote organ pieces and over 300 sacred cantatas.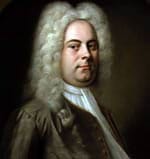 George Frederick Handel (1685 – 1759) German-born composer who spent a lot of time in England. He wrote operas and oratorios. Famous works include Messiah "Hallelujah Chorus", Music For The Royal Fireworks, Jephtha, Chaconne Variations in G  Coronation Anthems, Zadok the Priest.
Composers of the Classical Period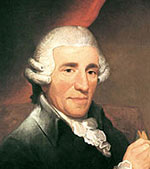 Joseph Haydn (1732 – 1809) Prolific Austrian composer of the classical period. He helped develop chamber music such as the piano trio and string quartet. Also wrote amongst first extensive symphonies and contributed to the development of sonata. Haydn's famous works include Cello Concerto No.1 in C major and Symphony No.94 in G major.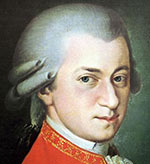 Mozart (1756 – 1791) Austrian classical composer. Composing from the age of 6, Mozart's repertoire varied from light waltzes and dances to the spiritual elevating choral music of Missa Brevis and Mass in C minor. He composed over 600 pieces, including symphonies, operas (e.g. Le Nozze di Figaro (The Marriage of Figaro), concertos (e.g. Piano Concerto no. 21) and chamber music.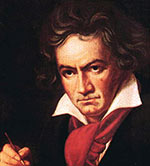 Beethoven (1770 – 1827) German composer and pianist of the classical and romantic period. Another prodigious genius. Beethoven's compositions invoked both tremendous power, and soulfulness; he had a lasting influence on western classical music. His greatest works include his Symphonies No.6 and his choral work Missa Solemnis.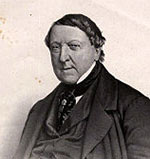 Gioachino Rossini (1792 – 1868) Italian composer. Rossini wrote 38 great operas, transforming the opera into its modern form. Great Italian works include The Barber of Seville (1816) and La Cenerentola. He also moved to Paris and wrote for the French theatre, including the operas Count Ory (1828) and William Tell (1829)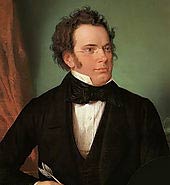 Franz Schubert (1797 – 1828) Austrian composer who bridged the classical and romantic periods. One of the few composers to evoke the spirit of Mozart, especially in his work – Symphony number 5. Schubert composed seven symphonies sacred music, operas and piano music. He was also a great composer of secular vocal songs. Famous works include his immortal version of Ave Maria D.839,  Piano Sonata in A major, D 959, Symphony in C major (Great C major, D 944), and Symphony No.5 in Bb major D.485.
Composers of the Romantic Period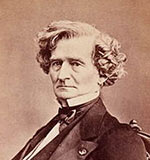 Hector Berlioz (1803 – 1869) French composer of the Romantic period. Berlioz composed a Requiem for 210 voices Grande Messe des morts (Requiem) and Symphonie fantastique. He made significant contributions to the romantic period and the development of the modern orchestra.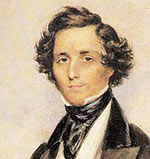 Felix Mendelssohn (1809 – 1847) German composer of the romantic period. Mendelssohn wrote symphonies, concerti, oratorios, piano music and chamber music. His famous works include Hebrides Overture (Fingal's Cave) (1830), Violin Concerto in E minor, Op. 64 (1844) and his piano compositions – 'Songs without words'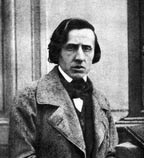 Frederick Chopin (1810 – 1849) Polish-born classical composer. Important compositions include piano collections, Études, Opp. 10 and 25, and the 24 Preludes, Op. 28. Chopin also wrote numerous polonaises, sonatas, waltzes, impromptus and nocturnes. Chopin is the most influential composer for the piano, becoming a staple for all piano students.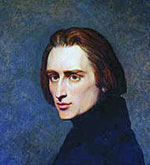 Franz Liszt (1811 – 1886) Hungarian composer and virtuoso pianist. Liszt was a prominent member of the "New German School" of musicians. Significant compositions include Piano Sonata in B minor (1853), "Liebesträume No. 3". He also transcribed for the piano great works by other composers, such as Schubert. Also developed new musical ideas, such as the symphonic poem.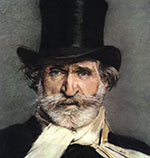 Giuseppe Verdi (1813 – 1901) Italian opera composer of the romantic period. Verdi is considered one of the greatest opera composer of all time. Famous works include "Va, Pensiero" (The Chorus of the Hebrew Slaves), the "Coro di zingari" (Anvil Chorus) from Il Trovatore and the "Grand March" from Aida. He also composed other works outside opera, such as Messa da Requiem (1874).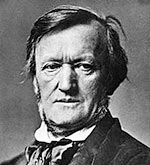 Richard Wagner (1813 – 1883) German composer who wrote epic operas such as the  Der Ring des Nibelungen (The Ring of the Nibelung). Beginning in the romantic tradition, Wagner developed his own complex and unique style of 'total art.'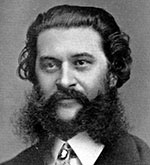 Johann Strauss Jr. (1825 – 1899) Austrian composer of popular light music. He wrote over 500 waltzes, polkas, quadrilles. Famous works include Blue Danube Waltz, Egyptian March, Persian March and Roses from the South Waltz.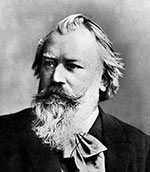 Johannes Brahms (1833 – 1897) German composer who spent most of his life in Austria. Although of the romantic period, Brahms used many of the principles of baroque and classical music in his compositions. Famous works include Violin Concerto in D major, Op 77, "Symphony No. 3 in F Major, Op. 90: Allegro con brio"  and Sinfonia n. 2 em ré major op. 73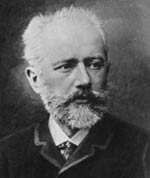 Pyotr Tchaikovsky (1840 – 1893) Russian composer. Tchaikovsky was the greatest composer of the Romantic period. Compositions include the 1812 Overture, Romeo and Juliet Overture, Piano Concerto No. 1 in B flat minor and ballet compositions – Swan Lake and Nutcracker.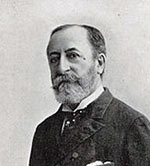 Camille Saint-Saëns (1835 – 1921) French composer, conductor and pianist of the Romantic era. Famous works include  Second Piano Concerto (1868), the First Cello Concerto (1872), Danse macabre (1874), the opera Samson and Delilah (1877), the Third Violin Concerto (1880) and The Carnival of the Animals (1887).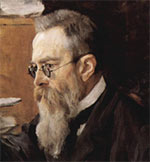 Nikolai Rimsky-Korsakov (1844 – 1908) Russian composer who infused a Russian tradition of folk music into a classical genre. He wrote five operas, symphonies and orchestral works. Famous works include Scheherazade, Capriccio Espagnol  (including The Flight of the Bumble Bee).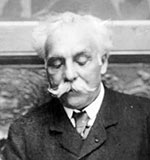 Gabriel Faure (1845 – 1924) French composer of the late Romantic period. Faure composed intimate Chamber music and many compositions for the piano. Famous works include choral masterpieces – Pavane and Requiem, and his Nocturnes for piano, such as Après un rêve" and "Clair de lune".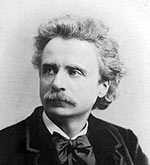 Edvard Greig (1843 – 1907) Norwegian composer. Greig was one of the most notable composers of the Romantic period. Famous works include – Piano Concerto in A minor Op. 16, Peer Gynt Suite No. 1, Op. 46, IV. (In the Hall of the Mountain King) and Peer Gynt Suite No.1

Late Nineteenth and Twentieth Century – neo-classical / Impressionist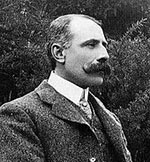 Edward Elgar (1857 – 1934) English composer who created many great orchestral works of the late classical repertoire. Famous works include Enigma Variations (1899) and Symphony No. 2 in E-flat, Op. 63 (1909–1911). Many works are important for British / English musical identity, e.g. Pomp and Circumstance, (including Land of Hope and Glory)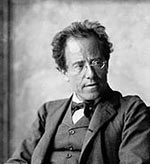 Gustav Mahler (1860 – 1911) (Austrian Empire / now the Czech Republic) Mahler was a composer of the late Romantic period. His symphonies (No. 5, No. 2 and No.1) have become some of the best known in the classical repertoire.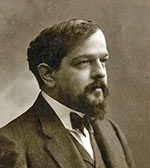 Claude Debussy (1862 – 1918) French composer of Impressionist music. Debussy used non-traditional scales and chromaticism to develop new strands of classical music. Famous works include Clair de Lune (from Suite Bergamasque), Reverie (1890) and Prélude à l'après-midi d'un faune.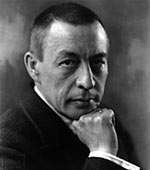 Sergei Rachmaninoff (1873 –1943) Russian composer. Rachmaninoff wrote five works for piano and orchestra. His most popular works included Concerto No. 2 in C minor, and Concerto No. 3 in D minor, Op. 30 (1909). Rachmaninoff was one of most daring composers, noted for his difficult pieces and extensive chords.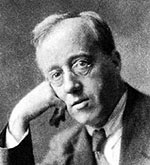 Gustav Holst (1874 – 1934) English composer best known for his orchestral works The Planets. Holst was influenced by Wagner, but later developed his own style inspired by both English folk music and Indian mythology / Vedas.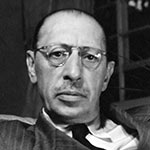 Igor Stravinsky (1882-1971) Russian born composer, who lived in both France and America. He was an influential composer for his development of neo-classical styles. He wrote ballets, such as The Firebird (1910), Petrushka (1911) and The Rite of Spring (1913)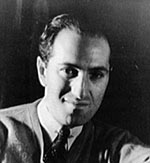 George Gershwin (1898 – 1938) American composer who combined both classical and popular music. Famous for his modern jazz classic Rhapsody in Blue (1924) and the opera "Porgy and Bess."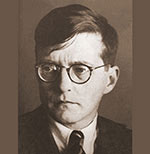 Dmitri Shostakovich (1906 – 1975) Russian composer who fused neo-classical and post-romantic styles. Famous works include Waltz, no.2, Symphony No. 15 and Piano Concerto No.2.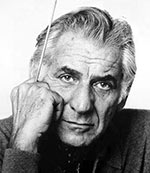 Leonard Bernstein. (1918 – 1990) American composer. The conductor of the New York Philharmonic orchestra. Bridged classical music and popular music. Wrote musicals: "On The Town," "Wonderful Town," and "West Side Story."
Citation: Pettinger, Tejvan. "Famous Composers", Oxford, UK. www.biographyonline.net Published 4 March. 2015. Last updated 8 February 2018.
Meet the Famous Composers
Meet the Famous Composers Bk 1: Short Sessions on the Lives, Times and Music of the Great Composers, Book & CD (Learning Link) at Amazon
Related pages

Musicians – Famous musicians from classical music to popular music. Including Mozart, Beethoven, Bach and John Lennon.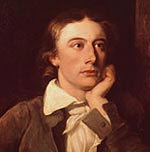 People of the Romantic Era (1790s to 1850s) Romantic poets (Blake, Keats, Coleridge, Wordsworth and Shelley) and Romantic artists, composers and writers.

100 most influential people – A list of 100 most influential people as chosen by Michael H. Hart, from his book 100 most influential people in the world. Includes; Muhammad, Jesus Christ, Lord Buddha, Confucius, St Paul and Johann Gutenberg.