William Harvey (1578 – 1657) was an English Physician who made important discoveries in the circulation of blood within the human body.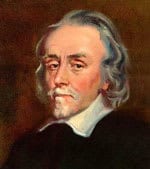 Harvey was born 1 April 1578 in Folkestone, Kent. His father was an influential local figure, serving as mayor of Folkestone in 1600.
He studied at King's School Cambridge, before travelling to Cambridge where he studied at Gonville and Caius College. After matriculating with a BA, he travelled to Europe and began studying at the University of Padua in Italy. In Padua, Harvey was deemed to be an excellent student. He studied under Hieronymus Fabricius who was a leading authority on anatomy and had created the first public theatre for anatomical dissections. At the same time that Harvey studied, Galileo was a tutor, and the two may have met. Harvey was influenced by the Scientific Renaissance ideas of Galileo and others.
Returning from Italy, he obtained a degree of medicine from the University of Cambridge, before establishing himself in London as a member of the Royal College of Physicians. In 1604 he married Elizabeth Browne, daughter of Elizabeth I's physician and this gave Harvey greater social prestige. The couple had no children.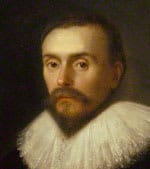 Harvey was given a senior position at St Bartholomew's Hospital, London where he served for many years. Harvey became a prominent physician appointment to King James I in 1618. In addition to his duties as a physician, he was given a post to lecture on anatomy with the guidance to improve knowledge of the subject.
Through his knowledge gained at University and subsequent anatomical dissections, Harvey observed that veins had one-way valves. This helped him to develop a theory of blood circulating through the body – with the heart as the main muscle.
"The heart of animals is the foundation of their life, the sovereign of everything within them, the sun of their microcosm, that upon which all growth depends, from which all power proceeds."
Harvey, William. De Motu Cordis et Sanguinis (1628)
Harvey had already formulated this idea by 1616, though it took 20 years for him to publish Although we take this idea of blood circulation for granted, at the time it was a revolutionary idea and as Harvey expected – it met with significant resistance from members of his profession.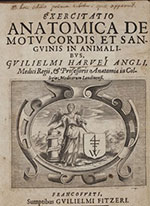 His theories and observations were eventually published in Frankfurt – in what proved to be his greatest work De Motu Cordis (1628) (On the circulation of the blood) This work connected the movements of the heart to the circulation of blood in the body. In particular, he showed how the pulsation of blood in the arteries is related to the contraction of the left and right ventricle in the heart.
"I profess both to learn and to teach anatomy, not from books but from dissections; not from positions of philosophers but from the fabric of nature."
Harvey, William. De Motu Cordis et Sanguinis (1628)
Harvey attempted to proved the circulation of blood through placing a ligature on the arms to show how it changed the colour of the arm. Without the powerful microscopes of later years, Harvey work was partly done through inference rather than direct observation. However, where possible he tried to prove ideas through experiment and observation and not metaphysical reason. His work was a significant example of the new approach of scientific methodology. (Something also being pioneered by the same time as Francis Bacon. Bacon was a contemporary of Harvey thought they were not close.)
A later work of significance was (On Animal Generation), published in 1651. This was never fully finished, but it describes the theory that all life comes from sperm and an egg and dismissed the idea of spontaneous generation which existed at the time.
As physician to the king, Harvey was also called to pass judgement on trials for witchcraft. At the time, there was a great moral panic about the practise of witchcraft and several women were arrested on charges of witchcraft with some condemned to death. In 1634, Harvey was a key witness in acquitting several women accused of witchcraft in Lancashire. He used scientific reason to investigate the cases, and this was influential in reducing the moral panic and fervour over witchcraft.
After the death of James I, Harvey also became the physician to King Charles I. Harvey often performed dissections on animal carcasses from the King's hunting trips. During the Civil War, Harvey served in the King's army treating the wounded from The Battle of Edge Hill. With the King, he moved to Oxford, where he was able to devote more time to his medical pursuits. In 1645, he was appointed warden of Merton College. However, after the surrender of Royalist forces in 1645, Harvey retired from public life, returning to London and spending his time in reading literature. Harvey admitted that he was reluctant to try keep pushing new and unpopular ideas.
Harvey was known as a meticulous and good humoured person. He became deeply absorbed in his work and could suffer from insomnia due to the deep thought he became involved in. He loved to walk in the country and observe the behaviour of birds. He was an Anglican, though he expressed few views about religion
He died in Roehampton, 3 June 1957 from a probable cerebral haemorrhage.
Citation: Pettinger, Tejvan. "Biography of William Harvey", Oxford, UK.  www.biographyonline.net, 8th September 2018.
William Harvey – A life in circulation – Thomas Wright at Amazon
Related pages


100 most influential people – A list of 100 most influential people as chosen by Michael H. Hart, from his book 100 most influential people in the world. Includes; Muhammad, Jesus Christ, Lord Buddha, Confucius, St Paul and Johann Gutenberg.

Famous Scientists – Famous scientists from Aristotle and Archimedes to Albert Einstein and Charles Darwin. Including mathematicians, biologists, physicists and chemists.
Famous

English people – Famous English men and women. From Anne Boleyn and Queen Elizabeth I to Henry VIII and Winston Churchill. Includes the great poets – William Shakespeare, William Blake and William Wordsworth.