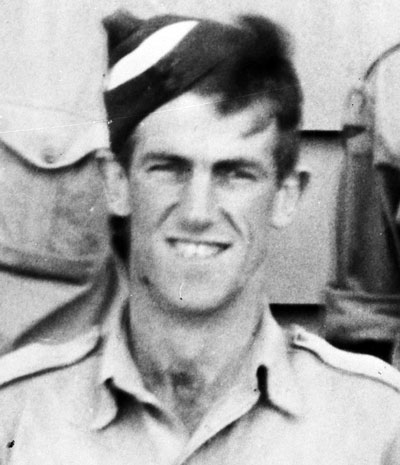 Edmund Hillary was the first person to ascend to the top of Mount Everest. With Sherpa Tenzing Norgay, he reached the summit on 29 May 1953 creating a notable milestone in mountaineering. After his successful ascent of Everest, he continued to climb mountains in the Himalayas and also reached both the south and north pole, becoming the first person to complete the triple of Everest and the two poles. A modest and humble person, he spent considerable time with his charitable Himalayan Trust – which raised funds for the building of schools and hospitals in Nepal. He passed away in Auckland, New Zealand in 2008.
"I am a lucky man. I have had a dream and it has come true, and that is not a thing that happens often to men." – Sir Edmund Hillary (NYT)
Early life
Edmund Hillary was born in Auckland on 20 July 1919. His father had served in Gallipoli during the first world war and was discharged as medically unfit in 1916. His grandparents emigrated to New Zealand from Yorkshire in the nineteenth century.
Hillary went to primary school in Tuakau, before moving to Auckland Grammar school aged 11. His school career was mostly unremarkable, gaining average grades and displaying no particular aptitude for sport. He had a long commute to school and would sometimes walk without shoes or socks to toughen his feet up. He would also run part of the way and jump on the train at the last moment. However, on arriving at grammar school in the big city, he became self-conscious about his scrawny build. His childhood was dominated by the strict discipline of his father, who would be very demanding of Hillary and he was often punished. By his teenage years, the father-son relationship very prickly, and Hillary resented his father's influence.
Love of climbing
When he was 16, he went on a school trip to Mount Ruapehu and this cultivated a love of trekking in mountains. He describes the memorable moment when he first gained a glimpse of the mountain.
"As our bus carried us steadily up towards the Chateau perched high on the mountainside, its powerful headlights sparked into life a fairyland of glistening snow and stunted pines and frozen streams. I was in a strange and exciting new world. "(1)
After this experience, he allowed his schoolwork to slip and spent more time walking and climbing in New Zealand's countryside. At this time, he also put on a late growth spurt which saw him gain physical height.
After dropping out of Auckland University College, he gained work as a beekeeper – taking over a business started by his father. The work of a beekeeper mostly occurred during summer, so in winter he had more time to go climbing. He met new friends and in 1939, completed the summing of Mount Olivier in the NZ Southern Alps. Hillary loved both the new found freedom and also the physical challenge of pushing himself to the limits. He remarked
"I knew I had more physical energy than most and revelled in driving myself to the utmost."
Also, when later asked what drew him to climb mountains he replied
"When you go to the mountains you see them and you admire them. In a sense they give you a challenge, and you try to express that challenge by climbing them," (2)
Another important factor for Hillary was the camaraderie that developed amongst climbers and how on an expedition it is necessary to consider the well-being of others in the party. He said:
"But there is something about building up a comradeship — that I still believe is the greatest of all feats — and sharing in the dangers with your company of peers. It's the intense effort, the giving of everything you've got. It's really a very pleasant sensation." (NYT)
Religious beliefs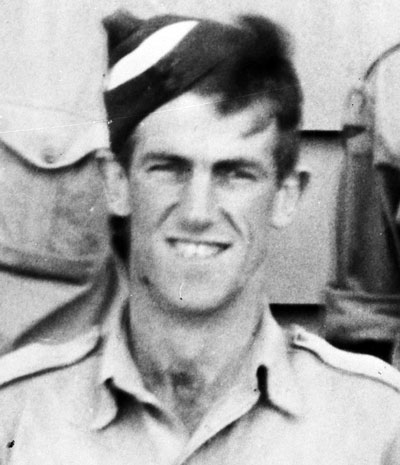 At the outbreak of World War II, he applied to join the NZ airforce but withdrew his application because he felt conflicted between his desire to serve his country and his pacifist beliefs. Recently, his family had become involved with a philosophy group called "Radiant Living" led by Herbert Sutcliffe. Sutcliffe taught a philosophy of liberal Christianity, combined with positive psychology. He advocated physical fitness, healthy eating and encouraged people to exceed their limitations. Hillary joined the organisation (with his family in 1938) and became a devoted follower. In 1941, he passed a test and became a teacher of the movement. Hillary gave a lecture entitled "Inferiority Cause and Cure". He also gave an extempore lecture called "Intuition and Inspiration" which finished with the words.
"Nothing can prevent us from reaching our desired goal"
Hillary said he found the teachings helpful – in particular, it helped him gain confidence, but eventually, he drifted away
"I gained quite a lot from Radiant Living – I learned to speak confidently from the platform and even started thinking more freely on important topics. " From Hillary, E. View from the Summit, Doubleday, London, 1999
He later said that he did not have any particular religious beliefs, but was interested in all religions. He was particularly interested in Tibetan Buddhism and Hinduism. Hillary liked the teachings that said a person must follow his own path to cultivate his own destiny.
"I have no particular religious beliefs at all, but I am interested in all religions… I think that we have to learn to choose our own path, to make our own way, and in many ways, to overcome our own problems."
Writing his autobiography many years later, Hillary said that he hoped his life would show
"a constant effort to illustrate how a very mediocre person with very mediocre talents which I have can create quite a lot if they really drive themselves."
Second World War
In 1943, with the Japanese dominant in the Pacific and conscription looming, Hillary put his pacifist beliefs to one side and joined the New Zealand airforce. He served as a navigator in the Pacific region. In 1945, he was badly burnt in an accident near Fiji and had to swim 500 m to the shore and then walk another kilometre to find help. By the time he arrived, he was critically ill and doctors feared for his survival.
After the second world war, he turned more of his attention towards mountain climbing. He climbed many peaks in the Southern Alps and gained technical advice from his mentor Harry Ayres. Ayres impressed on Hillary the importance of safe but forceful climbing – always seeking to progress but from a basis of safety. Hillary's physical strength and mental clarity marked him out as a desirable person to have on expeditions and in 1951, was invited to join a British expedition led by George Lowe to the Himalayas. On this expedition, he gained his first experience with Mount Everest as they surveyed the lower slopes and mountain approaches.
Climbing Mount Everest
As the world's highest peak, summiting Mount Everest had captured the imagination of climbers since the nineteenth century. There had been numerous attempts and many had lost their lives in attempting to scale this peak. Before Hillary and Tenzing achieved the feat, there was considerable uncertainty over whether it was possible. Hillary himself said he didn't know whether a human could survive climbing so high. In 1953, attempts were severely limited by Chinese controlled Tibet. But in 1953, Hillary was chosen to join the British Joint Himalayan Committee and after a selection process, Hillary was chosen for the final summit push along with Tenzing Norgay – local sherpa whom Hillary got along well with. The expedition set up a base camp in March 1953. The final camp was at 7,890m, and from this last staging post, on 28 May just Hillary and Tenzing went for the final 1,000m of ascent. They carried heavy packs and oxygen masks to deal with the altitude. The hardest section was a 12 m rock face. Hillary had to chop steps with an ice pick and then slowly squeezed and wriggled up. Writing an account of the climb, Hillary remarked
"My solar plexus was tight with fear as I ploughed on. Halfway up I stopped, exhausted. I could look down 10,000 feet between my legs, and I have never felt more insecure. Anxiously I waved Tenzing up to me." High Adventure : The True Story of the First Ascent of Everest (1955)
They reached the summit at 11.30 am on 29 May. On reaching the summit, Hillary recalls he first felt relief that – exhausted from their efforts – they had made it to the top before oxygen supplies ran too low. He later recalled the feeling of reaching the summit.
"I felt a quiet glow of satisfaction spread through my body — a satisfaction less vociferous but more powerful than I had ever felt on a mountain top before. I turned and looked at Tenzing. Even beneath his oxygen mask and the icicles hanging form his hair, I could see his infectious grin of sheer delight. I held out my hand, and in silence we shook in good Anglo-Saxon fashion. But this was not enough for Tenzing, and impulsively he threw his arm around my shoulders and we thumped each other on the back in mutual congratulations." – Edmund Hillary, Adventure's End"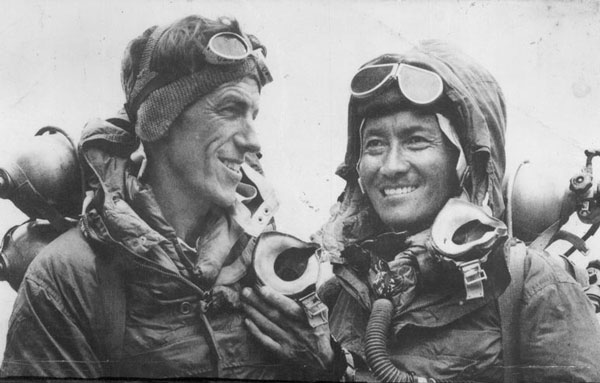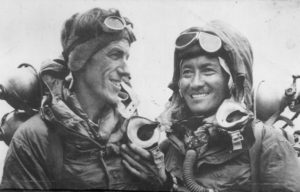 Then spent 15 minutes on top of the mountain taking photos. Hillary left a cross on the summit and Tenzing left some chocolates. Then they began an equally difficult descent, as snow had covered their former tracks.
After a few days, they were able to reach Kathmandu – news had already spread fast and it became a major news event. The news of the event was released to the public on the date of Queen Elizabeth II's coronation – a huge televised event. The coincidence of a British backed team (with NZ and Nepalese Sherpa) was seen as a 'present for the queen.'
After climbing Everest, Hillary had to cope with an unexpected adulation. Climbing Everest was an achievement that everyone heard about and it seemed very significant that man had now climbed the highest peak on earth. He was immediately made a knight commander of the British Empire. The modest Hillary was perturbed by this honour as he did not care for personal honours, but he felt honour bound to accept.
"I had never approved of titles and couldn't imagine myself possessing one. I had a vivid picture of walking down the main street of Papakura dressed in my torn and dirty overalls and thought I'd have to get a new pair." (3)
He was also one of the few people to be given the "Order of New Zealand" and the Order of Gorkha Dakshina Baha, 1st Class from the kingdom of Nepal. One positive outcome of the huge media interest was the sponsorship Hillary gained from companies such as Sears Roebuck. This enabled him to finance several climbing expeditions and also his charitable projects. Over the next few years, he returned repeatedly to the Himalayas to climb more mountains in the range. In 1960-61, Hillary organised an expedition where Griffith Pugh – who was the first climber to climb Everest without oxygen. Pugh acclimatised at 6,000m for six months. On this expedition, Hillary also investigated a local legend of a great "Yeti" that bestrode the mountain, Hillary found evidence it was just ordinary animals like the goat antelope.
In 1958, he was part of the NZ team which went to the south pole. He was the first to reach the south pole by vehicle. He also went to the north pole in a party which included Neil Armstrong and Steve Fossett, the first man to travel the world in a hot air balloon.
Personal life
Shortly after climbing Everest, he married Louise Mary Rose. Hillary was nervous about proposing because of his shyness and the fact Louise was 11 years younger; Hillary asked Louise's mother to ask on his behalf. He later stated that marrying Louise was the best decision of his life "the most sensible action I have ever taken" They were happily married and had three children. Louise was more extrovert and helped Hillary deal with the social expectations after the expedition. However, in 1975, Louise and his daughter Belinda were in an aeroplane near Kathmandu, when it crashed and both tragically lost their lives. The death of his wife and daughter was a major blow to Hillary and he sunk into a deep depression. He was devastated to lose someone he was so close to. Fourteen years later he remarried June Mulgrew.
Charitable foundation
In 1960, he founded a Himalayan Trust to offer assistance to the Sherpa people of Nepal. Hillary was always grateful for the friendship and warmth of the Sherpa people and wished to help improve their material infrastructure. The foundation raised funds to help build schools, hospitals and landing strips – especially in remote areas of Nepal. Hillary gave much of his own money and also took part in the actual construction and development projects. He was also the patron for the Sir Edmund Hillary Outdoor Pursuits Centre, which encouraged young New Zealanders to enjoy and respect NZ's outdoors. It was a way to repay the memorable experience of his first school visit to Mt Ruapehu, at the age of 16.
Recognition in New Zealand
Within New Zealand, Hillary had one of the highest profiles of any people. He was warmly regarded by the population and his life was held in high regard. He avoided any personal scandal and he exuded a sense of high ideals and achievement. In 1975, he made a rare foray into politics when he supported the Labour Party and the candidacy of Bill Rowling. In 1985, he was appointed New Zealand High Commissioner to India, Bangladesh and ambassador to Nepal.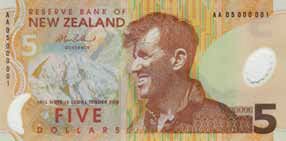 In 2012, he was asked to put his image on a banknote – he agreed on the condition that a New Zealand mountain was used as background and not Everest. He also wryly joked to a friend "does this mean I have to behave myself now?"
Death
He spent his last years walking near his house on Remuera Road. He didn't want to be an icon and when asked about the prospect of death he said: "I don't spend a lot of time thinking about dying, but I like to think that I've – if it did occur – that I would die peacefully and not make too much of a fuss about it." (4) He died on 11 January 2008 from heart failure. His ashes were scattered in Auckland's Hauraki Gulf and some were sent to a Nepalese monastery.
Legacy
A survey in 1996 found that Hillary was by far and away the most admired person from New Zealand.
Citation: Pettinger, Tejvan. "Biography of Sir Edmund Hillary", Oxford, UK. www.biographyonline.net, published 9 April 2020.
Read more about Sir Edmund Hillary
High Adventure – Edmund Hillary
High Adventure – Edmund Hillary at Amazon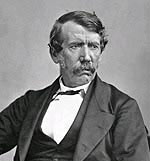 Famous Adventurers – Famous adventurers and explorers, including Christopher Colombus, Marco Polo, Roald Amundsen and Neil Armstrong.
Famous firsts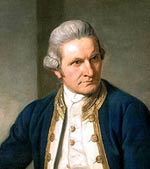 – Notable achievements and experiences which were achieved for the first time.

Famous people from New Zealand – a list of 100 most famous people from New Zealand, including politicians, sportspeople, artists, writers, military leaders and actors.