"Don't look for big things, just do small things with great love….The smaller the thing, the greater must be our love."
– Mother Teresa: Come Be My Light (2007)
 Mother Teresa (1910–1997) was a Roman Catholic nun who devoted her life to serving the poor and destitute around the world.
She was born Agnes Gonxha Bojaxhiu on 26 August 1910.
In Albanian Gonxhe means "rosebud" or "little flower".
She considered 27 August to be her real birthday as it was the day she was baptized.
She was born in the town Uskup (now Skopje). Her family were Kosovan-Albanians. In 1910 Skopje was part of the Ottoman Empire. It is now in the Republic of Macedonia.
Her mother was known for her charity to the poor, often inviting the poor to share food with the family. As she counselled her daughter. "My child, never eat a single mouthful unless you are sharing it with others,'
In 1928, At the age of 18 Teresa, left home with the aim of becoming a Catholic missionary. She went first to the Loretto sisters in Ireland. She never saw her family again.
In 1929, she travelled to India, where she learnt Bengali. She arrived with the equivalent of 5 Rupees.
Mother Teresa learned and spoke five languages fluently. She spoke English, Albanian, Serbo-Croat, Bengali, and Hindi
In 1931 she made the decision to be a nun. She chose the name Teresa to honour St Therese of Lisieux and St Teresa of Avila.
She taught History and Geography at St Mary's High School in Kolkata for 15 years and became its headmistress. Many of first to join her in her missionary work were former students.
Distressed by the sight of poverty and suffering, in 1946, she felt an inner call to serve the poor.
"I heard the call to give up all and follow Christ into the slums to serve Him among the poorest of the poor." – Mother Teresa.
Mother Teresa gave up her traditional nun habit and adopted an Indian Sari – white with a blue edge.
The symbolism of her sari was that it was practical and in harmony with Indian culture. The colour blue is associated with the Mother Mary. White is associated with truth and purity. The three blue bands represent the three main vows of the order.
In Calcutta, Mother Teresa began an open-air school and established a home for the destitute. She persuaded the local city government to donate a dilapidated building she could use.
Over the next two decades, she established a leper colony, an orphanage, a nursing home, a family clinic and a string of mobile health clinics
In 1971, she opened her first house of charity in the west – in New York, US.
Mother Teresa often commented that the spiritual poverty of the west was harder to remove than the material poverty of the east.
"The hunger for love is much more difficult to remove than the hunger for bread." – Mother Teresa (1989)
She eventually suffered a heart attack and had a pacemaker surgically fitted to her chest. Even after this devastating blow to her health, she continued her work for another eight years.
In 1958, the trademark white and blue saris were specially made in Titagarh by the Gandhiji Prem Niwas for leprosy patients.
In 1950 Teresa founded the Missionaries of Charity. A religious order within the Roman Catholic church. It has over 4,000 nuns who take vows of poverty, chastity, obedience and service to the poor.  Its mission statement was to serve.
"The hungry, the naked, the homeless, the crippled, the blind, the lepers, all those people who feel unwanted, unloved throughout society, people that have become a burden to the society and are shunned by everyone."
The life and work of Mother Teresa were brought to the wider attention of the world through a film (1969) and a book (1972), Something Beautiful for God, by Malcolm Muggeridge.
Teresa did not seek to convert those she encountered to Catholicism. She wished to bring people closer to God, however they understood God.
"'Yes, I convert. I convert you to be a better Hindu, or a better Muslim, or a better Protestant, or a better Catholic, or a better Parsee, or a better Sikh, or a better Buddhist. And after you have found God, it is for you to do what God wants you to do."
Teresa saw herself as a spokesperson for the Vatican; she upheld the conservative teachings of the Catholic church on contraception, abortion and opposition to the death penalty.
Despite her apparent faith in dedicating her life to the poor, she also experienced periods of spiritual dryness.
"Where is my Faith—even deep down right in there is nothing, but emptiness & darkness—My God—how painful is this unknown pain." Mother Teresa 'Come be my Light'
Prizes and honours
In 1979, Mother Teresa was awarded the Nobel Peace Prize.
She turned down the Nobel honour banquet and requested the $192,000  prize money to be used to help the poor in India.
After receiving the prize, she was asked: "What can we do to promote world peace?" Mother Teresa answered, "Go home and love your family."
In 1985, President Ronald Reagan awarded her the United States Presidential Medal of Freedom.
In 1972 she was awarded the Indian 'Nehru Prize' –"for the promotion of international peace and understanding".
Mother Teresa, died of heart failure on September 5, 1997 age 87 – just five days after Princess Diana. Whom she had recently met.
In 2016, Mother Teresa was declared a saint by Pope Francis.
Citation: Pettinger, Tejvan. "Facts about Mother Teresa", Oxford, UK. www.biographyonline.net, 18th Jan 2019.
Mother Teresa Biography
Mother Teresa Biography at Amazon
No Greater Love – Mother Teresa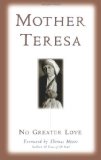 No Greater Love by Mother Teresa
at Amazon
Related Pages

Women who changed the world – Famous women who changed the world. Features female Prime Ministers, scientists, cultural figures, authors and royalty. Includes Princess Diana, Marie Curie, Queen Victoria, and Catherine the Great.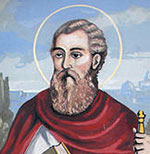 Christians – Famous Christians from Jesus Christ and the early Apostles to Catholic Popes and saints. Includes St Francis of Assisi, St Catherine of Sienna and St Teresa.

Spiritual figures – Famous saints, mystics and religious figures. Including Jesus Christ, The Buddha, Lord Krishna.