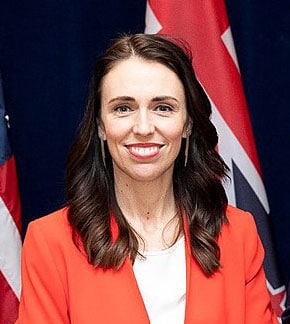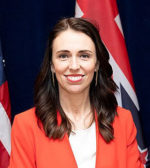 Jacinda Kate Laurell Ardern was born 26 July 1980 and from 26 Oct 2017, she became the youngest female Prime Minister of New Zealand. She is the third female prime minister New Zealand has had.
New Zealand was the first democracy to grant women the vote after a large petition was gathered in 1893. Her great, great grandmother Kate Wiltshire signed the 1893 petition demanding votes for women. (NZ history) Kate Wiltshire was an excellent long-distance walker who completed walk-races and claimed the title 'The Greatest Female Pedestrienne in the World'
Childhood
Jacinda Ardern grew up on an apple orchard in Murupara. She learned to drive a tractor before she could drive a car.
She was raised a Mormon in The Church of Jesus Christ of Latter-day Saints. She left the church in her mid 20s, as she felt their teachings were incompatible with her own beliefs, especially those on gay rights.
Her first job was at a fish and chip shop in Morrinsville called the 'Golden Kiwi'. She recounts one experience where a contemporary from school robbed the till when she was out the back but when she met him at a party she got his telephone number and gave it to the police.
Early jobs
In 1999, she left her job at the fish and chip shop to work full time for the New Zealand Labour Party in the general election.
One job she held for a short while was working as a DJ at Auckland's Laneway Festival.
Aged 17 she spent six months volunteering in a soup kitchen in New York, where she served food to the homeless.
She served as policy adviser for the UK government in 2008, even though she was critical of UK Prime Minister Tony Blair due to his decision to invade Iraq.
President of the International Union of Socialist Youth
In 2008, the year of the financial crisis she was elected President of the International Union of Socialist Youth, and later in the year, was elected for the first time to the New Zealand parliament.
Giving birth as Prime Minister
On 21 June 2018 Ardern became only the second elected leader in the world (after Pakistan's Benazir Bhutto) to give birth while in office. Bhutto was dismissed from office seven months later.
First baby
For the first six months, she continued to breast-feed her new child, Neve and took her with her partner on official business. In 2018, she became the first leader to bring their child to a United Nations meeting. Three-month-old Neve sat in as Ardern gave a speech to the Nelson Mandela Peace Summit.
Colbert
In 2019, she met Steve Colbert for a special segment on his tv show. Ardern met Colbert at the airport and made several interesting revelations, such as how she applied to be an extra in "Lord of the Rings" but was not accepted. Jacinda also talked about how she passed gun control after the Christchurch massacre.
Frugality
Ardern is keen to promote frugality in government. She encourages ministers to carpool to events and has announced pay freezes for MPs. In 2020, she announced a 20% cut in pay for herself and cabinet ministers in response to the Covid-19 economic crisis.
Wellbeing budget
As Prime Minister, she has sought to divert resources to those areas which do most to increase well being. This has included funds to reduce child poverty, funds for mental health and funds to combat domestic violence.
Audiences with children
In a departure from previous approaches, Ardern has sought to deal with difficult issues in audiences specifically with young children. For example in 2020, explaining the impact on Covid lockdowns on Easter egg hunts and the tooth fairy.
Early response to Covid
In 2020, Ardern's government was one of the first to issue lockdown orders. Ardern locked country down saying "We go hard, we go early." in contrast to other countries who sought to 'flatten the curve' she sought to 'eliminate the virus' completely. Death rates in the early months of 2020 were significantly lower than in other countries.
Global warming
In 2019, she made a keynote speech to the United Nations on Global Warming stating that "If we are to overcome the extraordinary threat that climate change poses we all must start with an honest appraisal of our current situation." In 2019, she helped pass through NZ parliament a  zero-carbon bill which commits the country to new climate change laws and to reduce its carbon emissions to zero by 2050
Maori
In 2018, Ardern travelled to Waitangi for the annual Waitangi Day. A key part of NZ history were early settlers signed an agreement with Maori chiefs. She stayed five days and was the first female leader to be invited to speak at the marae (meeting ground). She fave the first 49 seconds of her speech in te reo, the Māori language.
Random facts
She doesn't drink coffee.
She is distant cousins of Shane Ardern a National MP and on the opposite side of the political spectrum.
She had a ginger-and-white polydactyl cat named Paddles, who became the nation's First Cat until the cat was run over and killed by a car.
Her babies name Neve Te Aroha. Neve is derived from the Irish Niamh (meaning bright) Aroha is a Maori word for love and Te Aroha is a mountain near Ardern's home town.
Her partner is Clarke Timothy Gayford who is a tv presenter and has presented a tv show 'Fish of the Day'
She has called capitalism a 'blatant failure' for the levels of homelessness.
Citation: Pettinger, Tejvan. "Facts about Jacinda Ardern", Oxford, UK. www.biographyonline.net, published 16 April 2020.
Jacinda Ardern: The Story Behind an Extraordinary Leader
Jacinda Ardern: The Story Behind an Extraordinary Leader at Amazon

Jacinda Ardern – Biography, quotes

Women who changed the world – Famous women who changed the world. Features female Prime Ministers, scientists, cultural figures, authors and royalty. Includes; Cleopatra, Princess Diana, Marie Curie, Queen Victoria, and Joan of Arc.

Female biographies – A list of 100 famous women from Sappho and Cleopatra to Marilyn Monroe and Angela Merkel.