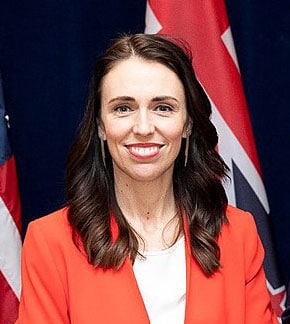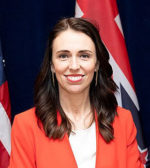 Jacinda Ardern is the current Prime Minister of New Zealand. She became the youngest female head of state, assuming office on 26 October 2017.  She is a member of the NZ Labour Party and describes herself as a social democrat and progressive. She has been praised for her handling of the 2017 Christchurch Mosque shootings and also the NZ response to Covid-19, which saw an early lockdown and limited spread compared to other western economies. he has also sought to raise global awareness for issues such as the environment and human rights. Her leadership style has gained her an international profile much greater than usual for NZ leaders.
Early life
Ardern was born in Hamilton, New Zealand on 26 July 1980. She studied at Morrinsville College and later the University of Waikato, where she studied politics and public relations.
As a teenager, she described herself as an 'acceptable nerd'. "I was novel, but I never felt ostracised." (1) Influenced by her upbringing, she had a strong sense of social conscience. She describes one incident from her teenage years. She gained her first job in a Fish and Chip Shop at Morrinsville's Golden Kiwi. Whilst serving customers – a boy she recognised – stole money from the till and escaped. She phoned the police and gave a description of the thief. She later went to the same party he was at to get his phone number and give it to the police. She was aware it might not be good for her social life, but says, she was aware of how the business owners would be affected by theft.
She became involved in politics from a young age, joining the Labour Party aged 17 and becoming a prominent member of the Young Labour section. After university, she spent six months in New York, volunteering in a soup kitchen and contributing to women's rights campaigning. When she ran out of money, she applied for a job in the UK Cabinet Office by phone and she was accepted. This meant working as a policy adviser for Tony Blair's Labour government (though she never met him directly). She admitted to feeling a dilemma about working for Tony Blair because she criticised his decision to invade Iraq with George Bush. However, she took the pragmatic view that it was a good job, she needed the money and it proved a good opportunity to help small business.
In 2008, she was elected President of the International Union of Socialist Youth and spent time in countries around the world. In 2008, she was also elected for the first time to the New Zealand Parliament. A rising star in the Labour Party, she was placed 20th on the party's list and secured a place in parliament. Labour lost the election, but she was given a place on the opposition front benches as a spokesperson for Youth Affairs. Since 2008, she has served as Labour MP, through either the electorate list system and from a 2017 by-election – for the seat of Mount Albert.
Leader of the opposition
Despite winning the 2017 by-election for Mount Albert with a landslide 77%, the Labour Party languished in the polls, gaining just 24% of the vote under Andrew Little. Little decided to resign, feeling only a new person could revamp the parties fortune.
On becoming leader of the opposition, she characterised her approach as 'relentless positivity.' She also focused on issues such as reducing child poverty, improving the environment and redistributive tax policies. Her youthful looks and sense of dynamism led to a growth in support, and international coverage of the new leader.
Prime Minister of New Zealand
In the 2017 General Election, the Labour Party received 36% of the vote and gained 14 seats. Even though this was short of the National Party on 46%, she was elected Prime Minister through a coalition with the Greens and the New Zealand First Party. The New Zealand First Leader Winston Peters became Deputy Prime Minister.
Ardern describes herself as a republican and has suggested a national debate on removing the monarch of New Zealand as its head of state. She is progressive on social issues, voting to decriminalise abortion. She supported same-sex marriage and in 2018 was the first New Zealand prime minister to attend a Pride Parade celebrating LGBTQ. She is committed to New Zealand's nuclear-free policy and believes much more needs to be done on protecting the environment. She has supported reviewing the laws around the drug and will consider decriminalising marijuana. She has described capitalism as a failure, especially for the record levels of homelessness in NZ, despite years of economic growth. Asked directly if capitalism has failed low-income Kiwis, Ms Ardern replied:
"If you have hundreds of thousands of children living in homes without enough to survive, that's a blatant failure. What else could you describe it as?" (2)
Asked if she was a radical, she stated that she prefers gradual change, but does believe in the fundamental principles of justice and equality
"Some people have asked me if I'm a radical. My answer to that is very simple. I'm from Morrinsville. Where I come from a radical is someone who chooses to drive a Toyota rather than a Holden or a Ford. I am, though, a Social Democrat. I believe strongly in the values of human rights, social justice, equality democracy and the role of communities." (3)
Despite being a self-styled progressive, she has also expressed the desire to limit immigration due to the fact New Zealand infrastructure has struggled to cope with the influx of people leading to a surge in house prices and homelessness.
Ardern and Donald Trump
Ardern has been critical of Donald Trump and his policies, though since becoming Prime Minister, like many leaders – has sought to avoid a diplomatic incident. On 21 January 2017, she took part in the Global Women's March – a worldwide protest against newly elected President Donald Trump. Since becoming Prime Minister, she criticised Trump's recognition of Jerusalem as capital of Israel. However, she met Trump on 23 September 2019 and says they had a good conversation, where Trump expressed interest in NZ's gun buyback policy – introduced since the Christchurch shooting.
Foreign Policy
In an address to the United Nations General Assembly, she expressed support for the UN's multilateralism and emphasised the importance of countries working together to tackle issues such as climate change and global poverty.
"Not since the inception of the United Nations has there been a greater example of the importance of collective action and multilateralism, than climate change. It should be a rallying cry to all of us and yet there is a hesitance we can ill afford." (4)
She has been innovative in stating that kindness should be a motive for undertaking action. She has sought to improve relations with Australia despite being from different political traditions to Australian Prime Minister Malcolm Turnbull. However, in 2020, she criticised the decision to deport New Zealanders who had been living in Australia without citizenship as 'corrosive' to trust between the nations.
Christchurch Mosque Shootings
On 15 March 2019, 51 Muslim worshippers were killed when a white supremacist attacked a mosque, leaving another 49 seriously injured. Ardern visited those affected by the shooting and offered her sincere condolences to those affected. Speaking shortly after shooting she sought to offer solace to those communities most affected.
"Many of those who will have been directly affected by this shooting may be migrants to New Zealand, they may even be refugees here… They are us. The person who has perpetuated this violence against us is not. They have no place in New Zealand. There is no place in New Zealand for such acts of extreme and unprecedented violence, which it is clear this act was." (5)
Photos of her visiting survivors in Islamic headscarf were widely shared on international media and were viewed as an image of 'hope' and expressing the value of empathy from a prominent political leader. Ardern refused to name the extremist, hoping to deny him the publicity he craved. She also announced an investigation of New Zealand gun laws.
Response to Covid-19 2020
In March 2019, Ardern took early steps to prevent the spread of Covid-19 in New Zealand. New Zealand was one of the earliest countries to force returning travellers into self-isolation and banning large events. Declaring a national emergency on 25 March, she spoke to parliament saying:
"From midnight tonight, we bunker down for four weeks to try and stop the virus in its tracks, to break the chain,"
Even before the first death from Covid-19, she ordered an early lockdown, speaking on national tv about the need to go 'Hard and early'. This contrasted with other responses, such as the UK and US which were slower to introduce lockdowns. Early evidence suggests new Zealand has been successful in significantly reducing the number of cases and limiting deaths to a very low number. Ardern explained her hope was to 'eliminate' Covid-19 in New Zealand rather than just 'flatten the curve'. However, the long-term impact of this strategy with very little immunity developed is uncertain. She has also given interviews to children, trying to explain the virus in a language they can understand, explaining "You'll be pleased to know that we do consider both the Tooth Fairy and the Easter Bunny to be essential workers," (6)
She also announced she and her cabinet would take a 20% pay cut out of solidarity with the economic crisis hitting New Zealand.
Personal life
Ardern is engaged to be married to Clarke Gayford. They first met in 2012 but didn't become partners until 2016. On 19 January 2018, shortly after becoming Prime Minister, she announced she was having her first child. It made her only the second elected head of state to give birth whilst in office (Benazir Bhutto was first in 1990). Her daughter was given name Neve Te Aroha, (Aroha is Maori for love)
Accessibility
Ardern has also sought to be an accessible leader. In 2019, she featured in a tv show with Stephen Colbert, where she met him at the airport and drove around. She shared humorous anecdotes, such as the fact she auditioned for a part in Lord of the Rings but didn't get cast. She surprised one Australian journalist by rining her directly to explain her name Ardern is pronounced "Ah-durn".
Religion
She was brought up a member of The Church of Jesus Christ of Latter-day Saints (Mormon religion). Her religion had a big impact on her upbringing but credits her parents for showing her the world is not black and white. She left the church in 2005, aged 25. She said the beliefs of her church conflicted with some of her personal beliefs such as gay rights. Asked about her religious views, and whether she talked to God, she replied
"No. But I have a real respect for people who have religion as a foundation in their lives. And I respect people who don't. I'm agnostic. I don't spend a lot of time trying to figure it out. I just think people should be free to have their personal beliefs and not be persecuted for it, whether they be atheist or staunch church members." (NZ Herald)
Citation: Pettinger, Tejvan. "Biography of Jacinda Ardern", Oxford, UK. www.biographyonline.net, published 16 April 2020.
Jacinda Ardern: The Story Behind an Extraordinary Leader
Jacinda Ardern: The Story Behind an Extraordinary Leader at Amazon

Women who changed the world – Famous women who changed the world. Features female Prime Ministers, scientists, cultural figures, authors and royalty. Includes; Cleopatra, Princess Diana, Marie Curie, Queen Victoria, and Joan of Arc.

Female biographies – A list of 100 famous women from Sappho and Cleopatra to Marilyn Monroe and Angela Merkel.

Famous people from New Zealand – a list of 100 most famous people from New Zealand, including politicians, sportspeople, artists, writers, military leaders and actors.