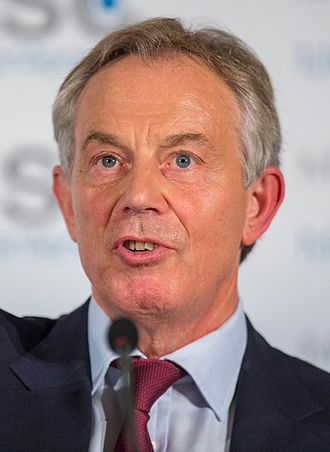 Tony Blair is a British politician who served as Prime Minister from 1997 to 2007. He was leader of the Labour Party from 1994 to 2007. After being elected Labour leader, he set the party on a path of modernisation, ditching left-wing policies and making the party more electable. He was elected Prime Minister in 1997 on a tide of optimism – ending 18 years of Conservative rule. However, after a successful first term, his leadership became increasingly controversial as he supported the American led invasion of Iraq. Opposition to the Iraq war was a big factor in Blair later retiring from Parliament and handing over the Prime Minister's job to Gordon Brown. Since his retirement from politics, he has served as a special envoy to the Middle-East on behalf of the EU, US and Russia.
Short Bio Tony Blair
Tony Blair was educated at St John's College, Oxford University where he studied Law. It is said at University he took little interest in politics and did not get involved in the Labour Party. However, it was at university he became influenced by Peter Thomson a left-wing Christian. These views shaped Tony Blair's political views throughout his career.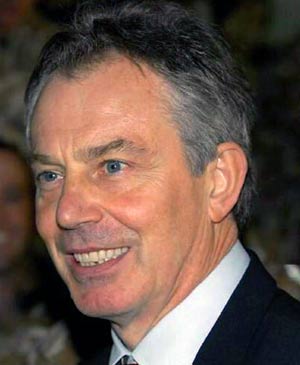 Tony Blair was elected MP in the 1983 general election, despite a Conservative landslide. The Conservatives under Mrs Thatcher had just won the Falklands war, and many felt the Labour Party, under Michael Foot, were too left wing. The policy of Labour in 1983 included:
Leaving the EEC
Nationalisation of key industries
Nuclear disarmament
Redistribution of income and wealth.
On his maiden speech to the House of Commons, Tony Blair expressed his commitment to Socialism saying:
"I am a socialist not through reading a textbook that has caught my intellectual fancy, nor through unthinking tradition, but because I believe that, at its best, socialism corresponds most closely to an existence that is both rational and moral. It stands for cooperation, not confrontation; for fellowship, not fear. It stands for equality".
After Labour's loss in 1983, Neil Kinnock became the leader, and he fought a long campaign to move the Labour party towards the centre. However, despite modernisation and centralisation, Labour still lost the 1992 election, despite the fact the Conservative party had led the country into a recession.
After the election, Neil Kinnock resigned to be replaced by John Smith. However, John Smith died unexpectedly from a heart attack in 1994. Making a pact with Gordon Brown, Tony Blair successfully became the leader of the Labour party and led them to victory in 1997.
"We must transform Labour from a party of protest to a party of government." (1994)
The 1997 election was a landslide for the Labour party and represented an important shift in British politics. The Conservatives had lost after 18 years in power. But, Labour had also changed,  successfully rebranding itself as New Labour. Tony Blair had changed the constitution of the Labour party – ditching the Clause IV commitment to nationalisation. It was a highly symbolic change and meant the New Labour party of 1997 was virtually unrecognisable to the Labour party of 1983.
As Prime Minister, he introduced many social reforms. These included increased spending on the National Health Service, a National Minimum Wage and Civil Partnerships for gay couples. He also sought to raise the issue of global warming – arguing the issue could not be ignored and more needed to be done.
The late 1990s were a good time for Britain, the economy did well, and New Labour became associated with 'cool Britannia' – the idea of rebirth in British politics and society. With a strong economy, Labour easily regained power in the 2001 election.
Tony Blair and the Iraq War
Following the 9/11 attacks in the US, Tony Blair made a strong commitment to Britain's alliance with the US. When George Bush was pushing for the invasion of Iraq, Tony Blair remained steadfast in his support. This was in contrast to many European leaders who were reluctant to engage in a pre-emptive invasion of a country who seemed to pose little threat.
The invasion of Iraq was very divisive within the UK, large rallies were held against the war and many in the Labour party rebelled. However, Blair led Britain into the war. As the situation in Iraq deteriorated, Tony Blair became increasingly unpopular and isolated. His unwavering support for George Bush meant he became associated with American policies in Guantanamo Bay and alleged uses of torture. With his popularity plummeting he announced his retirement, allowing Gordon Brown to take over leadership of the Labour party and become PM. Tony Blair formally resigned on 27 June 2007.
While criticised for the war in Iraq, Tony Blair has received many acknowledgements for his role in helping move Northern Ireland to a peaceful resolution after three decades of conflict.
In 2016, Tony Blair made a partial return to British politics to speak against Britain leaving the EU, in the EU referendum. However, his widespread unpopularity meant he had little influence in preventing a Vote to Leave. Shortly after the EU referendum, the Chilcot Inquiry into the Iraq War was highly critical of Blair's decision to go to war in 2003. It stated the legal basis for war was "far from satisfactory", and that a war in 2003 was unnecessary. Furthermore, the United Kingdom and the United States had undermined the authority of the United Nations Security Council.
After the 2019 election, where Labour lost for a third consecutive election, he was very critical of Jeremy Corbyn and the leftward shift of the Labour Party. He argued if the Labour Party is to survive and become electable, it needs to moderate its left wing policies and elect a leader which has the credibility and competence to appeal to a broad church of voters.
Personal life
Tony Blair married Cherie Blair in 1980; the couple has four children. Tony Blair has stated his Christian faith is important to his values and way of life. In recent years, he has moved towards the Catholic Church, the same religion as his wife. On 30 May 2008, Tony Blair launched the Tony Blair Faith Foundation as a vehicle for encouraging different faiths to join together in promoting respect and understanding.
Citation: Pettinger, Tejvan.  "Tony Blair Biography", Oxford, www.biographyonline.net. Published 11th Feb 2010. Updated 3 January 2020.
Tony Blair – A Journey
Tony Blair – A Journey at Amazon
Related Pages
Famous

English people – Famous English men and women. From Anne Boleyn and Queen Elizabeth I to Henry VIII and Winston Churchill. Includes the great poets – William Shakespeare, William Blake and William Wordsworth.

Great Briton list – Top 100 famous Britons as voted by a BBC poll. Including Winston Churchill, William Shakespeare, Thomas Cromwell and Queen Elizabeth I.