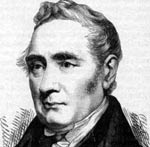 George Stephenson (9 June 1781 – – 12 August 1848) was a self-made mechanical engineer, largely credited with building the first railway line and becoming the 'father of the railways'. His rail gauge of 4 ft 8.5 inches became the global standard gauge. He also developed a miners safety lamp.
Short Bio George Stephenson
George was born in Wylam, Northumberland, 9.3 miles (15 km) west of Newcastle upon Tyne. He was the second child of working-class parents – Robert and Mabel. Both his parents were illiterate and they did not have enough money to send George to school. However, George was keen to get an education and so devoted his evenings to learning to read and write.
At the age of 17, he entered a coal mine, working as an engineer in Water Row pit, Newburn. He later got jobs as a brakesman in different Northeast pits around the area of Newcastle.
He gained a reputation as an excellent engineer and impressed with his ability to fix a pumping engine at High Pit, Killingworth in 1811. In particular, he became an expert in steam-driven engineering. His knowledge was essentially practical, learning through trial and error, rather than through theoretical science.
In 1818, his common sense and willingness to experiment led him to develop a miner's safety lamp. At the time, many explosions were caused by naked flames and, as a result, the Royal Society offered a large reward for a successful lamp. George invented his version of the safety lamp around the same time as Sir Humphrey Davy. Davy was convinced that Stephenson had copied his idea. Though this was never proved. It may have been the fact that Davy didn't trust a largely uneducated miner to develop a lamp without the science Davy had used. Stephenson said:
"The principles upon which a safety lamp might be constructed I stated to several persons long before Sir Humphrey Davy came into this part of the country. The plan of such a lamp was seen by several and the lamp itself was in the hands of the manufacturers during the time he was here."
A local enquiry exonerated Stephenson, and his lamp was used in the northeast and Davy's in the rest of the country. In 1833, a House of Commons committed found Stephenson had an equal share in the invention of the lamp.
Stephenson wasn't the first to design a realistic steam engine (that is credited to Richard Trevithick in 1804.) However, Stephenson was able to improve on these initial designs creating a much more powerful and practical locomotive that was capable of carrying substantial amounts of coal. In 1814, he developed his first engine – Blucher.
In 1820, Stephenson built the first railway which didn't use animal power but relied on steam. The line ran from Hetton colliery to Sunderland.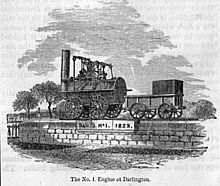 This was followed by the Stockton – Darlington railway of 1825. The 25-mile railway was an important development in steam only railways. It was opened to great fanfare, and the engine, Locomotion, reached a speed of 24 miles per hour on one stretch – carrying 8 tons of coal and flour. It was also the first engine to have a passenger car. The gauge used in the construction of this line – 8 and a half inches – became the world's standard gauge.
Rocket and Liverpool and Manchester Railway
After Stephenson had demonstrated the power of steam engines in Darlington, a more ambitious scheme was pushed forward linking the towns of Liverpool and Manchester. The proponents of the railway hoped it would make it much easier to transport cloth, produced in Manchester to the port of Liverpool. It was potentially a very lucrative project and could be very profitable. After initially being blocked by Parliament, the project was given the go-ahead and Stephenson was responsible for overseeing the construction. Because of the limited power of early steam engines, Stephenson tried to keep the railway as flat as possible, therefore the new line required many bridges, viaducts and tunnels. He also required great ingenuity to 'float' the railway over Chat Moss (a local peat bog).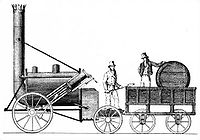 In 1829, with the line nearing completion, the L & MR (Liverpool and Manchester Railway) had a competition for the best design of a train. George's entry – 'The Rocket' easily won – reaching up to 30mph.
In 1830, the Liverpool to Manchester railway was opened to great enthusiasm. Crowds came out in force to see this exciting new technology. Even the current Prime Minister – The Duke of Wellington was in attendance. Stephenson had great faith in the power of railways and he was an important figure in their early development:
"George Stephenson told me as a young man that railways will supersede almost all other methods of conveyance in this country — when mail-coaches will go by railway, and railroads will become the great highway for the king and all his subjects. I know there are great and almost insurmountable difficulties to be encountered; but what I have said will come to pass as sure as you live."
John Dixon, Life of George Stephenson (1875)
This double track line between the great cities of Manchester and Liverpool was really the start of the great railway age. It led to a period of rapid railway building which transformed transport within the UK, and later the world. Journeys which took days could now be completed in a matter of hours. The railway became an integral element in the new industrial age. George was one of the first to realise the individual railways would soon be joined together so he insisted on a common gauge, which would become the national and global standard.
Stephenson became inundated with request to help build railways. His reputation was very high, though he was often more cautious in the building of railways and he became eclipsed by other engineers such as Isambard Kingdom Brunel.
George married three times and had two children Robert and Fanny who died in childbirth.
He has often been called 'The Father of the Railways' and indirectly played a key role in the acceleration of the industrial revolution which swept Britain and then the rest of the world.
Citation: Pettinger, Tejvan. "Biography of George Stephenson", Oxford, www.biographyonline.net 23rd May 2012. Last updated 5 February 2018.
George Stephenson: The Remarkable Life of the Founder of the Railway
Related pages

People who changed the world – Famous people who changed the course of history including Socrates, Newton, Jesus Christ, Muhammad, Queen Victoria, Catherine the Great, Einstein and Gandhi.

Great Briton list – Top 100 famous Britons as voted by a BBC poll. Including Winston Churchill, William Shakespeare, Thomas Cromwell and Queen Elizabeth I.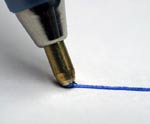 Inventions that changed the world – Famous inventions that made a great difference to the progress of the world, including aluminium, the telephone and the printing press.