Benazir Bhutto (21 June 1953 – 27 Dec. 2007) was the first women elected to lead a Muslim state. Bhutto served as Prime Minister of Pakistan between (1988–1990, and 1993–1996).
"Ultimately, leadership is about the strength of one's convictions, the ability to endure the punches, and the energy to promote an idea. And I have found that those who do achieve peace never acquiesce to obstacles, especially those constructed of bigotry, intolerance, and inflexible tradition."
– Benazir Bhutto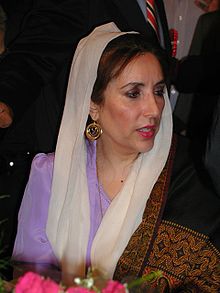 Benazir was the daughter of a former prime minister Zulfikar Ali Bhutto. Her family came from the Bhutto tribe of Sindhi and she was born in Karachi, Sindh.
Benazir was brought up speaking both Urdu and English, and after passing her A-Levels, she went to Oxford University, to study Law at Lady Margaret Hall college. After LMH, she studied at St Catherine's and became president of the Oxford Union in 1976.
After finishing at Oxford, she returned to Pakistan where she became embroiled in Pakistani politics. Her parents were opponents of the military dictatorship run by General Zia-ul-Haq. In the summer of 1979, they were placed under house arrest and faced great difficulties. She later wrote of her experiences of being under house arrest during the summer of 1981, where she was held in solitary confinement in the desert.
"The summer heat turned my cell into an oven. My skin split and peeled, coming off my hands in sheets."
—Benazir Bhutto, summer of 1981
In 1984, she was released from house arrest and began campaigning for a restoration of democracy. Shortly after her brother's murder (probably under orders of Zia-ul-Haq) she made a speech at the European Parliament in Strasbourg warning of human rights abuses in Pakistan. Benazir became the first women to lead a political party – Pakistan People's Front (PPF) and after the death of General Zia-ul-Haq, Pakistan moved towards its first democratic elections in more than a decade.
Bhutto and her party won the largest percentage of seats and were able to form a coalition government. She was sworn in as Prime Minister for the first time in 1988 at the age of 35. On coming to power she said:
"We gather together to celebrate freedom, to celebrate democracy, to celebrate the three most beautiful words in the English language: `"We the People.'"
—Benazir Bhutto on December 2, 1988,
However, under the orders of President Ghulam Ishaq Khan, she was removed from office 20 months later for alleged corruption. In 1993, she was re-elected but was again removed in 1996 on similar charges, this time by President Farooq Leghari.
As prime minister, she was often referred to as the "Iron Lady" for her uncompromising approach to negotiating with unions. She pursued various free-market economic policies, such as deregulation, flexible labour markets and privatisation. However, rising unemployment and inflation (stagflation) made her economic policies unpopular.
After conceding defeat in the 1997 elections, and being immersed in corruption scandals, she went into self-imposed exile in Dubai in 1998.
Nine years later, in 2007, Bhutto returned to Pakistan after being promised by President Musharraf that she would be granted amnesty from any corruption charges. Shortly before returning, she said in an interview:
"The forces of moderation and democracy must, and will, prevail against extremism and dictatorship. I will not be intimidated. I will step out on the tarmac in Karachi not to complete a journey, but to begin one. Despite threats of death, I will not acquiesce to tyranny, but rather lead the fight against it." (Boston Globe)
Death
Whilst campaigning for the PPF in the upcoming 2008 elections, she was assassinated on 27 December 2007, in Rawalpindi. Shortly after her death, her son remarked (captured on video)
"My mother always said, ' Democracy is the best revenge.'
She was later named one of seven winners of the United Nations Prize in the Field of Human Rights.
Citation: Pettinger, Tejvan. "Benazir Bhutto Biography", Oxford, UK.  www.biographyonline.net, Published 18th Feb 2014. Last updated 13 July 2019.
Daughter of Destiny: An Autobiography
Related pages

Women who changed the world – Famous women who changed the world. Features female Prime Ministers, scientists, cultural figures, authors and royalty. Includes; Cleopatra, Princess Diana, Marie Curie, Queen Victoria, and Joan of Arc.

Muslims – Famous Muslims. Including the Prophet Muhammad, Saladin, Rumi, Muhammad Ali Jinnah, Muhammad Ali and Malala Yousafzai.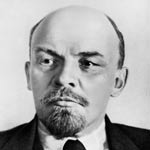 Famous leaders – A list of famous leaders who led their country. Includes Catherine the Great, Napoleon, Julius Ceasar, Winston Churchill and F.D. Roosevelt.