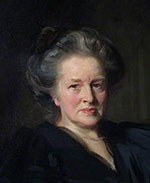 Elizabeth Garrett Anderson (1836 – 1917) was the first Englishwomen to qualify as a doctor. She overcame stiff opposition to gain her medical qualifications at a time when women were not admitted into the profession. She was also the first women to be elected to a school board in Britain and the first female mayor and magistrate in Britain.
Early life Elizabeth Garrett
Elizabeth was born on 9 June 1836 in Whitechapel, London. Her parents were Newson Garrett and Louisa. Garrett was the second of twelve children, though not all her siblings survived childhood. One of her sisters Millicent (later Millicent Fawcett) went on to become a leading suffrage campaigner.
When Elizabeth was five, her father moved the family to Suffolk where he set up a barley and coal merchants business. The business was successful giving the Garretts financial affluence. Until the age of 13, Elizabeth was educated at home by a governess. She disliked elements of her formal education but was given freedom to explore the local Norfolk countryside and also to take an interest in local politics – unusual for young girls at the time.
In 1849, she was sent to a Boarding School for Ladies in Blackheath, London. She received education in English literature, languages and deportment, but regretted that there was little in the way of science or maths.
After her formal schooling had finished, she continued to read, while also looking after her domestic duties. Garrett also became interested in movements to advance the position of women in society. In 1859, she joined the Society for Promoting the Employment of Women and also became part of a feminist discussion group called the Kensington Society. In 1860, at the age of 24, Garrett made the decision to become a doctor, while her sister Millicent chose to pursue politics and to campaign for universal suffrage. Garrett was influenced by meeting feminist Emily Davies and the first American female doctor – Elizabeth Blackwell. Initially, her father was unsure of this unusual career choice, but he came around and later supported her daughter's new medical practice, financially. Her mother did not see it as a fit profession for her daughter, but Elizabeth was determined to see it through, whatever opposition she received.
"I asked what there was to make doctoring more disgusting than nursing, which women were always doing, and which ladies had done publicly in the Crimea. He could not tell me. When I felt rather overcome with his opposition, I said as firmly as I could, that I must have this or something else, that I could not live without some real work, and then he objected that it would take seven years before I could practise."
– Elizabeth Garret Anderson, in reply to her father, after he expressed initial opposition.
Medical education
Garrett began the task of seeking to gain a medical education and ultimately qualification as a physician. She spent six months at Middlesex Hospital, where she served as a nurse and studied Latin and chemistry. Against opposition, she was allowed into the dissecting room and chemistry lectures. She did well in tests. However, after six months, male students began to actively oppose her presence in the school and put pressure on the hospital to refuse admission to Garrett on the grounds of her sex. Despite some support from within the hospital, she had to leave Middlesex Hospital but received an honours certificate in chemistry and material media.
After this rejection, Garrett applied to many medical schools across the UK but was refused on the grounds of her gender. However, the Society of Apothecaries had a condition in their charter, that they could not legally exclude anyone on account of their gender, and so on a technicality, she was admitted. On 28th September 1865, she passed her exams, with the highest marks of her year and attained a license to practise medicine from the Society of Apothecaries. After Garrett's achievement, the Society of Apothecaries changed their constitution to forbid women. It was not until the Medical Act of 1876 that British medical authorities were allowed to give medical qualifications regardless of gender.
In 1865, Garrett opened her own practice in Berkeley Street, London. At first, patients were scarce but, over time, many patients started to come. Often her patients were poor and women with children. By late 1865, a cholera epidemic swept through London causing increased demand for doctors, and prejudices over the gender of women became less important. She expanded her practice to include a dispensary for women and children to receive medicine. By the end of the first year, her practice received numerous visits, with 3,000 new patients in the first year alone.
In 1870, she heard that the University of Sorbonne in Paris was in favour of admitting women as medical students. Garrett studied French so she could attain a medical degree in France.
In 1870, she was also elected to the London School Board for local education, the first woman to gain admission to this body.  She was also made a visiting physician to the East London Hospital for children.
In 1871, she married James Anderson. Anderson was head of a large shipping firm, and he generally supported his wife's independence and political goals. They had three children Louisa, Margaret and Alan. Though only Louisa survived childhood; Louisa followed in her mother's footsteps becoming a pioneering women's activist and doctor of medicine.
Combined with motherhood all these new responsibilities left Garrett overstretched with work; she had to give up her positions on the school board and work as visiting physician. But her private dispensary expanded and, in 1872, it became the New Hospital for Women and Children, specialising in the treatment of women and gynaecological conditions.
In 1874, she co-founded, with Sophia Jex Blake, the London School of Medicine for Women. This was Britain's first teaching hospital for women. She was the dean from 1883 to 1902; it later became part of the medical school at University College London.
In 1873, Garrett gained membership of the BMA. Her membership was accepted, but the society changed their rules to disallow women for the next 19 years.
However, Garrett's pioneering work as a female doctor was influential in an 1876 act of Parliament which permitted women to enter the medical professions.
In 1902, Garrett retired from work in London and moved to Aldeburgh on the Suffolk coast. In 1908, she became mayor of Aldeburgh – the first women to hold such a post. Garret was also active in the Women's Suffrage Movement. She was a founder member of the British Women's Suffrage Committee and sometimes spoke in favour of women's suffrage. However, according to her daughter Millicent, she was reserved in expressing outspoken support because she feared it wouldn't be helpful to be identified with two unpopular causes.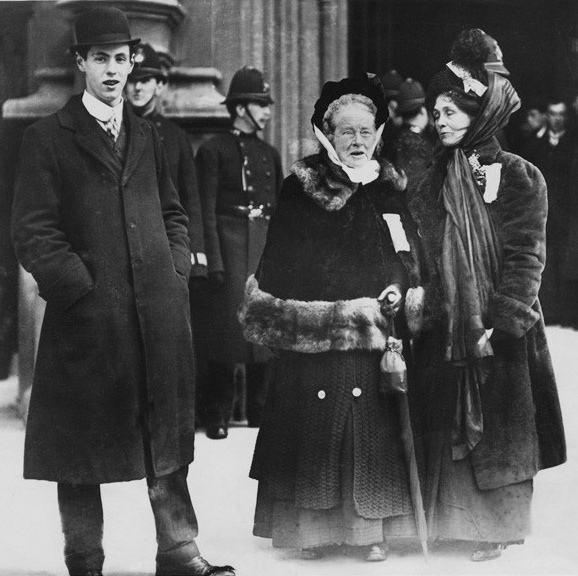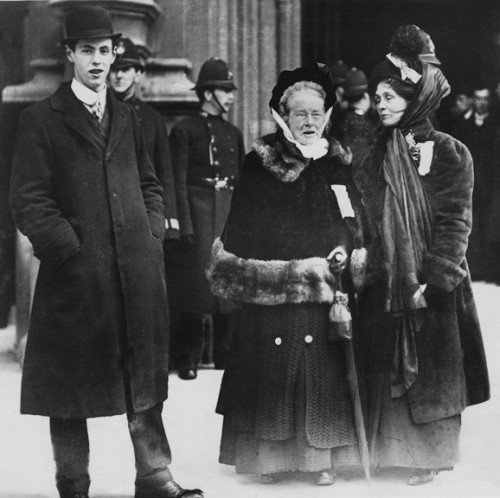 Elizabeth Garrett Anderson and Emmeline Pankhurst
However, in 1908, she was part of the Women's Social and Political Union's activism in attempting to storm the House of Commons. In 1911, as the suffrage campaign became more militant, she left the WSPU and retreated from more active involvement; though her daughter Louisa spent time in prison for her militant activities in 1912.
Garrett was also an advocate for women's education and women's involvement in medicine. At the time, many believed it was not suitable for women to be educated. Garrett's argued that the biggest problem women had was boredom due to a lack of opportunities, and education and fresh air were more beneficial than being stuck at home.
Elizabeth Garrett Anderson died on 17th December 1917.
Quote about Elizabeth Garret Anderson
"Old Mrs. Garrett Anderson-old only in years, for there was never a younger woman in heart and mind and outlook than she was when I knew her before the war was a fascinating combination of the autocrat and the gracious woman of the world."
– Evelyn Sharp
Garret achieved many notable firsts for women's involvement in medicine and public life in the UK, including
First qualified doctor
First female mayor
First women to be elected to a School Board
First women to be a magistrate in Britain.
First female dean of a medical school
Helped create the first medical school for women in Britain.
Citation: Pettinger, Tejvan. "Elizabeth Garrett Anderson Biography", Oxford, UK. www.biographyonline.net, Published: 15th January 2016. Updated 7th February 2018.
Elizabeth Garrett Anderson: 1836-1917
Elizabeth Garrett Anderson: 1836-1917 at Amazon
Related pages
Women's rights activists

– Prominent women who helped promote women's and civil rights. Including Margaret Fuller, Susan Anthony, Millicent Fawcett and Malala Yousafzai.

100 Famous Women – A list of 100 famous women from the arts, sport, literature, acting and politics.
A list of famous feminists and some influential quotes by leading feminists.
Winning the Fight for a Woman's Right to Vote