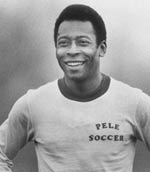 Pele is the most iconic footballer of the Twentieth Century. He epitomised the flair, joy and passion the Brazilians bought to the game.
"I was born for soccer, just as Beethoven was born for music." – Pele
Early life
Pele was born Edson Arantes do Nascimento on 23 October 1940 in Três Corações, Minas Gerais, Brazil. He was named after the American inventor Thomas Edison (his parents removed the i). In his childhood, he gained a nickname 'Pele' – after he mispronounced the name of a goalkeeper 'Bile' – Initially Pele disliked it and complained, but the more he complained, the more it stuck. Pele has no meaning and was intended as an insult, though later it was found that the word Bilé is Hebrew for "miracle."
Pele grew up in poverty in São Paulo. He was taught to play football by his father (who used to play football), but often he had to practise with a sock stuffed with newspapers because he could not afford to buy a football. As well as playing football, he worked as a waiter in local tea shops.
In his youth, Pele played in indoor leagues, and this helped increase his speed of reactions. He rose through the youth leagues and at the age of 15 was signed by Santos FC. He was soon marked out as a future star. By the age of 16, he was the top scorer in the Brazilian league and received a call up for the Brazilian national side. Interest was such that the Brazilian President declared Pele a national treasure to prevent him being bought by foreign clubs such as Manchester United.
Pele's World Cups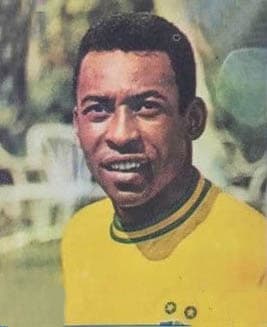 As a teenager, the young and unknown Pele helped inspire Brazil to victory in the 1958 World Cup. He scored in the final during a 5-2 win over Sweden and finished the competition with six goals and a reputation as the brightest prospect in football. In 1962, Pele helped Brazil to retain the World Cup, though he was injured in the early rounds, meaning he was sidelined for the knock-out stages. In 1966, Brazil were hot favourites, and Pele was the most famous and highly-rated player in the world. However, his high profile made him the target of some vicious tackles by the Bulgarian and Hungarian players. In a game against Portugal, he was also badly tackled and he spent the rest of the game hobbling about the pitch (as substitutes were not allowed). To make matters worse the Portuguese player João Morais was not sent off and without a fit Pele, Brazil were knocked out at the group stage. Pele was so disappointed by the foul play, that he vowed not to play in World Cups again. The 1966 World Cup was won by England.
1970 World Cup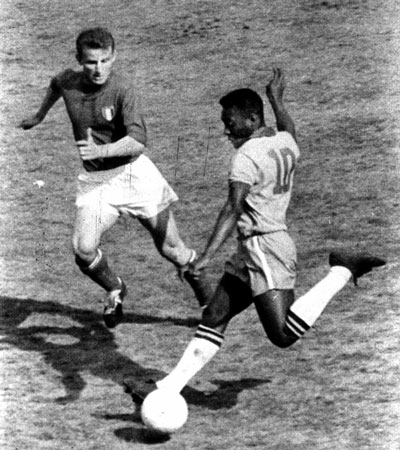 After the crushing disappointment of the 1966 World Cup, Pele was encouraged to make a come back to the Brazil national team for the qualifying round in 1969. In 1970, Pele was part of a star-studded team which had a range of attacking options, such as Rivelino, Jairzinho, and Carlos Alberto Torres. Throughout the tournament, Brazil played excellent football and Pele was on the top of his game. The tournament included some of the greatest and most iconic moments of any world cup. These include Pele's header and great save by England goalkeeper Gordan Banks. Pele's headed goal in the final and subsequent leap for joy, and Pele's remarkable feint around the Uruguay goalkeeper. In the World Cup final, Brazil beat Italy 4-1, with Pele scoring the first goal. The 4th goal by Brazil was spectacular and involved Pele and nearly all the outfield players. It is widely regarded as the most memorable world cup final and a fitting tribute and crowning glory for Pele's international career. The whole tournament was a genuine advertisement for the 'beautiful game' – a phrase that Pele was credited with connecting to football.
Style of play
Pele was relatively short at  5″ 8′, but he more than compensated in terms of speed, power, agility and strength. He was superb with both feet, powerful in the air, great timing and accuracy and an extraordinary perception of the game. He could mesmerise defenders with his eyes and send them the wrong way. He had a scoring ratio of 0.94 goals per game and often rose to the big occasion, scoring at crucial moments in big games. Whilst very competitive, he was also considered to be a fair player with good sense of sportsmanship. A good example was his warm embrace of Bobby Moore, the England caption after England's defeat in the 1970 World Cup. It is sometimes held up as an embodiment of sportsmanship. Without any doubt, he is universally regarded as the greatest player of the twentieth century – if not all time. He is one of the few sportsman like Muhammad Ali and Usain Bolt, who transcend their sport to become a global icon. French footballer Michel Platini said of Pele.
"There's Pelé the man, and then Pelé the player. And to play like Pelé is to play like God.
Career
P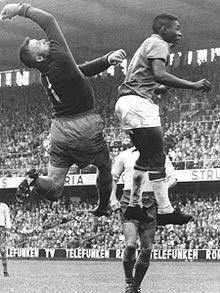 ele went on to score over 1,000 goals in professional games. He scored his 1000th goal on 19 November 1969 at Vasco da Gama in Rio de Janeiro's Maracana stadium. It sparked worldwide celebrations. His strike rate in international games was one of the highest ever. In 92 international appearances, he scored 77 goals. In all games, Pele scored 1,283 goals in 1,366 matches, a ratio of 0.94.
In the domestic league, Pele made his debut for Santos aged just 16. He played for Santos in the Brazilian league from until the 1972-73 season.
Pele finished his career in the lucrative US league. In 1975, he signed for New York Cosmos and played three seasons. He led the New York Cosmos to the US title in 1977 – the year of his retirement.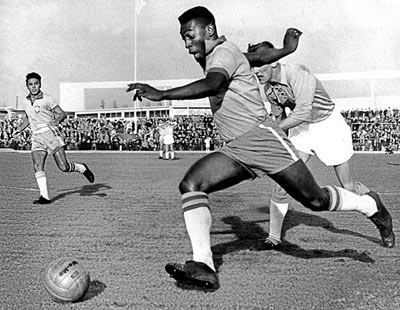 Personal life
Pele was married three times and had several children, some out of wedlock. In 1970, he was investigated by the authoritarian Brazilian government for suspected sympathy to left-wing political prisoners. Pele was investigated for handing out leaflets calling for the release of political prisoners. After the investigation, he did not get involved in politics again.
After retiring has gone on to be a great ambassador for football and sport in general. In 1992, Pelé was appointed a UN ambassador for ecology and the environment. He was also appointed a UNESCO goodwill ambassador. He is not only one of the most gifted footballers of his generation, but, also a mild-mannered man who used his fame and prestige for a positive effect.
Citation: Pettinger, Tejvan. "Biography of Pele", Oxford, UK. www.biographyonline.net. Last updated 8 March 2020. Originally published 18 April 2010.
Some Highlights of Pele's Career
Athlete of the Century, by Reuters News Agency: 1999
Athlete of the Century, elected by International Olympic Committee: 1999
UNICEF Football Player of the Century: 1999
TIME One of the 100 Most Important People of the 20th Century: 1999
FIFA Player of the Century: 2000
Pele
Pele – autobiography at Amazon
Related pages

Famous Sports people – Famous sportsmen/women. Including football, athletics, tennis, rugby, cricket, boxing. A list of 100 sports stars, such as Muhammad Ali, Serena Williams, Pele and Usain Bolt.

People who made a difference. Men and women who made a positive contribution to the world – in the fields of politics, literature, music, activism and spirituality.

Inspirational people – People who made a difference in a positive way and left the world a better place. Includes Eleanor Roosevelt, Mother Teresa and Emil Zatopek.