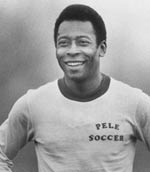 Pele is the most iconic footballer of the Twentieth Century. He epitomised the flair, joy and passion the Brazilians bought to the game.
Pele's career spanned throughout the 1950s, 1960s and 1970s.
In his early career, the young and unknown Pele helped inspire Brazil to victory in the 1958 World Cup. In 1962, Brazil retained the World Cup. In 1966, Brazil were hot favourites, but, lost out to the home nation England.
His crowning glory was the Brazilian victory in the 1970 World Cup in Mexico. In this World Cup, some of the football played by Brazil and Pele was widely considered to the greatest in the history of the game. Brazil won the final 4-1 against Italy; it was a genuine advertisement for the 'beautiful game' and a fitting pinnacle of Pele's international career.
Pele went on to score over 1,000 goals in professional games. (The 1000th goal coming as a penalty in the US league – sparking celebrations around the world). His strike rate in international games was one of the highest ever. In 92 appearances, he scored 77 goals.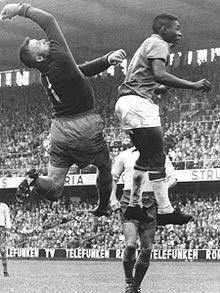 In the domestic league, Pele made his debut for Santos aged just 16. He played for Santos in the Brazilian league from until the 1972-73 season.
Pele finished his career in the lucrative US league. In 1975, he signed for New York Cosmos and played three seasons. He led the New York Cosmos to the US title in 1977 – the year of his retirement.
After retiring has gone on to be a great ambassador for football and sport in general. In 1992, Pelé was appointed a UN ambassador for ecology and the environment. He was also appointed a UNESCO goodwill ambassador. He is not only one of the most gifted footballers of his generation, but, also a mild-mannered man who used his fame and prestige for a positive effect.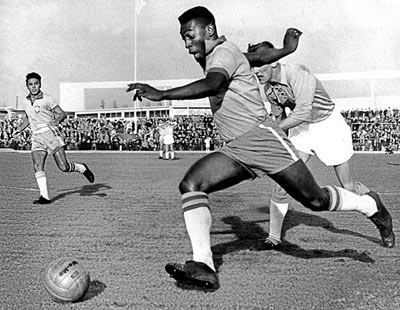 Some Highlights of Pele's Career
Athlete of the Century, by Reuters News Agency: 1999
Athlete of the Century, elected by International Olympic Committee: 1999
UNICEF Football Player of the Century: 1999
TIME One of the 100 Most Important People of the 20th Century: 1999
FIFA Player of the Century: 2000
Related pages

Sports people – Famous sportsmen/women. Including football, athletics, tennis, rugby, cricket, boxing. A list of 100 sports stars, such as Muhammad Ali, Serena Williams, Pele and Usain Bolt.

People who made a difference. Men and women who made a positive contribution to the world – in the fields of politics, literature, music, activism and spirituality.

Inspirational people – People who made a difference in a positive way and left the world a better place. Includes Eleanor Roosevelt, Mother Teresa and Emil Zatopek.
Related pages