Some of the most inspiring personalities are people who faced up to difficult circumstances and encouraged others to do the right thing.
People with inspiring personalities often have the following characteristics:
Humility – This is the ability to learn from others and avoid appearing to be proud and haughty. Humility is the willingness to reduce the ego and let actions speak louder than words.
Courage – People not daunted by physical or emotional suffering. The willingness to do the right thing, whatever the consequences
Kindness. A much-underrated quality. Kindness is indispensable for helping others.
Vision. The ability to look beyond the social norms and conventions and bring about meaningful change.
Concern for their fellow man. Great people wish to achieve great things. But, good people wish to serve others – there fellow man. Inspiring personalities never just seek to please themselves.
Inspiring Personalities
Nelson Mandela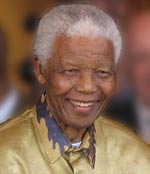 – Nelson Mandela had the vision to fight for a free and fair South Africa. He was willing to endure great sacrifice to overcome the injustice of the society. But, it was his willingness to forgive his own oppressors which really stands out as an exceptional quality. It was this willingness to move on past enmity and hatred that enabled South Africa to have a better future.

Mikhail Gorbachev. Mikhail Gorbachev could easily have hung on to the absolute power his position gave him. But, instead, he moved the Soviet Union to greater political and economic freedom. In doing so, he enabled the collapse of the symbolic Berlin Wall and the restoration of democracy in Eastern Europe.
Eleanor Roosevelt. First Lady during the presidency of Franklin Roosevelt. Eleanor campaigned for human rights, civil rights and inspired many people through her positivity and compassion.

Mother Teresa. Mother Teresa gave a lifetime of service to the poor and underprivileged. She renounced her own material wealth and comfort to offer love and service to the poorest and most underprivileged in society.

Anne Frank (1929–1945) Dutch-Jewish author. Anne Frank's diary is one of the most widely read books in the world. It reveals the thoughts of a young, yet surprisingly mature 13-year-old girl, confined to a secret hiding place. "Despite everything, I believe that people are really good at heart."

Thomas Jefferson. Jefferson had a vision of religious freedom, freedom of the press and he helped to draft the groundbreaking Declaration of Independence. "We hold these truths to be self-evident that all men are created equal." – One of the most epoch-making statements in the history of modern man.

Martin Luther King. A civil rights champion who pursued a difficult path of peacefully campaigning for equality and civil rights. His electric speeches awakened America's conscience and inspired millions to dream of a better life. Ultimately he paid for his efforts with his life.

Lord Buddha. The embodiment of an awakened human being. A message of peace and the transcendence of suffering. Lord Buddha was compassionate and forgiving – even to those who opposed him and tried to make life difficult. The Buddha showed that we can transcend out ego and achieve real freedom.

Jesus Christ. Jesus Christ offered a vision to teach the forgiveness of our enemies and love your fellow men. Despite meeting suspicion and hostility, he continued to offer a radical gospel of love and over-turning past cultural traditions.

Abraham Lincoln – Lincoln came from a poor and humble family and during his lifetime experience many setbacks, failures and troubles. However, he strove to change society for the better, navigating the tempestuous political storms of mid-Nineteenth Century America to keep the union together and find a way to abolish slavery.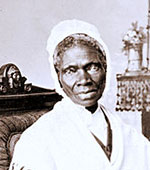 Sojourner Truth (1797 – 1883) African-American abolitionist and women's rights campaigner. Truth was born into slavery but attained her freedom. Despite overwhelming sexist and racist attitudes of the time, she maintained great dignity and force of character to start to over-turn misconceptions and prejudicial attitudes.

Dietrich Bonhoeffer – Christian theologian who opposed Hitler. Bonhoeffer was a humble and genuine saint who was willing to sacrifice his life to stay true to his ideals of loving your fellow man without distinction.

Helen Keller (1880–1968) American social activist. At the age of 19 months, Helen became deaf and blind. Overcoming the frustration of losing both sight and hearing she campaigned tirelessly on behalf of deaf and blind people.
Tegla Laroupe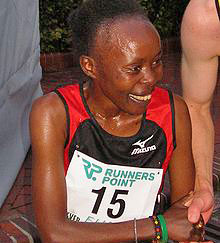 . – Kenya marathon runner, who set up Peace foundation to help promote peace amongst African tribes. Also involved in other humanitarian initiatives.
Citation: Pettinger, Tejvan. "Inspirational People", Oxford, www.biographyonline.net, 18th April 2014. Last updated 12 February 2018.
Related pages
Courageous people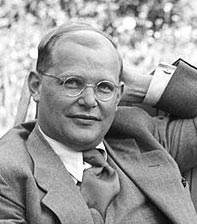 – People who have overcome difficult circumstances and difficult odds. Includes Joan of Arc, Galileo, Harriet Tubman, Socrates, Malala Yousafzai.

Inspirational people – People who made a difference in a positive way and left the world a better place. Includes Eleanor Roosevelt, Mother Teresa and Emil Zatopek.
People who fought for human/civil rights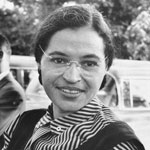 – People who campaigned for equality, civil rights and civil justice. Includes Abraham Lincoln, Harriet Tubman, Martin Luther King and Rosa Parks.