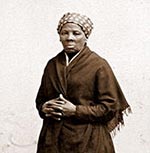 Harriet Tubman (1822–1913) was an escaped slave who became a leading figure in the abolitionist movement. Harriet Tubman also served as a spy for the US army during the civil war and was an active participant in the struggle for women's suffrage.
Tubman was born Araminta Ross, to slave parents who lived on plantations in Maryland. Little is known about her family background and ancestry, but her maternal grandmother came to the US on a slave ship from Africa (possibly from modern-day Ghana).
Her parents Rit and Ben Ross had nine children together, but three of Harriet's sisters were sold at an early age by their owners and she never saw them again.
Even as a young child Harriet was responsible for looking after her younger siblings because her mother was too busy working as a cook. Harriet was also hired as a nursemaid to a "Miss Susan". She was frequently whipped by her overseers – leading to scars which would last all her life. For periods of time, she was also sent out to work for a planter – checking muskrat traps – and later farming tasks, such as ploughing and moving logs.
On one occasion, Tubman was hit in the head by a stone thrown by a slave owner. The slave owner was aiming at another slave, but the stone hit Tubman in the back of her head – cracking her skull and leading to lifelong headaches, epileptic seizures and dreams or visions. Tubman later attributed her bushy unkempt hair for reducing the impact of the stone and saving her life.
Around 1844, Harriet married John Tubman. Around this time, she adopted her mother's maiden name, Harriet, in place of her childhood name Araminta.
In 1849, Tubman's slave owner, Edward Brodress, died. This raised the likelihood Tubman would be sold, and the family split up. With her two brothers, Ben and Henry, she decided to escape from the large plantation in Caroline County where they lived and worked. The escape was successful, but after a few weeks, her brothers had misgivings because they wanted to return to their children; Tubman was forced to return with them.
However, soon after, Tubman escaped for the second time. With the help of the Underground Railroad, she took a 90-mile route northeast along the Choptank River towards Pennsylvania. The journey on foot could have taken a couple of weeks, with great care being needed to avoid slave catchers, who could gain a bounty for catching any escaped slaves. After reaching Pennsylvania, she expressed her tremendous joy.
"When I found I had crossed that line, I looked at my hands to see if I was the same person. There was such a glory over everything; the sun came like gold through the trees, and over the fields, and I felt like I was in Heaven."
In Philadelphia, Tubman took on odd jobs to earn some money, but she wanted to return to Maryland to rescue the rest of her family. In her own words:
"I had crossed de line of which I had so long been dreaming. I was free; but dere was no one to welcome me to de land of freedom, I was a stranger in a strange land, and my home after all was down in de old cabin quarter, wid de ole folks, and my brudders and sisters. But to dis solemn resolution I came; I was free, and dey should be free also; I would make a home for dem in de North, and de Lord helping me, I would bring dem all dere."
This task of retrieving slaves was made more complicated by the Fugitive Slave Law of 1850, which heavily punished anyone helping slaves to escape – even in states which outlawed slavery.
However, with the aid of other abolitionist activists, such as Thomas Garrett, she made repeated trips to Maryland to rescue different members of her family. Because of her exploits, she earned the nickname "Moses" referring to the Biblical character who escaped slavery.
However, her husband chose not to escape with Tubman, because in her absence he had married another woman, named Caroline. Over the next decade, Tubman helped rescue over 70 slaves, in about 13 expeditions (and offering advice to many more). She often travelled in the darker winter months, making it easier to travel incognito by night. Because of the dangers on the road, she always took a revolver with her. She was also willing to use it to threaten any escaped slave who wished to go back because she knew returning would endanger all the escapees. She was proud never to lose an escaping slave on her expeditions.
"I was conductor of the Underground Railroad for eight years, and I can say what most conductors can't say – I never ran my train off the track and I never lost a passenger."

– Harriet Tubman
Given the growing racial tension and the stricter laws regarding escaped slaves, many sought to escape the US altogether, moving to Southern Ontario in Canada. Tubman took part in such travels, helping guide parties of former slaves north.
Frederick Douglass, who was a noted activist against slavery, praised Tubman for her role in helping slaves. In particular, he praised her courage and willingness to work without recognition. He said of Tubman:
"Excepting John Brown — of sacred memory — I know of no one who has willingly encountered more perils and hardships to serve our enslaved people than you have."
A significant element of Tubman's life was her strong religious faith. From her childhood, she had learnt aural biblical stories, and although she couldn't read, she felt a strong faith in the presence and guidance of God. She related receiving intense visions and clear messages coming from God, and on the dangerous missions, she trusted in the direction and protection of God to succeed in her mission.
In 1858, she met the radical abolitionist John Brown, who advocated violence to promote the ending of slavery. Although Tubman never promoted violence herself, she was sympathetic to the aims of John Brown and assisted him in finding willing volunteers. Brown's raid on Harper Ferry, Virginia failed and he was executed, but Tubman praised his courage in death for trying to fight the institution of slavery.
Civil War
At the outbreak of the civil war, Tubman saw a Union victory as a way to advance the cause of abolition. She served as a nurse in Port Royal, treating soldiers suffering dysentery and small pox.
In 1863, Abraham Lincoln issued the Emancipation Proclamation, and Tubman became more involved in the efforts of the northern forces. She offered her services as a guide for scouting trips in South Carolina – using her skills to travel undetected. She also became the first woman to lead an armed assault during the Civil War, when she guided three steamboats to an assault on plantations on the Combahee River. The raid was a great success with around 750 slaves escaping onto steamboats; later, encouraged by Tubman, many of the liberated men went on to join the Union army – forming the first all-black corps. For her courageous efforts, she received favourable press coverage, though as a black woman she received no regular pay or pension (until 1899). During the war, she had to supplement her income by selling pies and root beer.
After the civil war, Tubman returned to Auburn where she continued to look after her family and other ex-slaves. She also remarried (Nelson Davis, 20 years her junior). They adopted a child Gertie.
Denied a pension, her financial situation was poor, but friends in the abolitionist movement helped raise funds.  An authorised biography Scenes in the Life of Harriet Tubman was written by Sarah Hopkins Bradford. Over the next few years, Tubman often gave speeches on both slavery and women's rights. She was an excellent storyteller who could capture the imagination of the audience. Kate Clifford Larson writes on Tubman:
"A great storyteller she was… She moved her audiences deeply. Plainly dressed, very short and petite, quite black-skinned, and missing front teeth… Tubman shocked her audiences with stories of slavery and the injustices of life as a black woman. Black men dominated the antislavery lecture circuit. Tubman and Sojourner Truth stood for millions of slave women whose lives were marred by emotional and physical abuse at the hands of white men."
– Bound for the Promised Land: Harriet Tubman, Portrait of an American Hero
Tubman also began supporting the women's suffrage movement, supporting the work of Susan B. Anthony and others. Tubman spoke of her experiences and suffering in the war and railroad movement as proof that women were the equal of men. This brought her wider national recognition.
She donated her property to the African Methodist Episcopal Zion Church in Auburn to be converted into a home for aged and coloured people.
After becoming increasingly frail, in 1913, she died of pneumonia, surrounded by friends and family. Her last words were:
"I go to prepare a place for you."
She was buried with semi-military honours at Fort Hill Cemetery in Auburn.
Legacy
Harriet Tubman has become an iconic symbol of courage and resistance to injustice, inspiring many generations of civil rights activists.
In April 2016, it was announced she would figure on the US $20 bill.
Citation: Pettinger, Tejvan.  "Biography Harriet Tubman", Oxford, UK. www.biographyonline.net – 12th Dec. 2016, Updated 26 June 2017
Harriet Tubman: The Road to Freedom
Harriet Tubman: The Road to Freedom at Amazon
Related pages

People who fought for human /civil rights – People who campaigned for equality, civil rights and civil justice.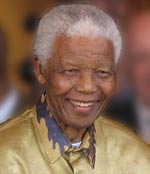 Courageous people – people who have overcome difficult circumstances and difficult odds.

People in the anti-slavery movement
Including Harriet Beacher Stowe, Frederick Douglass and William Wilberforce.
Famous Americans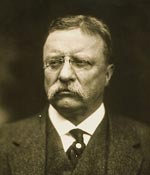 – Great Americans from the Founding Fathers to modern civil rights activists. Including presidents, authors, musicians, entrepreneurs and businessmen. Featuring Thomas Jefferson, Abraham Lincoln, Rosa Parks and Oprah Winfrey.