Eleanor Roosevelt was First Lady of the United States from 1933 to 1945. She was also an advocate for human and civil rights. She was made a delegate to the UN General Assembly and played a key role in drafting the Universal Declaration of Human Rights. She also was a key figure in John F. Kennedy's Presidential Commission on the status of women.
"The future belongs to those who believe in the beauty of their dreams."
– Eleanor Roosevelt
She was born October 11, 1884. At an early age, her mother and father passed away, leaving her to be brought up by her maternal grandmother.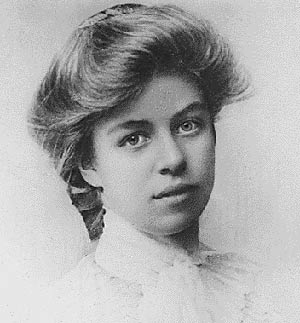 In her late teens, she became active in social work, volunteering in the slums of East New York. In 1902, she also met Franklin D.Roosevelt who was currently studying at Harvard. After some opposition from Franklin's mother, they married in 1905.
They had six children, however, the marriage was not without difficulties. In 1918, Eleanor discovered Franklin was having an affair. This nearly led to a divorce but was avoided after family members and advisers encouraged them to stay together. Nevertheless, it changed the marriage, and Eleanor became more independent as a result.
By 1921, Franklin was stricken with a paralysis of the legs which left him in a wheelchair. Eleanor was pivotal in helping Franklin deal with his disability and successfully encouraged him to return to public life.
In the 1920s, Eleanor worked as a teacher, teaching literature and American history in New York. However, she increasingly found time to become involved in local and state politics. She became influential in the New York Democratic Party and campaigned on a variety of issues such as promoting the aims of the Women's Trade Union League.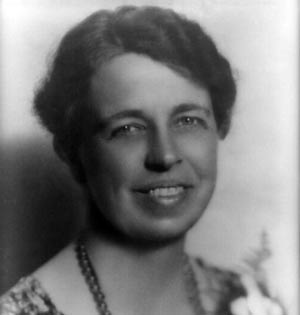 Eleanor's political activism and popularity helped her husband's political career, especially in gaining votes from women and labour organisations.
In 1932, Franklin D.Roosevelt was elected President, against a backdrop of the Great Depression and mass unemployment. He was elected with a new mandate for greater government intervention in trying to offer a 'New Deal' to the unemployed. As First Lady, Eleanor broke the traditional mould and became a highly visible figure speaking at rallies and visiting unemployed workers. People felt a sincerity in her desire to aid the marginalised of the great depression and her public profile was very high. Eleanor also provided a role model for women at a time when women rarely ventured out of domesticated life. To articulate her beliefs, Eleanor wrote a daily newspaper column and other articles; these ranged from women's issues to general humanitarian causes.
"It isn't enough to talk about peace. One must believe in it. And it isn't enough to believe in it. One must work at it."
– Eleanor Roosevelt – Voice of America broadcast (11 November 1951)
Second World War
During the Second World War, Eleanor took on even more duties and spent her time offering moral support to the war effort. In 1943, her visit to troops in the Pacific proved a great success, with even sceptics admitting her presence and determination had a great effect on improving the morale of the men.
During the war, Eleanor also supported the rights of black Americans (such as the Tuskegee Airmen) to train as fighter pilots and take a more visible role in the American military effort. At various times, Eleanor made efforts to seek greater civil rights for the US black population, which at the time still experienced much discrimination.
In the final months of the war, Franklin passed away. The pain of Franklin's death was heightened for Eleanor by knowing he spent his final moments with another woman, Lucy Mercer, whom he had earlier had an affair with.
United Nations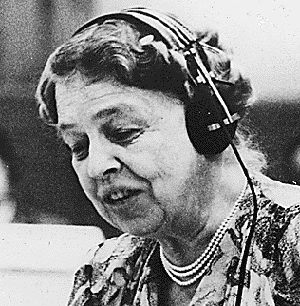 After the war, Harry Truman, who succeeded Franklin D. Roosevelt, appointed Eleanor as a delegate to the United Nations General Assembly.
"The mobilization of world opinion and methods of negotiation should be developed and used by every nation in order to strengthen the United Nations."
– Eleanor Roosevelt.
With great enthusiasm for the ideal of the United Nations, Eleanor helped draft the Universal Declaration of Human Rights, which was adopted by General Assembly on December 10, 1948. Eleanor considered this her greatest achievements and called it 'an international Magna Carta of all mankind'. She was active in the United Nations until Eisenhower's electoral victory in 1953.
"We stand today at the threshold of a great event both in the life of the United Nations and in the life of mankind. This declaration may well become the international Magna Carta for all men everywhere."
– Eleanor Roosevelt
In the post-war period, many encouraged her to run for public office, but she declined – preferring to concentrate on non-partisan public works.
After the election of John F. Kennedy, she was reappointed to the United Nations between 1961 and 1962.
After developing bone marrow tuberculosis, she passed away on November 7, 1962. Her funeral was attended by presidents Truman, Eisenhower and John F. Kennedy.
Citation: Pettinger, Tejvan. "Eleanor Roosevelt Biography", Oxford, UK. www.biographyonline.net, 11th June 2009. Updated 12 Jan 2019.
The Autobiography Of Eleanor Roosevelt
The Autobiography Of Eleanor Roosevelt at Amazon
Related
Over 50 influential women who helped to shape the world in which we live. Including; Sappho, Elizabeth I, Indira Gandhi, Susan B. Anthony, Helen Keller, Princess Diana, Joan d'Arc, Marilyn Monroe and Mother Teresa.
Famous men and women who have campaigned for, and promoted human and civil rights. Includes Abraham Lincoln, Martin Luther King and Rosa Parks.
Famous Americans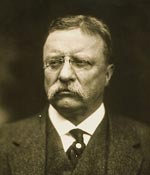 – Great Americans from the Founding Fathers to modern civil rights activists. Including presidents, authors, musicians, entrepreneurs and businessmen. Featuring Thomas Jefferson, George Washington, Rosa Parks and Barack Obama.
Eleanor Roosevelt Further Reading