Emil Zatopek was a Czechoslovak athlete who won three gold medals at the 1952 Helsinki Olympics (5,000m, 10,000m and marathon). He was noted for his relentless training regime which involved a pioneering use of interval training. A hero in his native Czechoslovakia he was an influential member in the Communist Party, however, he was later expelled for supporting the democratic movement of 1968 and as a consequence was forced to work in dangerous mining jobs. He was rehabilitated in 1990 by Czech President Václav Havel. Zatopek is considered one of the greatest athletes and sporting personalities of the Twentieth Century.
"Great is the victory, but the friendship is all the greater."
– Emil Zatopek
Short bio Emil Zatopek
Emil Zatopek was born in Czechoslovakia in 1922. His working-class parents, Frantisek and Anzeka had eight children in all. The large family meant family finances were spread thinly and Emil was always conscious of living close to the poverty line.
As a child, Zatopek was a bright, independently minded spirit, with an unusual power of memory. Many friends said an abiding characteristic of the young Zatopek was his willingness to try everything differently.
In 1937, just short of his 15th birthday, Zatopek left his hometown to work in the large Bata factory in Zlin. For the time, it was a reasonable job, though very disciplined and somewhat repetitive.
Aged 18, he had no interest in running but on one occasion was picked by his company to join a race. Despite his protestations that he was unfit, he was forced to start the race and ended up coming second out of 100. This began his interest in running, and within four years he was representing Czechoslovakia. The second world war and the German occupation of Czechoslovakia meant he lost some of the best years of his career. But, during the war, he was able to persevere with his training and make significant improvements.
After the Second World War, he joined the new Czechoslovakia army, who were sympathetic to allowing him time to train – especially as international success followed. In 1948, he became a household name winning the 10 km in the austerity London Olympics. He also finished second in the 5 km, though many felt that running with greater reserve in the heats may have enabled him to win.
Zatopek remarked on how significant the 1948 Olympics were:
"For me, the 1948 Olympics was a liberation of the spirit. After all those dark days of the war, the bombing, the killing, the starvation, the revival of the Olympics was as if the sun had come out. I went into the Olympic Village in 1948 and suddenly there were no more frontiers, no more barriers. Just the people meeting together. It was wonderfully warm. Men and women who had lost five years of life were back again."
Shortly after the 1948 Olympics, he married Zana, who was an Olympic javelin thrower. During the London Olympics, he bought two gold rings from a shop in Piccadilly Circus. He proposed in unusual fashion (they were both born 19 September 1922) "So, we were both born on the same day, what if, by chance, we were also to get married on the same day?"
Their marriage was largely happy, though to Emil's disappointment remained childless.
After the 1948 Olympics, Zatopek's dominance of middle-distance running grew – leading to several world records. On 29 September 1951, Emil Zatopek became the first person to run 20 kilometres in under one hour and broke four world records in one breathtaking race. By the end of 1953, he held eight world running records—the only man in history to hold so many records at the same time. In total, he set 18 world records.
1952 Helsinki Olympics
In 1952, Emil Zatopek achieved one of the greatest Olympic feats of all time – something that will probably never be reproduced. He won gold in the 5km, 10km and then at the last moment decided to run his first ever marathon. Despite no previous experience at the distance, he won the race by over two minutes. This triple Olympic gold remains an unprecedented achievement. The amazing feature of this Olympics was that two months before the Olympics, doctors advised him not to race because of an infected gland.  Zatopek ignored the doctors' advice.
Another incident shortly before the 1952 Olympics also illustrates Zatopek's willingness to take an unorthodox stance. In 1952, Czechoslovakia was in the throes of great political oppression, with many people put in jail and executed for 'suspect' political views. Stalinist purges were widespread and even athletics was not immune. Just eight months prior, the entire national ice hockey team were arrested and eight players sentenced to a total of 77 years – their crimes were supposedly contemplating defection.
Shortly before the Olympics, Stanislav Jungwirth was excluded from the national team on the grounds his father was in prison for political offences. But, Zatopek was infuriated and told the Ministry of Sports that "If Standa does not go nor will I"
Zatopek's stance was brave and perhaps foolhardy, as the consequences could have been severe. It was also remarkable given what was at stake for Zatopek and he was widely tipped to be favourite for at least two Olympic golds. In the end, the Ministry of Sports climbed down and allowed both Standa and Zatopek to travel. However, a dossier was made on Zatopek for his possible punishment after the games. It was with this threat hanging over his head, that Zatopek competed in the Olympics. His unique triple of Olympic golds gave Zatopek a public popularity which saved him from further punishment, a lesser athlete would probably have fared very differently.
Zatopek was not just an Olympic champion, but a gregarious character who spontaneously built up relationships and goodwill with athletes from other countries. In the 1952 Helsinki Olympics, it was Zatopek who embodied the Olympic ideal – often allowing westerners into the separate Warsaw Pact Olympic accommodation.
To Zatopek, the Olympics was significant for its ideals of international friendship. He learnt to speak several languages and easily struck up conversations with people from around the world. He had a deeply generous spirit – frequently helping out strangers or people who came to see him in his Prague flat.
Emil Zatopek Running Style
Emil Zatopek threw everything into his running and this was reflected in his agonising facial expressions. His running style was often criticised for being gangly, inefficient and unattractive, but Zatopek retorted you don't win any prizes for looks in a running race. He ignored his critics and retained his unique style throughout his career.
"I shall learn to have a better style once they start judging races according to their beauty. So long as it's a question of speed, then my attention will be directed to seeing how fast I can cover the ground."
—Emil Zatopek
Emil Zatopek's Training
Emile Zatopek was renowned for his hard training routines. He would train whatever the weather and push himself through punishing training routines to get the best out of himself. He is said to have done 400-metre intervals up to 80 times in one training session. In many ways, Zatopek was a great pioneer of interval training – making short, hard intense efforts. His philosophy was to develop speed and then be able to repeat this over a long period of time. Speaking of his intense training Zatopek said:
"If one can stick to the training throughout the many long years, then will power is no longer a problem. It's raining? That doesn't matter. I am tired? That's beside the point. It's simply that I just have to."
At the time, this challenged conventional training wisdom. Zatopek remarked on the issue of interval training.
Emil Zatopek on Interval Training, "Everyone said, 'Emil, you are a fool!' But when I first won the European Championship, they said: 'Emil, you are a genius!'"
Emily Zatopek Principles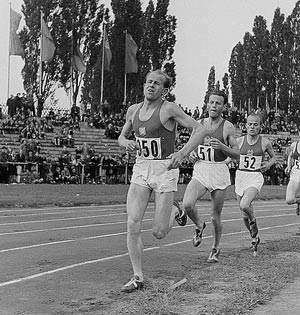 As he grew in international stature, Zatopek was used as a spokesperson for the Communist regime. His working-class roots and sporting prowess made him a useful spokesperson. He was also a gifted speaker who had a capacity to connect with the audience. Though he mostly stayed off politics, he did believe in socialism and communism and later joined the Communist Party. However, he did increasingly become aware of some failings of the Communist regime.
In the Prague spring of 1968, Zatopek spoke out for the democratic wing who were calling for greater change and freedom from the Kremlin. Zatopek had tremendous loyalty to Alexander Dubcek, the leader of the democratic wing who opposed the Russian invasion. When the revolution failed, and the Soviet hardliners reasserted control, Zatopek was punished for his enthusiastic support of the Prague Spring. He was expelled from the army and Communist Party. He lost the comfort of his former life and for several years had to work in a mine. International travel and national acclaim dried up completely. Zatopek was now suspect. Post-1968 was a difficult time for Zatopek with pressure put on him to fore-sake his former 'democratic views'.  Slowly he was somewhat rehabilitated by the regime after learning to be more circumspect in expressing political views. By the mid-1970s, he was able to travel again, representing Czechoslovakia at international sporting events.
As well as being a great runner, Emil was legendary for his generous heart and good nature. The great Australian runner Ron Clarke had achieved many spectacular achievements in athletics, but, an Olympic gold had always eluded him. When Ron Clarke went to visit Zatopek, Zatopek accompanied him to the airport. At the last moment, Zatopek thrust something into his hand. Clarke thought it might be some secret document, but, when he got on the plane he was shocked to see an Olympic gold medal with a note from Zatopek saying simply 'Because you deserve it'. Clarke said
"I do know no-one cherishes any gift more than I do, my only Olympic gold medal, and not because of what it is, but because of the man whose spirit it represents".
Zatopek had tremendous sincerity. He recounts arriving at the 1948 Olympics in London:
"It was my first competition in Olympic Games and I was surprised to come to Olympic stadium and to read the most important things about the Games was: 'Not to win but to take part'. What—not to win? Ah, but I wish to win! "
Zatopek passed away aged 78 in Prague, 2000. He had lived to see the overthrow of the repressive Communist regime and left a profound legacy of athletic achievement.
Citation: Pettinger, Tejvan. "Biography of Emil Zatopek", Oxford, UK – www.biographyonline.net. Published 1 May 2010. Last updated 15 February 2018.
The Rise and Fall of Emil Zatopek by Richard Askwith
The Rise and Fall of Emil Zatopek by Richard Askwith at Amazon
Za-to-pek!: The Life and Times of the World's Greatest Distance Runner
Za-to-pek!: The Life and Times of the World's Greatest Distance Runner at Amazon
Related pages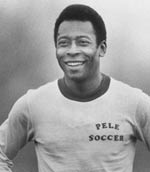 100 Famous sporting personalities – 100 Famous sporting personalities, including Muhammad Ali, Nadia Comaneci, Pele and Jesse Owens.

People who made a difference. Men and women who made a positive contribution to the world – in the fields of politics, literature, music, activism and spirituality.
External links