A list of 100 famous sporting personalities
Top 10 Sporting Personalities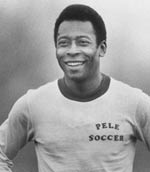 1. Pele (1940 – ) (Brazil, footballer) Winner of three World Cups with Brazil. Pele was the greatest footballer of the century. He scored 1281 goals in 1363 games. Since retirement Pele has become a global ambassador for sport and is a well known advocate of overcoming poverty.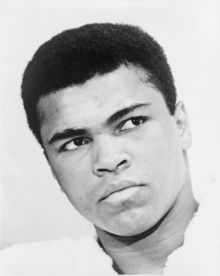 2. Muhammad Ali (1942 – ) US, boxing Olympic champion and world heavyweight champion of the world. Muhammad Ali dominated the sport with his athletic prowess and formidable personality. His opposition to Vietnam war made him a controversial figure in his day.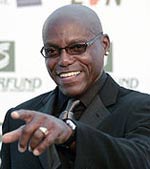 3. Carl Lewis (1961 – ) US, athletics Nine time Olympic gold medallist, Carl Lewis won gold over three Olympics and was the great star of 1980s track and field.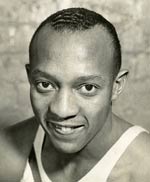 4. Jesse Owens (1913-1980) Jesse Owens won four gold medals at the 1936 Berlin Olympics helping to break Hitler's pride. Despite suffering discrimination in his own country, he remained a great ambassador for the sport.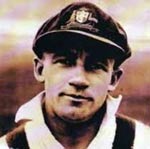 5. Sir Donald Bradman (1908 – 2001) Australia, cricket. Donald Bradman was by far the greatest batsmen the game of cricket has ever produced. Statistically he was way ahead of any other Test batsmen.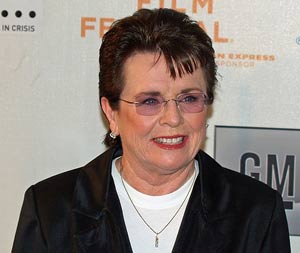 6. Billie Jean King (1943 – ) US, tennis. Billie Jean King won a total of 38 Grand Slam titles. – 12 single titles. An early advocate of equality for women, she won the famous battle of the sexes against Bobby Riggs in 1973.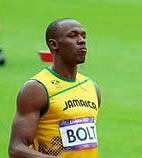 7. Usain Bolt (1986 – ) Jamaica, athletics Usain Bolt smashed the world record for 100m and 200m. Bolt won triple Olympic gold at both the 2008 and 2012 Olympics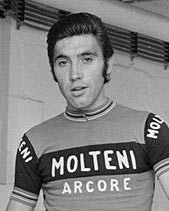 8. Eddy Merckx (1945 – ) Belgium, cycling. Eddy Merckx is the most successful cyclist ever. He dominated the sport winning both classic one day races and the major three week tours, including five Tour de France victories.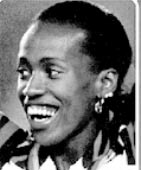 9. Jackie Joyner-Kersee (1962-) US, athletics. One of the most successful female track and field athletes. Won Olympic gold in Heptahlon and Long Jump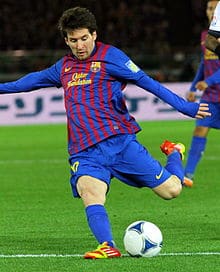 10. Lionel Messi (1987 – ) Argentina, football. One of the most spectacular footballers of the modern game. Messi has led Barcelona FC to unprecedented domestic success and has been voted footballer of the year (FIFA Ballon d'Or) four times.
Aryton Senna  (1960 –  1994) Brazilian motor racing champion. Three times  Formula One world champion ('88,'90,'91). Died in motor racing accident, Bologna, Italy
Michael Jordan (US, basketball) 6*NBA champion. considered greatest basketball player
Diego Maradona (Argentina, football) Joint FIFA player of Century with Pele. Won 1986 world cup with Argentina.
Sir Gary Sobers (West Indies, cricket) One of greatest all-rounders in the game
Haile Gebreselassie (Ethiopia, athletics) 2* Olympic gold in 10,000m. Held world record for marathon for 3 years with 2.03.59
Roger Federer (Switzerland, tennis) Has won 17 single Grand Slam titles. Held no.1 world ranking for 302 weeks overall.
Johan Cruyff (The Netherlands, football) voted European player of the century.
Michael Phelps (US, Swimming) Won 18 Olympic gold medals, and 22 medals in total.
David Beckham (England, football) Won league title in four different countries. 115 appearances for England.
Sachin Tendulkar (India, cricket) Only player to score 30,000 runs in international cricket. Won world cup with India in 2011.
Tiger Woods (US, golf)
David Campese (Australia, Rugby Union)
Nadia Comaneci (Romania, gymnastics)
Serguei Bubka (Ukraine, athletics)
Emil Zatopek ( Czechoslovakia, athletics)
Tegla Laroupe (Kenya, athletics)
Bo Jackson (US, Baseball)
Imran Khan (Pakistan, cricket)
Roger Bannister (Great Britain, athletics)
Shane Warne (Australia, cricket)
Fred Perry (Great Britain, tennis)
Paula Radcliffe (Great Britain, athletics)
Asbel Kiprop (Kenya, athletics)
Abebe Bikila (Ethopia, athletics)
Alex Ferguson (Scotland, football)
Bill Shankly (Great Britain, football)
Babe Ruth (US, baseball)
Bobby Moore (Great Britain,football)
Babe Didrikson Zaharias 1911-1956 (US, athletics, golf)
Bjorn Borg (Sweden, tennis)
Jose Mourinho(Portugal, football)
Seve Ballesteros (Spain, Golf)
Lewis Hamilton (motor racing)
Michael Schumacher (Germany, motor racing)
Greg Lemond (US, cycling)
Jacques Anquetil (France, cycling)
Jack Nicklaus (Australia, golf)
Steve Davis (England, snooker)
John McEnroe (US, tennis)
Martina Navratilova (US, tennis)
Monica Seles (Yugoslavia / US, tennis)
Severiano Ballesteros (golf)
Magic Johnson (US, Basketball)
Joe DiMaggio (US, basball)
Lance Armstrong (US, cycling)
Mo Farah (Great Britain, athletics)
Mark Spitz (US, swimming)
Chris Evert (US, tennis)
Al Oerter (US, athletics)
Gareth Edwards (Wales, Rugby Union)
Jimmy Connors (US, tennis)
Michael Johnson (US, athletics)
Ian Botham (England, cricket)
Jim Thorpe (US, swimming)
Sir Steve Redgrave (Great Britain, rowing)
Steffi Graf (Germany, tennis)
Sebastian Coe (Great Britain, athletics)
Henry Cooper (Great Britain,boxing)
Stirling Moss (Great Britain, motor racing)
Hicham El Guerrouj (Morocco, athletics)
Eric Liddell (Scottish, athletics)
W.G. Grace (England, cricket)
Kenenisa Bekele (Ethiopia, athletics)
Nick Faldo (Great Britain, golf)
Bernard Hinault (France, cycling)
Bob Beamon (US, athletics)
Paavo Nurmi (Finland, athletics)
Chris Froome (Great Britain, cycling)
Manny Pacquiao (Phillipines, boxing)
Kelly Slater (US, Surfing)
Rafael Nadal (Spain, tennis)
C.B.Fry (England, cricket)
Brian Lara (West Indies, cricket)
Chris Hoy (Great Britain, cycling)
Serge Blanco (France, Rugby Union)
Cristiano Ronaldo (Portugal, football)
Jonathan Edwards (Wales, Rugby Union)
Wayne Rooney (England, football)
Martina Hingis (Switzerland, tennis)
Andy Murray (Great Britain, tennis)
George Best (Northern Ireland, football)
Sir Viv Richards (West Indies, cricket)
Fausto Coppi (Italy, cycling)
Ronaldhino (Brazil, football)
Eusebio (Portugal, football)
Tegla Laroupe (Kenya, athletics)
Rod Laver (Australia, tennis)
Grete Waitz (Norway, athletics)
Maria Sharapova (Russia, tennis)
Gareth Bale (Wales, football)
Related pages