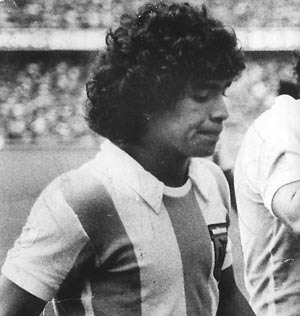 Diego Maradona (1960 -) is one of the greatest footballers of all time. A genius on the pitch with an unrivalled ability to pass, shoot, dribble and float past defenders. Maradona led Argentina to World Cup success and Napoli to its first Italian title. A maverick genius, Maradona's struggles with drug addiction marred his career, but for all his flaws, he is widely revered for giving the game some of its most memorable moments.
Early life
Diego Armando Maradona was born on 30 October 1960 on the outskirts of Buenos Aires, Argentina. He grew up in relative poverty, but his football talent was soon noticed and he made rapid progress through the junior ranks. When he went to trials at Argentinos Juniors, the youth coach, Francisco Cornejo, who first saw Maradona couldn't believe he was only eight years old, as he was playing with the ability of an adult.
Maradona was a precocious talent and when he was still only 15 years old, he became the youngest player in the history of the Argentinian league – making his professional debut for Argentinos Juniors. On his debut game, Maradona announced his unique talent by performing a perfect nutmeg (passing through his legs) of defender Juan Domingo Cabrera. Maradona says of that memorable first day "That day I felt I had held the sky in my hands."
After five years at Argentinos Juniors, Maradona was the most sought after player in Argentina. Aged only 20, he was transferred to his childhood dream club, Boca Juniors – for a record $4 million. In his first season at Boca Juniors, he guided them to a league title.
World record transfer fee to Barcelona
In 1982, after the World cCup in Spain, Maradona set a world record transfer fee and was signed by Barcelona for $7.6 million. (£5 million). At Barcelona, Maradona scored 38 goals in 58 games and in 1983, helped Barcelona to win the Copa del Rey and Spanish Super Cup. However, it was a turbulent period. Heavily marked by defenders he suffered a broken ankle which caused him to be sidelined through injury. In one memorable moment in June 1983, Maradona scored a goal of breathtaking quality in the Classico derby Barcelona vs Real Madrid; his footballing feats applauded throughout the stadium – a very rare case of Madrid fans applauding a player in a Barcelona shirt.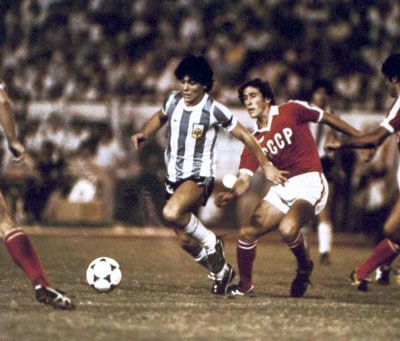 However, Maradona's time at Barcelona finished in unfortunate circumstances. During the 1984 Copa del Rey final against Athletic Bilbao played in front of 100,000 spectators, Maradona became enraged at rough tackles and racist abuse from the crowd. At the end of the game, having lost 1-0, Maradona faced off an opposition player and, after further taunting, head-butted Miguel Sola, starting off a mass brawl involving all players. It was one of the most notorious brawls in Spanish football, with 60 people injured and Maradona at the centre. It was Maradona's last game at Barcelona and to mutual relief, he was transferred to Italian side Napoli.
Success at Napoli
The signing of Maradona to Napoli created a sensation in the southern Italian city. Italian football was dominated by richer clubs in the north, the arrival of the world's greatest player was greeted with unbridled enthusiasm. The transfer set another world record of $10.48 million (£6.9 million) A local newspaper said at the time
"(despite lack of) mayor, houses, schools, buses, employment and sanitation, none of this matters because we have Maradona"
This proved to be Maradona's most successful club career, where he reached the pinnacle of his game and grew into the role of captain, acting as a talismanic player who could lift the whole side.
In his second season 1986-87, Maradona led Napoli to their first-ever Serie A title. It was a genuine shock to the Italian game, that the grip of Milan and Juventus on Italian football was broken. Maradona was feted as a hero and the celebrations turned the whole city into a carnival-like atmosphere for a week. The league victory was not a one-off, Napoli became a dominant force in Italian football, finishing runners up twice, winners again in 1990  and also winning the Coppa Italia (1989) and UEFA cup 1989. Maradona became the leading all-time goalscorer for Napoli with 115 goals. Cut Maradona was much more than a goalscorer, he played the role of attacking midfielder and set up many goals himself. More than that – his presence on the pitch was talismanic, despite being heavily man-marked, he could create havoc through his dribbling ability.
The fame and adulation Maradona received were not without costs. The emotional nature of Maradona made his behaviour off the pitch more problematic, he began taking cocaine around the mid 1980s and he soon became addicted leading to missing training and even games. There were also allegations about his involvement with the Napoli mafia and having an illegitimate son. In 1992, he failed a test for cocaine and served a 15-month ban. It was an unfortunate end to a glittering club career, but despite leaving under a cloud, Napoli retired the number 10 shirt in recognition of his contribution. After leaving Napoli, he spent a year at Sevilla in Spain, before returning to Argentina to play for Newell's Old Boys and Boca Juniors. His final years were often stop-start affairs, with Maradona well below his former peak. He retired after the 1997-98 seasons with a career total of 681 games and 344 goals.
International career
Maradona's international career spanned four world cups, one youth world cup and 91 appearances where he scored 34 goals. He burst on to the international scene at the 1979 FIFA world youth tournament, where Maradona was the tournament's stand out player as he led Argentina to the title. His first world cup in 1982 was something of a disappointment, Argentina were knocked out in the second round and he was sent off during their 3-0 defeat to Brazil.
Maradona and the 1986 World Cup
Without any doubt, Maradona was the dominant personality and greatest player of the 1986 World Cup held in Mexico. He scored the greatest goal in any World Cup final and led Argentina to become champions against West Germany. At the same time, his genius was shadowed with controversy for his performance against England. The quarter-final between England and Argentina were already tense – after the recent history of the Falklands War. With the game at 0-0, Maradona scored but appeared to use his hand. In the split second it happened, the referee did not notice and the goal stood, Maradona appeared to move his head as if he was heading the ball, when actually he used his hand. When later quizzed about the incident, Maradona added fuel to the controversy by saying the goal was scored with
"a little with the head of Maradona and a little with the hand of God"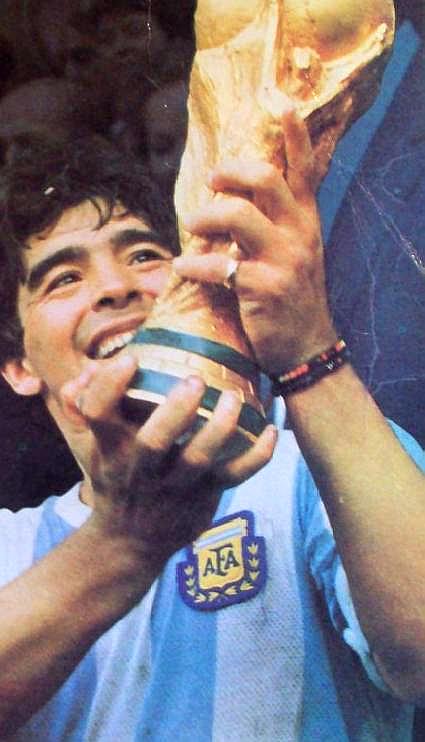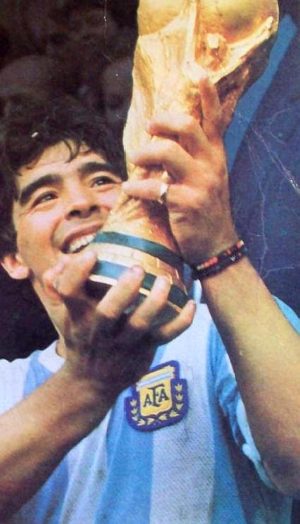 His 'hand of God' became one of the most famous and notorious quotes in football and summoned up Maradona's rather cheeky attitude to trying to get away with winning and no real belief in sportsmanship. However, just a few minutes after this controversial goal, Maradona picked up the ball in his own half and began a mazy run of 60 metres, gliding past five English players before slipping the ball in the back of the net. It has been described as pure poetry and the most wonderful goal of any world cup, if not all time. It was Maradona's career in a nutshell, controversy and genius very close together. In the semi-final, Maradona again scored a wonderful goal against Belgium setting up a World Cup final against West Germany. Despite heavy marking, Maradona was instrumental in leading Argentina to a 3-2 victory. Maradona was player of the tournament (Silver Shoe Award), plus Golden Boat. (most goals)
1990 World Cup
Despite Maradona failing to reach the same heights as the previous world cup, he led Argentina to another world cup final where they lost 1-0 to West Germany. In the quarter-finals, Argentina met Italy in his adopted home town of Napoli. Italians fans outside Napoli ridiculed the adulation Maradona received so Maradona invited Napoli fans to support Argentina instead, but this was considered disrespectful and it made his return to Napoli the next year more difficult.
1994 World Cup
Maradona arrived at the US World Cup, with all eyes on him – despite him being over-weight with little signs of the form that he once had. Maradona struggled with weight gain throughout his career, but by 1994, it was becoming more visible.
Maradona's 1994 World Cup was an ignominious end to Maradona's international career. In the group round, he scored against Greece, and celebrated with a run to the camera and screaming into the camera – his eyes were visually bulging and he looked very aggressive. Shortly after that, he failed a drugs test for the stimulant ephedrine. He was unceremoniously kicked out of the tournament. Maradona claimed both that he had sanction to use the drug before the tournament to aid weight loss, and also that he unknowingly ingested the drug from a sports drink.
In 2001, he played in his final testimonial game, a shadow of his former athletic self, he still received the adulation of the crowd. Speaking to the crowd, Maradona said:
"Soccer is the world's most beautiful game, and nothing he'd done should be held against the sport itself. I made mistakes, and I paid for them, but the ball is never stained." (1)
Maradona playing style
At the peak of his game, Maradona was unrivalled in dribbling, swerving, passing and shooting. At 5″ 6′ he had a low centre of gravity and was able to evade challenges and skip past players in a way, very few other players came close to. For most of his career, he was the most charismatic player in the game, and he shouldered the burden of captaincy by taking pressure from his teammates. Less well known is his great tactical knowledge and understanding of the game. As captain of Argentina, he led them to unprecedented success, part of the reason was his footballing genius but also the faith he gave other players. On many occasions, Maradona was able to work literal miracles and turn games around like no other.
Personality
"I am Maradona, who makes goals, who makes mistakes. I can take it all, I have shoulders big enough to fight with everybody." – Maradona
Throughout his life, he enjoyed a reputation for his rebellious attitude and scorn of authority. It developed from the slums of Buenos Aires, where the term 'viveza criolla' — "native cunning" and ability to trick those in power was seen as a positive quality. On the field, this manifested in incidents such as 'The hand of God' where he got away with scoring with his hand. In 1990, he also used his hand to stop a goal on his goal line against the Soviet Union.
Awards
In 2000, he won the FIFA Player of the Century award. In an internet voting system, Maradona gained 54% of the vote to second place Pele on 18%. FIFA felt this weighted too much to recent players, so decided to give a joint award. Possibly because Pele was seen as football's golden boy compared to Maradona's long history of drug use and run-in with authorities.
Post-retirement
Since retirement, Maradona has worked on a variety of projects. He was for a time the host of a talk show where he interviewed many famous people, such as Fidel Castro, Pele, Ronaldo and Zinedine Zidane. He has also taken several management jobs in Argentina leagues and Dubai. In 2008, he took the job of managing Argentina national side. He led them to the quarter-finals of the 2010 World Cup finals, but it was a controversial time with FIFA giving him a ban for swearing at journalists. He is a great admirer of Lionel Messi.
Religious views
Maradona was born into a Roman Catholic family. He has expressed a belief that God is responsible for his playing, saying once.
"God makes me play well. That is why I always make the sign of the cross when I walk out onto the field. I feel I would be betraying Him if I didn't."
However, during his turbulent years, he drifted away from the church and stopped attending mass. He has said that Pope Francis has done a great job in encouraging him to rejoin the Catholic faith. His particular he admires Francis philosophy of sharing with the poor
"He is doing a great job also inside the Vatican, which pleases all Catholics. I had distanced myself from the church for many reasons. Pope Francis made me come back," (1)
He also expressed admiration for Argentinian Pope Francis and his philosophy of sharing with the poor. He said:
"We should all imitate Pope Francis. If each one of us gives something to someone else, no one in the world would be starving."
Personal life
He married Claudia Villafañe on 7 November 1984. They had two daughters. They divorced in 2003.
In 2005, he had a stomach stapling operation which helped control his weight gain. He also managed to overcome his cocaine addiction, which he began in the mid-1980s. Speaking in 2012, he spoke of his determination to overcome his past excesses.
"The unconventional and uninhibited way of living was a part of my life. I won't be like that now." (DM)
Political views
Maradona has expressed support for various political figures. He was an admirer of right-wing Argentinian president Carlos Menem, but in recent years, expressed more enthusiastic support for left-wing leaders in Latin America such as Fidel Castro (Cuba), Hugo Chavez and Nicolas Maduro (Venezuela) He was also severely critical of George Bush and American imperialism, but he softened his criticism of US under Barack Obama, who he thought a good president.
Despite losing in the quarter-finals, Diego Maradona was larger than life figure on the touchline. He displayed a great rapport with his players, such as the new star Lionel Messi
Citation: Pettinger, Tejvan. "Biography Diego Maradona", Oxford, UK. www.biographyonline.net. Published 15 March 2020.
Career Highlights
1976–1981 Argentinos Juniors 167 appearances (115 goals)
1981–1982 Boca Juniors 40 (28)
1982–1984 Barcelona 36 (22)
1984–1991 Napoli 188 (81)
1992–1993 Sevilla 26 (5)
1993–1994 Newell's Old Boys 7 (0)
1995–1997 Boca Juniors 30 (7)
Total 494 (258 goals)
National team
1977–1994 Argentina – 91 Appearances (34 goals)
Related pages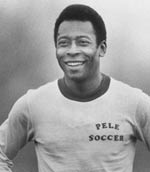 100 Famous sporting personalities – 100 Famous sporting personalities, including Muhammad Ali, Nadia Comaneci, Pele and Jesse Owens.