Lionel Messi is an Argentinian footballer widely regarded as one of the greatest players of the modern generation. He plays for FC Barcelona and the Argentina national team. He has won FIFA world player of the year five times (2009–12 and 2015). He has often been described as Diego Maradona's successor because of his prolific goal scoring record and ability to dribble past opponents.
"I have seen the player who will inherit my place in Argentine football and his name is Messi. Messi is a genius, and he can become an even better player."
His potential is limitless, and I think he's got everything it takes to become Argentina's greatest player."
Short Biography Lionel Messi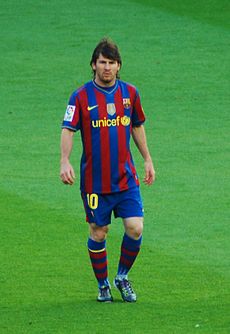 Lionel Messi was born, 24 June 1987, in Rosario, Argentina to a working-class family. His father was a factory steel worker, and his mother a cleaner.
He began playing from an early age, and his talent was soon apparent. However, at the age of 11, Messi was diagnosed with growth hormone deficiency (GHD). This was a condition that stunted growth and required expensive medical treatment, including the use of the drug Human growth hormone.
His local club, River Plate were interested in signing Messi but didn't want to pay for his medical treatment. However, Messi was given a trial with Barcelona, and coach Carles Rexach was impressed – offering Messi a contract (written on a paper napkin!) which included paying for Messi's treatment in Spain. Messi moved to Barcelona with his father and became part of the prestigious FC Barcelona youth academy.
"I made a lot of sacrifices by leaving Argentina, leaving my family to start a new life. But everything I did, I did for football, to achieve my dream. That's why I didn't go out partying, or do a lot of other things."
– Lionel Messi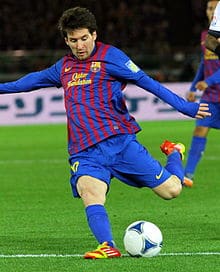 Messi progressed through the ranks and was given his first appearance in the 2004/05 season becoming the youngest player to score a league goal. In 2006, Messi was part of the double winning team which won both La Liga (Spanish League) and Champions League. By next season, (2006-07) aged just 20, Messi was the first choice striker and an essential part of the Barcelona team – scoring 14 goals in 26 league games.
In the 2009-10 season, Messi scored 47 goals in all competitions, equalling Ronaldo's record total for Barcelona. As the seasons have progressed, Messi kept improving and breaking his own records. In the calendar year of 2012, he broke the all-time world record for most goals scored in a calendar year. His final total of goals in 2012 was 91 – beating the previous record of 85 by German Gerd Muller, and Pele's milestone of 75 in 1958.
"My record stood for 40 years – 85 goals in a year – and now the best player in the world has broken it, and I'm delighted for him. He is an incredible player, gigantic."
– Gerd Muller
At the start of 2013, in club football, Messi has scored 292 goals from a total of 359 appearances, and in international football, 31 goals from 76 appearances.
At the end of 2012, Messi turned down a very lucrative offer to play for an unnamed Russian side. It would have given Messi a salary of €20 million a year and made Messi the most expensive player in the world (Barcelona would have been paid €250 million). He turned down the offer because he was unsure if he would be playing in major European championships and the difficulties in moving to Russia. Instead, he signed a contract with Barcelona until the end of 2018. When asked about moving to the English Premier League, Messi revealed his sense of commitment to Barcelona.
"Barcelona is my life. They have brought me to where I am today. I could not leave, I don't want to leave. I know the Premier League is very good. But I cannot see myself playing in England because my heart is with Barcelona, always."
– Lionel Messi
International Career
Because Messi was brought up in Spain, since he was 11 years old, he has Spanish nationality. In 2004, he was offered the chance to play for Spain's Under 20 side, but Messi decided to play for Argentina, the country of his birth. He led Argentina to victory in the 2005 FIFA Youth Championship. Messi made his full international debut in August 2005, during a friendly against Hungary. In his first game, Messi was sent off for allegedly elbowing a player. The decision was contentious and not in keeping with Messi's style of play which is generally clean and in the spirit of fair play; he has very rarely been accused of diving.
In 2006, he participated in the World Cup, becoming Argentina's youngest player to play in the world cup. Argentina were eliminated in the quarter-finals. In 2008, he won an Olympic gold medal for Argentina in football at the Beijing Olympics. Initially, Barcelona had not allowed him permission to play, but new coach Pep Guardiola allowed him time off.
In the 2010 World Cup, Messi wore the number 10 shirt and played well to help Argentina reach the quarter-finals, but Messi struggled to score, and Argentina disappointingly lost 4-0 to Germany in the quarter-final. Messi has admitted he is desperate to play in a world cup final. Success for Messi in the World Cup would be the last test of greatness. Pele, by contrast, was part of Brazil's three times winning World Cup side '58, '62 and '70.
Messi is widely regarded as one of the most exciting players of the modern age – in fact, any age. He has a peerless ability to dribble and take on opponents. Maradona has described his ball control as supremely good. "The ball stays glued to his foot; I've seen great players in my career, but I've never seen anyone with Messi's ball control." Messi has said he wishes to retain the joy of how a child plays football
"I have changed nothing, my style of play is still that of a child. I know that above all it is my job and that I should approach it in another way, but one must not lose sight of the fact that football is a game. It is imperative one plays to amuse oneself, to be happy. That is what children do and I do the same thing." (total Barca)
– Lionel Messi
After winning the Ballon d'Or for the fourth time in January 2013, Messi said:
"To tell you the truth this is really quite unbelievable. The fourth award that I have had is just too great for words. " (BBC)
Messi and Ronaldo
Messi has often been compared to prolific Real Madrid goalscorer Christiano Ronaldo, but both have been keen to downplay the rivalry.
"Messi has his personality and I have mine. He has his game and I have mine. I also play in a big club like him. We are different in every aspect. But right now, he is the best."
—Christiano Ronaldo, in September 2011
Messi's goalscoring record
By any standards, Messi's goal scoring record is exceptional. By June 2019, he has scored 419 goals in 445 official matches for Barcelona FC.
In 2012/13, Messi set an all-time world record of scoring in 21 consecutive games (33 goals from 21 games)
He holds the Guinness World Record for most goals in a calendar year – 91 goals during 2012.
He is the only player to score in four consecutive Champions League campaigns.
His international record for Argentina is 68 goals from 133 appearances.
Messi major honours
Barcelona
Spanish La Liga title(*10) : 2004–05, 2005–06, 2008–09, 2009–10, 2010–11, 2012–13, 2014–15, 2015–16
Spanish Cup (*6) – Copa del Rey
Supercopa de España (*6)
UEFA Champions League (*4) : 2005–06, 2008–09, 2010–11, 2014-15
UEFA Super Cup (*3)
FIFA Club World Cup (3)
Argentina
Olympic Gold Medal: 2008
FIFA U-20 World Cup: 2005
2006 World Cup – QF
2010 World Cup – QF
2014 World Cup – Runners-up.
2018 World Cup
Wealth and income
Messi has frequently been the target of other football clubs with big transfer budgets, but he has remained loyal to Barcelona FC. He is one of the highest paid footballers in the world. His base salary is estimated at €40 million per year. His combined income 2018 from all sources was €126m. This made him the highest paid sports star – according to Forbes. From 2018, his weekly salary from Barcelona is $667,000 per week.
Private life
By the standards of modern football, Messi has a relatively private and modest lifestyle. He makes efforts to keep links to his hometown of Rosario. He has an Argentinian girlfriend Antonella Roccuzzo, and they have two children. His first child Thiago was born in November 2012.
Recommended Book – Lionel Messi – Real Bios
Lionel Messi – Real Bios at Amazon by Marie Morreale.
Messi acts as an ambassador for Unicef, and also runs his own charitable foundation – supporting access to education and sport for children. Because of his own expensive medical treatment, he has also helped Argentinian hospitals with paying for similar treatment to his own.
World Cup 2014
Many commentators have stated that Lionel Messi has performed at his best in all competitions, except the World Cup. In both the 2006 and 2010 World Cup, Argentina were knocked out in the quarter-finals, with Messi not at his best.
The 2014 World Cup in Brazil is an opportunity for Messi to make an impact on the highest stage of them all. In the opening game against, Bosnia – Herzegovina, Messi scored a great goal to give Argentina a winning start. He scored four goals to help Argentina reach the World Cup Final. In the final, Argentina lost 1-0 to Germany. Messi was awarded 'Golden Ball' player of the tournament, though the decision was not universally supported. After the tournament, Messi replied:
"I do not care about the Golden Ball. I am just upset by the wasted chances. We had the best chances. We knew we could not dominate the game but we knew what we wanted to do. Right now I do not care about my prize. I just wanted to lift the cup and bring it to Argentina. The pain is very great."
In June 2016, a very disappointed Messi announced his retirement from international football, after missing a penalty as Argentina got knocked out of the Copa America final. However, Messi later reversed his decision, saying he loved playing for Argentina too much, and "I see there are many problems in Argentinian football and I don't intend to create another one."
However, Messi returned to international football and led Argentina in the 2018 World Cup. Despite carrying the weight of expectation of a nation, the World Cup was considered a great disappointment. However, in the 2018/19 season, Messi returned to his usual scintillating performance with Barcelona.
World Cup 2022
After a disappointing first game, when Argentina unexpectedly lost to Saudi Arabia, Lionel Messi was key to firing Argentina to a 2-0 victory over Mexico, with Messi scoring an excellent goal. If Messi has lost something of his speed and top level fitness, he remains just as potent in front of the goal, with the capacity to make match winning contributions. The goal took him to 8 world cup goals, 2nd overall and level with Diego Maradona.
Published 10 January 2018. Last updated 30 November 2022
Stats

Full name Lionel Andrés Messi
Date of birth 24 June 1987 (1987-06-24)
Place of birth Rosario, Argentina
Height 1.69 m (5 ft 7 in)
Playing Position: Forward
Total club appearances 684. Total Goals 578 (Dec. 2018)
Total international appearances 151. Total Goals 81 (Dec. 2018)
La Liga titles with Barcelona (9)
UEFA Champions League (4) 2005–06, 2008–09, 2010–11, 2014–15
FIFA Ballon d'Or/Ballon d'Or (5)
Guinness World Record as top goalscorer for club and country in a calendar year: 91 goals in 2012
Citation: Pettinger, Tejvan. "Biography of Lionel Messi", Oxford, UK.  www.biographyonline.net. First published 26 June 2012. Last updated 26 June 2019.
The Amazing Story of Leo Messi
The Amazing Story of Leo Messi at Amazon
Lionel Messi: The Rise to Stardom. at Amazon
Related pages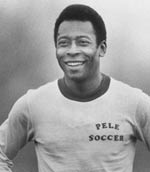 100 Famous sporting personalities – 100 Famous sporting personalities, including Muhammad Ali, Nadia Comaneci, Pele and Jesse Owens.
External links