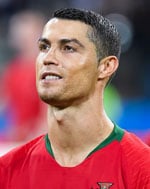 Cristiano Ronaldo is a Portuguese professional footballer who has played for Manchester United, Real Madrid, Juventus and Portugal. Along with Lionel Messi, he is regularly considered to be one of the top two players in the world. He became the world's most expensive player when Real Madrid signed him for 94 million Euros in 2009 from Manchester United. His sustained performance has enabled him to break numerous records for goal scoring and has been named FIFA player of the year (Ballon d'Or) five times. He has become an iconic figure in the sport, with an impressive record of 1,000 professional appearances and over 700 goals.
Short Biography Cristiano Ronaldo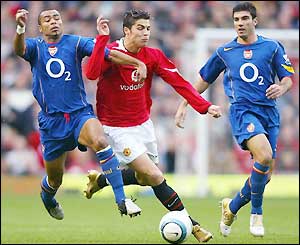 Cristiano Ronaldo dos Santos Aveiro was born in Portugal 5 February 1985.
His second name 'Ronaldo' was named after his father's favourite American actor – Ronald Reagan.
From an early age, he loved playing football. His talent, enthusiasm and love for the game soon became apparent. By the age of ten, his talent was becoming well known in Portugal and he was signed for Nacional, a Portuguese side from Madeira. He later signed for Sporting Lisbon – one of the biggest clubs in Portugal.
His first international exposure came when representing Portugal under 17s at the UEFA championships. His performance caused him to be marked by leading European football managers. In 2003, he played against Manchester United when Sporting beat them 3-1 in a friendly.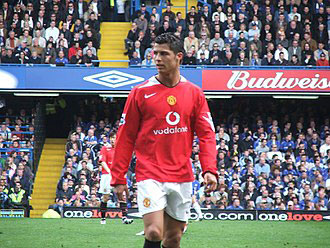 After the departure of David Beckham, Sir Alex Ferguson decided to buy the youngster for a fee of £12.24 million. He started playing for Manchester in the 2003/04 season. Despite initially asking for the number 28 shirt, Ferguson insisted that he wear the famous number 7 shirt.
At Manchester United, his career steadily progressed. In the 2006/07 season, Ronaldo was a key figure in Manchester's successful league campaign. Ronaldo scored over 20 goals, as he won his first championship. In March 2007, his prowess helped him to gain a record-breaking £120,000 a week five-year contract. He also won PFA player of the year award.
The 2007-08 season was even better, with Cristiano Ronaldo being named the player of the tournament, as Manchester United won the coveted Champions League trophy. The most prestigious club competition in the world. Sir Alex Ferguson said of Ronaldo:
"We've had some great players at this club in my 20 years, but he's up with the best."
Real Madrid
However, despite the success, Ronaldo expressed a desire to leave the club, and move to Real Madrid. In 2009, Manchester United accepted an offer of £80 million from Real Madrid, making Ronaldo the most expensive player in the world.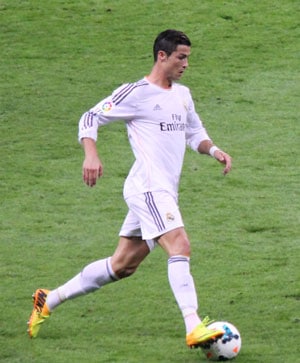 Despite intense pressure, Ronaldo thrived in the atmosphere at Real Madrid reaching 100 La Liga goals in just three seasons at Real Madrid. He went  on to become Real Madrid's top goal scorer of all time and also La Liga's second-highest goalscorer of all time. – 311 goals from 292 Appearances (behind Lionel Messi on 438 goals). At times, Real Madrid have been overshadowed by their more successful rivals at Barcelona, who won more titles and competitions. With Ronaldo, Real Madrid have won the La Liga just twice – 2011–12, 2016–17. However, he has guided Real Madrid to four UEFA Champions League: 2013–14, 2015–16, 2016–17, 2017-18.
His prolific goal-scoring record has lead to frequent comparison with Barcelona's exceptional Lionel Messi. Sometimes, Ronaldo played up the rivalry, but at other times played it down.
"It's part of my life now. People are bound to compare us. He tries to do his best for his club and for his national team, as I do, and there is a degree of rivalry with both of us trying to do the best for the teams we represent."
– Cristiano Ronaldo
Juventus
On 10 July 2018, Ronaldo was signed by Italian club Juventus for a €100 transfer fee (plus additional €12 million in other fees. In his first season, he helped Juventus to another Serie A title, and Ronaldo became the first player to win national titles in the big three leagues of England, Spain and Italy.
World Cup and international career.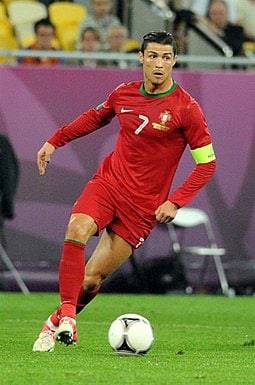 Ronaldo has represented Portugal from the youth level in 2001. By his 22nd birthday, he had been awarded the captaincy and he has gone on to lead the team at numerous international tournaments. This includes four world cups 2006, 2010, 2014 and 2018.  To put the results into context, before Ronaldo, Portugal only played in three tournaments 1966, 1986 and 2002. The best performance under Ronaldo was in 2006, where Portugal finished in 4th place. The highlight of his international career was leading Portugal to the 2016 UEFA European Championship title – the first major title for Portugal. As of 2020, he has 99 international goals.
Style of Play
There is widespread admiration for the athleticism, speed, talent and technical ability of Ronaldo. He has the capacity to dribble and beat players, and score a spectacular array of goals from overhead bicycle kicks to free-kicks and headers. Over the years, he has worked on both his physical strength and technical ability. He plays with tremendous confidence and often makes use of feints, dummies and step-overs, his skill and reputation make him a feared opponent. His self-confidence is a defining feature of his game and personality. Interviewed in 2018, he replied
"In my mind, I'm always the best. I don't care what people think, what they say. In my mind, not just this year but always, I'm always the best."
Cristiano Ronaldo BBC Sport (5 November 2015).
Ronaldo has a strong work ethic, and has been able to maintain a consistently high standard of play for several seasons:
"I am not a perfectionist, but I like to feel that things are done well. More important than that, I feel an endless need to learn, to improve, to evolve, not only to please the coach and the fans, but also to feel satisfied with myself. It is my conviction that there are no limits to learning, and that it can never stop, no matter what our age."
– Cristiano Ronaldo.
He has sometimes been accused of having a petulant side. For example at the 2010 World Cup, he winked after getting David Beckham sent off.
Outside of football
Outside of football, he is often photographed with his model girlfriends and in his many sports car. Perhaps unfairly, he is characterised as the ultimate 'playboy' footballer, with his styled hair, and expensive clothes. In 2009, he was involved in a crash whilst driving his Ferrari. However, after reacting to newspaper claims he was involved in drinking in England, he replied,
"I don't smoke or drink, and I'm not a big spender. I live in a rural part of Cheshire and my nearest neighbours are squirrels, birds and cows. Much of my time is spent at home with friends and family. I enjoy being peaceful and often sit by the candlelight to relax. Tranquillity is important to me."
Ronaldo says he does not drink alcohol, which may be related to the early death of his father in 2005, aged 52 from alcohol-related liver damage.
He has also been involved in numerous philanthropy initiatives and has given parts of his salary to charitable relief efforts. He serves as a Save the Children Global artist ambassador.
Family life
He has three children via a surrogate mother and one daughter with a former girlfriend, Spanish model Georgina Rodriguez.
The legendary George Best said of Ronaldo:
"There have been a few players described as the new George Best over the years, but this is the first time it's been a compliment to me."

---
Citation: Pettinger, Tejvan. "Biography of Cristiano Ronaldo", Oxford, UK. www.biographyonline.net Last updated 18 March 2020.
Career Achievements
Ronaldo is the only player to win the unique combination of the league title, domestic cup, domestic Supercup, Champions League, Club World Cup, League player of the year, Golden Shoe and Ballon d'Or at two clubs (Manchester United and Real Madrid)
Most goals scored in a single calendar year for club and country: 63 goals (2012)
Most goals scored in the UEFA Champions League: 128 goals (2020)
Winner of five FIFA Ballon d'Or awards (given to world's best player)
Only player to win national titles in England, Spain and Italy.
Five times winner of UEFA Champions League (4 with Real Madrid, 1 with Man Utd)
Four times winner of FIFA club world cup.
World
At the time (2009) The most expensive footballer in history £80 million – Man Utd to Real Madrid
Only player in history to have scored 60 or more goals in a calendar year four times (consecutively from 2011 to 2014)
The only player to score 50 goals or more in seven consecutive seasons (2011-17)
Real Madrid
Real Madrid all-time top goalscorer: 450 goals
Most goals scored in a season in all competitions: 60 goals
Most goals scored in a single La Liga season: 46 goals
Most goals scored in a single UEFA Champions League season: 17 goals
Most hat-tricks in a La Liga career (25)
Portugal
Most international goals scored in a calendar year: 32 (2017)
First player to score in ten consecutive international tournaments (2004-19)
Portugal's most capped player of all time: 164 caps
Portugal's all-time top goalscorer: 99 goals
Cristiano Ronaldo The Rise of a Winner
Cristiano Ronaldo The Rise of a Winner at Amazon
Cristiano Ronaldo – Moments
Cristiano Ronaldo – Moments at Amazon
Related pages

Famous Sports people – Famous sportsmen/women. Including football, athletics, tennis, rugby, cricket, boxing. A list of 100 sports stars, such as Muhammad Ali, Serena Williams, Pele and Usain Bolt.