David Robert Joseph Beckham OBE (born May 2, 1975) is an English footballer who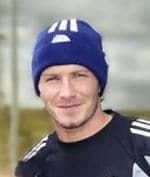 has played for Manchester United, Real Madrid, AC Milan, in the US soccer league and Paris St Germain. Outside of football, he also created his own brand of clothing and is one of the most iconic sportsmen.
Beckham is the 2nd most capped England player of all time (115). He is also the only Englishman to score in three different World Cups. Beckham has twice been voted the runner-up for FIFA World Player of the Year.  He was captain of the English national team from 15 November 2000 to 2 July 2006.
Beckham's career began when he signed a professional contract with Manchester United, making his first first-team appearance in 1992, at the age of 17. While with Manchester United he played a key role in their dominance of the FA Premier League, being pivotal in accomplishing The Treble of the League, FA Cup, and UEFA Champions League in 1999. During this time, he was managed by Alex Ferguson. Allegedly Ferguson once threw a shoe at Beckham in the changing room. Though, despite their differences, they have mutual respect.
"Alex Ferguson is the best manager I've ever had at this level. Well, he's the only manager I've actually had at this level. But he's the best manager I've ever had."
– David Beckham.
In 1999, he married Victoria (one of the Spice Girls). The marriage attracted great media attention. His football manager, Alex Ferguson later criticised this by saying:
"He was never a problem until he got married. He used to go into work with the academy coaches at night time, he was a fantastic young lad. Getting married into that entertainment scene was a difficult thing – from that moment, his life was never going to be the same. He is such a big celebrity, football is only a small part."
The couple have four children.
However, Ferguson also later paid tribute to how hard David Beckham worked – in particular at gaining accuracy in free kicks.
"David Beckham is Britain's finest striker of a football not because of God-given talent but because he practises with a relentless application that the vast majority of less gifted players wouldn't contemplate." (May 17, 2013, Guardian)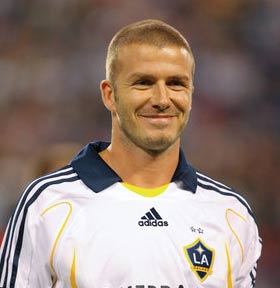 He left Man Utd to become only the third Englishman to sign for Real Madrid in 2003, after Laurie Cunningham and Steve McManaman.
In 2006, after England's exit at the World Cup in Germany, he stood down as captain and was then succeeded by Chelsea captain John Terry. Beckham was dropped from the England national team selected by coach Steve McClaren on 11 August 2006.
World Cup
In his first world cup, David Beckham was sent off in the quarter-final against Argentina for a petulant kick – a game England went on to lose. This made him a public enemy number one. However, he redeemed himself during the next few seasons. In particular, his spectacular last-minute free kick against Greece to enable England to qualify for the 2002 World Cup finals.
"People react to criticism in different ways, and my way is definitely to come out fighting."
– David Beckham
David Beckham and Los Angeles Galaxy 2007-08
At the end of the 2006 -07 Spanish season, David was unable to negotiate a new contract with Real Madrid. Therefore, he was free to negotiate a new contract. The best offer came from American football team LA Galaxy. The money was very good and his wife Victoria was keen on the idea of moving to America.
After negotiating the contract there was a sudden improvement in the form of David Beckham. He even earned a recall to the England team under Steve McClaren. There were also last-minute attempts by Real Madrid to secure the services of Beckham. However, the contract was done and Beckham moved to America.
David Beckham and A.C. Milan
In the US, Beckham felt he was missing out on European football, and that this had cost him a better chance of being picked for England. In 2010, he managed to secure a temporary loan to A.C. Milan. This has become a source of friction with his L.A. Galaxy employers as he seems to place playing in Europe above America.
David Beckham and World Cup bid
David Beckham, as one of England's highest-profile players, was used in the successful 2012, London Olympic bid, and the unsuccessful 2018, England World Cup bid.
2012 Olympics
To the disappointment of many, David Beckham was left out of the Great Britain squad playing in the London Olympics. It was felt after Beckham's efforts to bring the Olympics to London, he deserved a fitting international swansong. However, the manager, Stuart Pearce didn't pick him. Beckham played a role in the opening ceremony and was visible during the games.
2013 Signing for Paris St Germain
In January 2013, David Beckham signed a five-month contract to play for French La Ligue 1 side – Paris St Germain. The 37 year old said he would donate his £1 million salary to a local children's charity. Despite speculation about when Beckham may retire, he says he's motivated by his desire to continue playing football for as long as he can. As Beckham says:
"People have been speculating about that for a number of years, but I continue to play and sign contracts. I will see how I feel but I want to play as long as possible. My passion is football. It always has been. When I play football it is not about the biggest contract." (BBC)
Recently, Beckham has been based in the US where he plans to start a new MLS franchise in Miami, with Beckham as the principal owner. Beckham has also launched his own line of fragrance for men and has 40 tattoos. He has appeared on the front of many magazine covers and is an influential fashion figure.
Citation: Pettinger, Tejvan. "Biography of David Beckham", Oxford, www.biographyonline.net, 9th Aug 2014. Last updated 2 February 2018.
Senior Career David Beckham
Team – Appearances (Goals)
Manchester United – 265 – (62)
Preston North End (loan) – 5 – (2)
Real Madrid -116 – (13)
Los Angeles Galaxy – 98 – (18)
Milan (loan) – 29 – (2)
Paris Saint-Germain – 10 – (0)
Total 523 appearances  (97 goals)
England 115 appearances – (17 goals
Career highlights with Manchester United
UEFA Champions League (1): 1998–99
Premier League Titles (6): 1995–96, 1996–97, 1998–99, 1999–2000, 2000–01, 2002–03
FA Cup (2): 1995–96, 1998–99
Career highlights with Real Madrid
David Beckham
Related Beckham Links