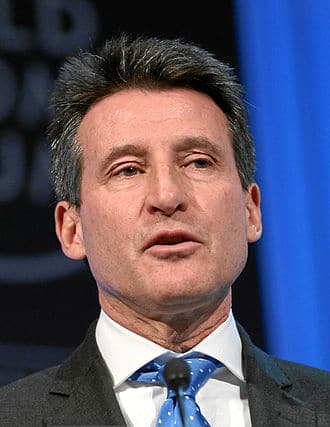 Sebastian Coe (29 September 1956 – ) is a British Olympic track athlete, politician and President of the IAAF. Coe won Olympic gold at the blue-riband 1500 metres event in 1980 and 1984. During his career, he set eleven world records, including the world record for 800 metres, which stood from 1981 to 1997. Following his retirement from athletics, he became a Conservative MP, and later led the successful London Olympic bid and the organising committee of 2012. In August 2015, he was elected president of the IAAF amid difficult circumstances of doping issues around the sport.
Early life
Coe was born in Hammersmith, London. He went to school in Stratford Upon Avon and later a comprehensive school in Sheffield. Inspired by his geography teacher, David Tomlinson, Coe became interested in running, and he joined a local running club 'Hallamshire Harriers'. He showed talent from an early age, winning the Yorkshire cross country championship at 14, and the English schools 3000m aged 16.
After school, Coe went to Loughborough University, where he studied economics and social history; he also became more focused on his running career. At Loughborough, he met coach George Gandy, who helped Coe transcend previous performances through more core strength training and more intense interval training sessions.
"When I arrived at Loughborough in the late 1970s some of the conditioning work this guy gave me provided the basis for much of what I achieved. It was revolutionary stuff."
Seb Coe.
Coe had various physical attributes which made him very successful as a medium distance runner. He had a rare combination of a very fast finishing 400m finish speed, but also the endurance from running many 5km distances in training. He was also very light. Coe was 5ft 9in (1.753m) tall but at his racing weight – weighed 54 kg (link)  Coe was not a great mileage trainer. He never exceeded 50 miles a week but did a lot of training at 5km pace.
Coe burst on to the international scene in 1977, winning the European indoors 800m final in Spain, just missing the world indoor record.
In 1979, Coe established his growing dominance in the middle distance arena by setting three world records in 41 days. He broke the 800-metre (1:42:33) in Oslo, the mile (3:48.95) and the 1500-metre (3:32.03) in Zurich. It was a unique achievement to hold all these three prestigious middle-distance records.
Going into the 1980 Olympics, Coe was ranked number one in both the 800m and 1500m, but he faced stiff competition from fellow Briton and long-time rival Steve Ovett, who was dominant in the 1500m event.
However, in a reversal of form and expectations, Ovett won the first race – the 800m (after Coe admitted he ran a bad tactical race). However, in the second event the 1500m, Coe produced an outstanding race with a blistering last 400m, to beat Ovett into third place. Both athletes ended up with gold, but neither in their 'specialist distance'. It was a great British Olympic revival after the dismal year of 1976, where Brendon Foster's bronze was the only medal of the team.
In 1981, Coe set another world record in the 800m, setting a time of 1.41.73 in Florence, 10 June. This mark at the 800m stood unbroken until 1997. Later in the summer, Coe broke the world mile record in Zurich (3:48.53). Just a week later, his great rival Ovett, broke Coe's newly established record with a time of 3:48.40. However, just two days later, Coe broke the record again, setting a time of 3:47.33 in Brussels. The rivalry and record-breaking feats pushed athletics to the front pages of all major British newspapers.
In 1981, Coe also set a record at 1000 m of (2:12.18)  which stood until 1999.
In 1983, he missed the inaugural IAAF world championships due to bad health but recovered for the Olympic year of 1984 in Los Angeles. Coe took silver in the 800m behind Joaquin Cruz of Brazil but won the 1500m in an Olympic record time of 3:32.53. He was the first athlete to defend his Olympic 1500 m title.
After the 1984 Olympics, Coe considered stepping up the distance to 5,000m but a persistent back problem discouraged this. Instead, he stuck to 800 and 1500m where he remained one of Britain's top runners – despite growing competition from new stars such as Steve Cram, Peter Elliot and Garry Cook. In fact, the 1980s were considered Britain's golden era of middle distance running because of the wealth of talent and regular podiums in major championships.
Aged 32, he missed selection for the 1988 Olympics after suffering the after-effects of a chest infection during the Olympic trials.  He retired in 1990 after more ill-health held him back from competing.
Shortly after retiring from athletics, he was elected as a Conservative Member of Parliament for Falmouth and Cambourne in 1992. He lost his seat in 1997 but was given a Life Peerage to the House of Lords in 2000. He later said that his five years as MP were not the most auspicious years of his life.
In 2004, Coe became chairman for London's 2012 Olympic bid. His combination of Olympic pedigree and statesmanlike diplomacy helped London's bid to become seen in a very positive light.
Against stiff competition from Paris and Madrid, London won something of an unexpected victory in 2005. Coe's presence and the promise to offer a legacy of sport for the local area was an effective combination.
London 2012
London 2012 was widely regarded as one of the most successful of modern Olympics, with a party-like atmosphere accompanying a successful month of sport. Coe was also instrumental in inviting the Queen to take part in Danny Boyle's Olympic opening ceremony.
Coe was widely praised for his handling of the event. Coe said of the London Olympics
"What has been happening these past two weeks is beyond my wildest dreams. We have witnessed some of the best sport ever. It has been like glugging your way through a quart of cream.

"It has always been my intention that these would be an athletes-led Olympics and the athletes have responded to the crowds not only in the stadium but at every venue. And those crowds have been fantastic in their support both for British athletes, and to those from overseas." (link)
IAAF
In 2007, Coe was appointed as Vice President of the IAAF, under president Lamine Diack. In 2015, Coe defeated Sergey Bubka to be elected president and replace Diack.
IAAF and doping scandals
Coe's presidency has been overshadowed by doping scandals that have rocked the world of athletics. In 2015, a report by WADA found systematic doping in Russian athletics, which caused the whole Russian team to be banned from athletics.
More seriously, former president Lamine Diack has been indicted for overseeing corruption in the sport, with members of the IAAF accepting money to help cover up dope tests.
A WADA report into IAAF found wide-scale doping and corruption in the sport, though the report by Dick Pound stated that Coe was still the best person to lead the sport.
"There's an enormous amount of reputational recovery that needs to occur here and I can't think of anyone better than Lord Coe to lead that." He said Coe "was a member of a council that collectively did not do its job – but it would be wrong to lay its failure at the feet of one individual."
However, critics have argued that, as vice-president, Coe should have been more aware of the problems in the IAAF.
In 2015, Coe stood down from his role as ambassador to Nike, after he was criticised for having a potential conflict of interests after Nike was criticised for being involved in endorsements for twice banned Justin Gatlin and Project Oregon coach Alberto Salazar.
Personal life
Coe is married twice. He had four children with his first wife Nicky McIrvine (married 1980). After a divorce from his first marriage, he remarried Carole Annett in 2011.
Major Honours
Olympic Games
Gold medal –  1980 Moscow 1500 m
Gold medal – 1984 Los Angeles 1500 m
Silver medal – 1980 Moscow 800 m
Silver medal –  1984 Los Angeles 800 m
European Athletics Championships
Gold medal – 1986 Stuttgart 800 m
Silver medal –  1982 Athens 800 m
Silver medal – 1986 Stuttgart 1500 m
Bronze medal – 1978 Prague 800 m
Personal bests
400m 46.87 (1979)
600m 1:16.2 (1978)
800m 1:41.73 (1981)
1000m 2:12.18 (1981)
1500m 3:29.77 (1986)
1 mile 3:47.33 (1981)
2000m 4:58.84 (1982)
5000m 14:06.2 (1980)
Marathon 2:56:20 (1991).
Indoors: 800m 1:44.91 (1983), 1000m 2:18.58 (1983), 1500m 3:42.60 (1983), 3000m 7:54.32 (1986)
World Records: 800m (2), 1000m (2), 1500m (1), 1M (3), 4x800mR (1)
Some of Coe's main honours
1979 BBC Sports Personality of the Year
1982 MBE
1990 OBE
2000 Life Peer 2000 as Baron Coe of Ranmore in the County of Surrey
KBE 2006
2012 BBC Lifetime Achievement Award
2013 Order of the Companions of Honour (CH) for services to London 2012 Olympics
The Rt Hon. The Lord Coe, CH, KBE (2012–present)
Citation: Pettinger, Tejvan. "Biography of Seb Coe", Oxford, UK. www.biographyonline.net,  18 January 2016. Last updated 22 Feb 2018.
Related pages


Sports people – Famous sportsmen/women. Muhammad Ali, Serena Williams, Pele and Usain Bolt.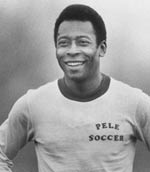 100 Famous sporting personalities – 100 Famous sporting personalities, including Muhammad Ali, Nadia Comaneci, Pele and Jesse Owens.
Famous

English people – Famous English men and women. From Anne Boleyn and Queen Elizabeth I to Henry VIII and Winston Churchill. Includes the great poets – William Shakespeare, William Blake and William Wordsworth.