Mo Farah is a British double Olympic champion middle distance runner. In the London 2012 Olympics, Farah won gold at 5000m and 10,000m – making him one of Britain's most successful distance runners of all time. He then duplicated this feat at the 2016 Olympics. He currently holds the British record for 1500m, 5000m and 10,000m – and has recently graduated to the marathon distance.
Early life Mo Farah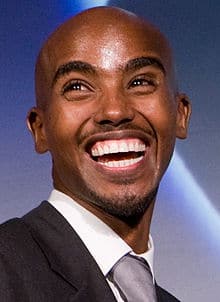 Farah was born in Mogadishu, Somalia, on 23 March 1983. But, due to fighting in the Somali capital, the family moved north to Djibouti where he was looked after by his grandparents with his twin brother. His father was at the time working at Heathrow airport as a general assistant and would sometimes visit, bringing gifts from England.
Farah came to England in 1992, but ended up living with his aunt in West London and not his father. Mo has spoken little about his early experiences and there are conflicting reports of how he came to England. However, it is assumed that he might have come here seeking asylum or at least to escape from the troubled situation in Somalia. When asked about coming to England, Farah replies he'd rather not talk about it.
Farah went to Feltham Community college in London. Describing his first day at school, Farah later commented:
"I was this African kid who looked as if he needed sorting. I ended up with a black eye."
But, although his school days were not without trouble and difficulties, his athletic talent was spotted by a senior teacher, Alan Watkinson. Watkinson nurtured the young Farah and encouraged Farah during his burgeoning career. When Farah married Tania in 2010, Farah asked Watkinson to be his best man.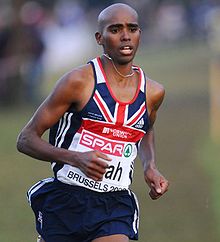 Watkinson remembers that when Farah first came to England he struggled because he spoke no English. His education always struggled to catch up with the language barrier. However, if Farah was not excelling on the education front, he showed talent in both football and athletics. Initially, Farah showed greater interest in football, but a key moment was when Farah was 14 and selected to go to the British Olympics futures camp in Florida. Watkinson initially struggled to get Farah a visa, but the trip proved a turning point. When Farah came back, he said:
"I know what I need to do"
Interestingly Watkinson remembers that during his junior career, Farah never had a family member come along to cheer him.
Aged 15, Farah won the English schools cross country championship – his first major national title. In 2001, he won his first international title, taking the 5000m junior championship title.
After Feltham, Farah went to the Endurance and performance coaching centre at St Mary's University, Twickenham. To support himself, Farah worked in fast food restaurants and as a sales assistant for sports retailer, Sweatshop. During this time of his life, Farah admits he wasn't the most disciplined athlete. He would get up late and had a busy social life apart from his running. However, when he was 21, (around 2004) Farah moved in with a bunch of eager and disciplined Kenyan runners (such as Micah Kogo and Benjamin Limo) who lived at 59 Park Road. This showed Farah he had great natural talent and also inspired him to take a more disciplined and determined approach to his running.
On the track, he was gaining international section and in 2006, he won his first European gold medal at the 10,000, cross country championships. In 2008, he was selected for the 5,000m in the Beijing Olympics. But, Farah was disappointed to miss out on qualifying for the final.
After the 2008 games, Ian Stewart was appointed the head of UK athletics endurance team. He spent time with Farah and encouraged him to be more thoughtful in his training – cut back on miles and try and be fresher for races. With the support of British athletics, Farah also started attending altitude training camps.
In 2010, he achieved impressive results at the European athletics championship. He won gold at both the 5000m and 10,000m.
Following this step up to international honours, Farah decided to take Alberto Salazar has his full-time coach. In 2011, he moved with his wife Tania to Oregon. Tania had a daughter, Rhianna from a previous marriage. Farah raises her as his own.
Salazar's training methods were working for Farah. A combination of altitude training in Africa and use of any marginal gain (such as cryogenic machine to aid recovery)
In 2011, he had a great world championship. Farah won the 5000m and only narrowly missed out in the 10,000m final – settling for silver.
His good performances meant Farah was one of Britain's top medal hopes for the Olympics. Under a blaze of media interest, Farah was able to win the 10,000m (27:30.42) on a famous night (Aug 4th) for British athletics. It was Britain's first gold at this distance. A week later, Farah was able to repeat his performance and was able to hold on for the 5,000m – making him a double Olympic gold medallist. Describing the atmosphere in the Olympic stadium, Farah replied.
"I've never experienced anything like this – it will never get any better than this, this is the best moment of my life."
After winning the gold medal, Farah was asked about his nationality, and whether he would have preferred to have a Somali flag. Farah replied:
"Look mate, this is my country. This is where I grew up, this is where I started life. This is my country and when I put on my Great Britain vest I'm proud. I'm very proud. The support I got today was unbelievable. I couldn't believe it. It was the best moment of my life." (1)
After winning, photos of Mo Farah doing the 'Mobot' celebration became an iconic image of the games. Nearly as famous as Usain Bolt in the 100m. He developed the Mobot celebration in May 2012 after appearing on a panel game show host with Clare Balding.
In 2015, Farah's coach Alberto Salazar's training methods were the subject of an investigation after he was criticised by former athletes who suggested he was willing to push the boundaries into the grey area of therapeutic use exemptions – when the athlete didn't really need the drug but used for advantage. This led to USADA investigation into Salazar. Farah initially stood by his coach, but in 2017 left to work with Gary Lough (husband of Paula Radcliffe. Explaining his decision Farah said:
"As I've always said, I'm a firm believer in clean sport and I strongly believe that anyone who breaks the rules should be punished. If Alberto had crossed the line, I would be out the door but Usada has not charged him with anything. If I had ever had any reason to doubt Alberto, I would not have stood by him all this time." (Guardian Oct 2017)
Away from athletics, Farah founded his Mo Farah foundation which seeks to support orphans in Somalia. He regularly visits to see orphans his foundation supports. During the Olympics, his wife Tania was pregnant with twins and she gave birth shortly after the games.
Farah is an avid Arsenal F.C. fan. He is a devout Muslim and bows to the ground in prayer after a race. His double Olympic gold has enabled him to gain lucrative sponsorship agreements with companies like Nike, Lucozade, Bupa and Virgin Media. Though he does not disclose how much money he earns, it is estimated to be over £2 million a year.
He was awarded a CBE in 2013 honours list.
In 2013, he broke Steve Cram's 28-year-old British record for the 1500m, when Farah ran 3:28.81 in Monaco. In 2014, he completed his long-standing desire to run the London marathon. He finished 8th in a time of 2:08.21
In the 2016 Olympic, Farah completed only the second double Olympic gold of winning 5,000 and 10,000m. In 2017, he announced his retirement from track running to focus on the marathon.
Citation: Pettinger, Tejvan. "Biography of Mo Farah", Oxford, UK – www.biographyonline.net.  Last updated 18 February 2018.
Mo Farah – My Autobiography
Mo Farah – My Autobiography at Amazon
Related pages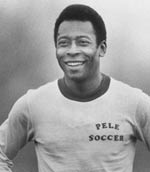 100 Famous sporting personalities – 100 Famous sporting personalities, including Muhammad Ali, Nadia Comaneci, Pele and Jesse Owens.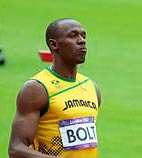 Selected athlete biographies including Usain Bolt, Carl Lewis and Emil Zatopek.