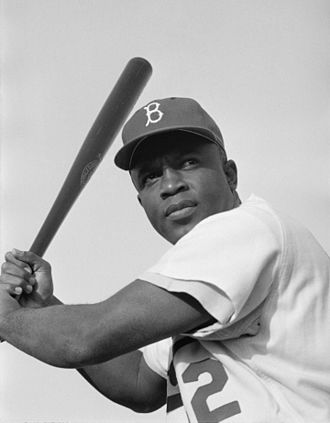 Jackie Robinson (1919 – 1972) was the first African-American to play Major League baseball in the Twentieth Century. In April 1947, he broke the decades-old 'colour line" to play for the Brooklyn Dodgers. He continued to play for the next 10 years, leading Brooklyn to six pennants and their only World Series Title. He became an important figure in the American civil rights movement and a  symbol of a new era of breaking down racial segregation in America.
"I'm grateful for all the breaks and honors and opportunities I've had, but I always believe I won't have it made until the humblest black kid in the most remote backwoods of America has it made."

– Jackie Robinson.
Jackie was born in 1919 in Cairo, Georgia. His grandfather was a slave and his father a sharecropper. His father left the family when he was just one year old and his mother moved to Pasadena, California, where she brought up the family in relative poverty. As a teenager, Jackie was an outstanding athlete who excelled at baseball, basketball, athletics, tennis and American football. He attended Pasadena Junior College (PJC), and later the University of California in Los Angeles, where became the first student to be a letterman in four sports.
From an early age, Robinson became acutely aware of the racial discrimination in America, and his spirit sought to oppose instances of injustice.  In 1938, Robinson was arrested and given a two year suspended sentence for vocally opposing the detention of a black friend by police. It was a characteristic of Robinson that remained throughout his life – a willingness to stand up to authority over apparent racial discrimination.
In 1941, Robinson for a brief time pursued a career in football. He played as running back on a semi-professional basis for Honolulu Bears and Los Angeles Bulldogs.
In 1942, the US entered the Second World War and Robinson was drafted to a segregated black army unit in Fort Riley, Kansas. Robinson applied for the Officer school, and although in theory, black Americans were allowed, in practice, the authorities did not process Robinson's application. However, after protests by Joe Louis – a world boxing champion, his application was processed and Robinson was commissioned as a second lieutenant and reassigned to the 671st "Black Panthers" tank battalion in Kansas.
In July 1944, Robinson boarded an army bus when the driver ordered him to sit at the back. The army buses were officially unsegregated, but drivers often continued an unofficial segregation as was normal in the south at the time. However, Robinson refused. The bus driver backed down but at the end of the line, he was arrested by the military police. Far from backing down Robinson complained to the investigating officer about the line of racist questioning and argued he did nothing wrong. The investigating officer was furious with Robinson and recommended he be court marshalled for insubordination. The commanding officer of Robinson's of 761st – Paul Bates refused to sanction the court-marshall – siding with his officer Jackie Robinson. As a result, Robinson was transferred to another battalion where the commanding officer charged Robinson on trumped-up charges, including public drunkenness – even though Robinson was teetotal.
At his court marshall in August 1944, his lawyer claimed the charges had no evidence, and really it was about a few officers "working vengeance against an uppity black man." The charges were reduced to insubordination during questioning and at trial Robinson was acquitted by an all-white panel of officers. As a result of a persistent ankle injury and his court-marshall, Robinson never saw action in the war though his battalion was the first black tank battalion to take part in military action.
In November 1944, he was given an honourable discharge for the army. He took up various coaching jobs, where he was admired for his disciplinarian approach. He continued to play a variety of sports, football, basketball and baseball.
In early 1945, he was given a contract for the Kansas City Monarchs, part of the all-black baseball league. Since 1884, major league baseball had implemented a strict colour bar – with no black players allowed in the national leagues. Black players had to compete in a parallel 'black leagues'. Playing for Kansas City, he received a salary of $400 a month but was dissatisfied with the experience. He disliked the disorganisation, tough travel schedule and the close links to gambling interests.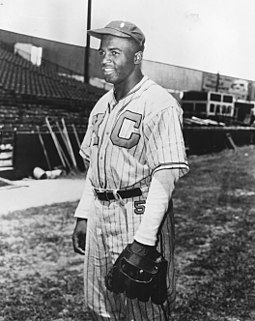 During 1945, some baseball clubs were tentatively looking into breaking the colour bar. In April, Robinson was given a trial for the Boston Red Sox – though this was mainly for appearances. However in August, he was approached by Branch Rickey – the general manager of the Brooklyn Dodgers. Rickey was very serious about signing a black player and breaking the colour bar; Robinson was one of his top targets. He didn't want to just sign the best black player, but he wanted to sign a player who would be able to cope with the resistance that was likely to occur. Robinson appeared to have a solid personal and family life, making him a good candidate, though he was worried about his history of challenging racism.
At a meeting in August, Rickey asked Robinson whether he would be able to deal with the inevitable racial abuse when he started to play in the Major Leagues. In particular, Rickey wanted to sign a player who would not rise to the bait and fight back. This was not an intrinsic part of Robinson's character and Robinson replied.
"Are you looking for a Negro who is afraid to fight back?"
Ricky said he needed a Negro player who had the courage to turn the other cheek to racial antagonism. He said:
"Robinson, I'm looking for a ballplayer with guts enough not to fight back."
And Jackie Robinson said: "I've got two cheeks. Is that it, Mr. Rickey?"
Rickey asked Robinson to pledge to hold his temper for two years. After that, he was free to be his own man, and combat prejudice any way he saw fit.
On October 23, Robinson formally signed to play for the Dodgers in the 1946 season on a contract worth $600 a month. It made him the first black player in the Major Leagues since the 1880s. It became known as the "Nobel Experiment" and received substantial media coverage with opinion mixed about the 'experiment." In an interview in 1945, Robinson was asked about how he felt in becoming the first black player to sign. He said:
"Maybe I should buy a lot of cotton to stuff in my ears. I don't think I'll have to take anything I didn't have to take before but maybe there'll be more people ready to give it to me."

"I realize what I'm going into and I realise what it means to me and to my race and to baseball too. I'm very happy for this chance and I can only say that I'll do my best to make the grade." Jackie Robinson, as printed  in  "Yank – The Army Weekly" 23 Nov. 1945, vol 4, No.23.
In his first season, he played for the Dodgers' feeder team The Montreal Royals. Even his presence at training camps raised racial animosity with the local police chief threatening to cancel games if Robinson remained training in Florida. After cancelled games and stadiums unexpectedly shut, the general manager of the Dodgers, Rickey lobbied extensively and arranged for an exhibition game for Robinson to make his debut. Thus on 17 March 1946, Robinson played for the first time in an exhibition game between the minor-league Montreal Royals and Major League Brooklyn Dodgers in Daytona Beach, Florida.
After a rocky start, Robinson's performance improved and by the end of the seasons, he was named the League's most valuable player – leading the batting average with .349. Robinson also became a star attraction generating a big boost to attendance. Over one million attended games with Robinson – a record for the minor leagues.
On 15 April 1947, he made his major league debut for the Dodgers at Ebbets Field, before a crowd of 26,623 spectators. It was another first the first player since 1884 to play in the major leagues.
Robinson's arrival was welcomed by many in the press, but for many players brought up on segregation, old prejudices remained. Even from the dodgers dressing room, there were rumours that white players didn't want to line up with Robinson – but the management made it clear they would back Robinson and if they didn't like it, they would be traded out. It also helped that the management saw Robinson would help the Dodgers financially – to gain bigger attendance and win more games.
Still, the first few years were difficult for Robinson, he was the victim of racial insults both on and off the field. Spectators throw bottles at him, and opponents used aggressive physical play such as bumping into him or using their spikes to slide into Robinson's leg. However, after being racially abused by the manager of Philadelphia Phillies manager, who called him a 'nigger' and 'go back to the cotton fields' – it helped unite the Dodgers team around Robinson. It also helped that Robinson had a successful first year, gaining the Major League rookie of the year award. Looking back at these years, Robinson said of the experience:
"Plenty of times I wanted to haul off when somebody insulted me for the color of my skin, but I had to hold to myself. I knew I was kind of an experiment. The whole thing was bigger than me."
Not everyone was unwelcoming, after very hostile heckling from fans, Dodger captain Pee Wee Reese left his position in the field to put his arm around Robinson in a show of solidarity. The two became life-long friends. When later asked why he showed solidarity with Robinson, Reese said. "You can hate a man for many reasons; his color isn't one of them. " Robinson also maintained phone contact with Larry Doby, who was the first black baseball player in the American League (for Cleveland Indians). When travelling with the team in the south, Robinson had the indignity of having to use separate hotels and restaurants due to the Jim Crow laws on segregation.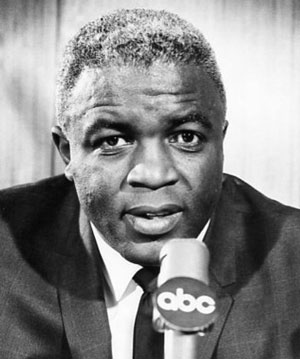 By 1948, more black players were following Robinson's lead and were being signed by Major League clubs. This reduced the prominence of Robinson as the only black player in the major league, and there was a gradual increase in acceptance of black players. As the seasons progressed, Robinson increased his standard of play as he was able to focus on baseball and practise hitting for hours. By 1950, he was the highest-paid Dodgers player. Robinson was excellent as a hitter, but he also had unique talents to intimidate opponents, dancing off the base, drawing eyes in the stadium, putting off the pitcher. It was a fierce determination and competitiveness which was infectious to the Dodgers team spirit. In 1950, he also starred in a film about himself 'The Jackie Robinson Story."
During the 1950s, Robinson was a key player in the onfield success of the Brooklyn Dodgers; he led them to six national league pennants. In 1955, Brooklyn Dodgers won their first World Series, beating the New York Yankees. Robinson was then 37 years old and passed his peak, but it was still a major achievement.
In 1956, Robinson retired from baseball and took an executive position at the company Chock full o'Nuts. This was another first – the first black executive in an American company.
After his retirement, Robinson struggled with the onset of diabetes, which affected his health. However, he strived to increase opportunities for black Americans -, especially in business and commerce. He helped found the Freedom National Bank, a black-owned bank in Harlem. In 1965, he worked as the first black sports announcer for ABC sports. Robinson was also politically active. He was conservative on many issues, such as the Vietnam War and he supported Republican candidates Nixon (1960) and Nelson Rockefellers 1964 bid for Republican nominee. However, he also praised John F. Kennedy and his brother Robert for their proposed civil rights changes. In 1961, he wrote a letter to the Attorney General Robert Kennedy.
"Your few months in office have been a real source of inspiration. I can only hope that you are allowed to continue your drive for equality among Americans." (May 25, 1961 letter)
After 1964, he was more critical of the Republican party. He also served as a spokesperson for the NAACP helping to raise funds for their 1957 Freedom Drive, and on a few occasions, he appeared with Martin Luther King, he was always willing to speak on improving civil rights – as a means to make America a better country.
"Negroes aren't seeking anything which is not good for the nation as well as ourselves. In order for America to be 100 percent strong — economically, defensively and morally — we cannot afford the waste of having second- and third-class citizens."
He married Rachel Isum on 10 February 1946. They had three children. Johnson loved baseball, but he sought to make life more than just being a baseball player. He once said the real mark of a man was what he achieved when he retired from the game.
"When I am playing baseball, I give it all that I have on the ball field. When the ball game is over, I certainly don't take it home. My little girl who is sitting out there wouldn't know the difference between a third strike and a foul ball."
On 24 October 1972, Robinson died of a heart attack at his home in North Stamford, Connecticut, aged just 53 years old. Nine days previously he had made a starring appearance at the World Series.
After his death, his wife founded the Jackie Robinson Foundation which offers scholarship awards in higher education to help bridge equal opportunities in America.
In April 1997, on the 50th anniversary of breaking the colour bar in baseball, the game retired jersey number 42 from Major League Baseball and every year on 15 April 1997, baseball marks Jackie Robinson Day.
Citation: Pettinger, Tejvan. "Jackie Robinson Biography", Oxford, UK. www.biographyonline.net, 18 July 2019. Last updated 18 July 2019.
Jackie Robinson: My Own Story
Jackie Robinson: My Own Story at Amazon.com
Baseball's Great Experiment: Jackie Robinson and His Legacy
Baseball's Great Experiment: Jackie Robinson and His Legacy at Amazon.com
Career Stats at a glance
Games 1,382
At bats 4,877
Runs 947
Home runs 137
Batting average 0.311
Baseball hall of fame 1962.
The Presidential Medal of Freedom (1984) posthumously
Related pages

People who fought for human /civil rights – People who campaigned for equality, civil rights and civil justice.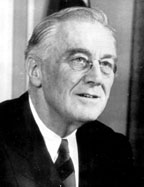 Famous Americans – Great Americans from the Founding Fathers to modern civil rights activists. Including presidents, authors, musicians, entrepreneurs and businessmen.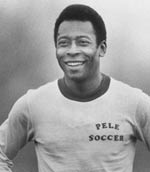 100 Famous sporting personalities – 100 Famous sporting personalities, including Muhammad Ali, Nadia Comaneci, Pele and Jesse Owens.