Fred Perry was an English tennis champion, who was the first (and only) British tennis player to win all four major open championships. He won Wimbledon for three consecutive years between 1933-36. He was the last British player to win Wimbledon until Andy Murray won 77 years later in 2013. Fred Perry also won the world table tennis championship in 1929.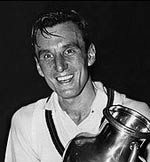 After his 1936 Wimbledon win, Perry turned professional. (in those days Wimbledon and other major championships was only open to amateurs) This earned the displeasure of the All England club and Perry's achievements were overshadowed by the class-driven conflict between the working class Perry and the establishment of British tennis. He later moved to America and became a naturalised American citizen.
Early Life Fred Perry
Fred Perry was born in Stockport, Cheshire in 1909. His father worked as a cotton spinner and later became involved in working-class politics. As a child, he lived in Wellesley, Merseyside, and for a brief time in Bolton. Aged nine, his family moved to Ealing, London, where he attended Ealing Grammar School. His father, Samuel Perry was an active member of the Co-operative party (loosely related to the Labour party), he became a Co-operative member of parliament for Kettering in 1929.
Perry had a tremendous natural ability at tennis and table tennis. His quick reflexes and eye for the game made him a formidable opponent. In 1929 he won the table tennis world championship in Budapest. After that victory, he concentrated on tennis and never played table tennis again. He said that he was able to use the skills in table tennis for the game of tennis. He had tremendous strength and was able to hit a very hard forehand. He also spent six months learning to 'hit the ball early – on the rise.' – which his coach would enable him to become the best player in the world.
Perry qualified for his first Wimbledon tournament in 1929. He then made rapid progress and won his first grand slam open at the US open in 1933. After this there followed a three year period of domination. In 1934, he won three grand slams – the Australian, Wimbledon and US open. In 1935, he completed the set of grand slams, winning the French Open in Paris. In his final year as an amateur, he won both the US and Wimbledon, making a total of 8 grand slams in four years. His last Wimbledon final was won in straight sets of 6-1, 6-1, 6-0 in a final lasting only 45 minutes – one of the quickest finals on record.
Perry was known for his competitive nature, Jack Kramer said Perry would call out 'very clever' when his opponents hit a good shot. Perry was also a media star, with his off-pitch romances making headline news. The Wimbledon establishment was rather cool about this 'upstart' working class boy winning Wimbledon. Perry didn't quite fit in with the expectations of Wimbledon social graces. On his part, Perry didn't warm to the 'stuffy' atmosphere that pervaded the class-conscious All England club. He said that when he began playing tennis, it was very much the 'hoi polloi' who dominated the game; a working-class player like Perry was quite a rarity. Perry said in an interview that when he joined the game, he wasn't resented, but the tennis establishment was surprised that someone from his background could break into the top of the game. Perry admitted he was a 'bit of a loner' and 'bloody-minded' about the whole game.
"I didn't aspire to be a good sport; "champion" was good enough for me."
When he won his first Wimbledon title in 1933, he beat Australian Jack Crawford 6-3, 6-0, 7-5. It was the tradition for winners to always be given a special Wimbledon tie, but Perry's tie was never presented properly – he just found it draped over the back of his dressing room chair. He said that incident annoyed him a lot. He said of the incident:
"Instead of Fred J Perry the champ I felt like J Fred Muggs the chimp,"
In 1936, Perry turned professional so he could earn money from the sport. After that, the British tennis establishment turned their back on Perry, and it wasn't until 50 years later, that a statue to Perry was erected at Wimbledon to commemorate the 50th anniversary of his victory. Perry's standing in British tennis grew as the decades without another British winner continued – until 2013.
As a professional, Perry played over 350 games, though the competition never had the same prestige as the amateur tournaments which still dominated the game.
Personal life
Perry had romances with many leading actresses and models, such as Marlene Dietrich. He became friendly with Charlie Chaplin, Groucho Marx and Betty Davis. He was married three times. The first two were short affairs, but his third marriage to Barbara Riese in 1952, lasted forty years – they had two children.
Fred Perry clothing label
In the 1940s, Fred Perry was approached by Tibby Wegner to use his name in a new clothing label. Initially focused on a simple tennis shirt, the Fred Perry clothing label went on to become one of the world's leading fashion labels. It was an inspired choice as Perry cut an image of a cool sports superstar, with a slightly rebellious attitude which appealed to the British teenagers of the 50s, 60s and 70s.
After retiring from tennis, Perry worked as a coach and was involved in growing his clothing label.
Perry died in 1995 at the age of 85. He was in Melbourne at the time, attending the Australian Open.
Citation: Pettinger, Tejvan. "Biography of Fred Perry", Oxford, UK www.biographyonline.net, 21st Oct. 2013. Last updated 1 March 2018.
The Last Champion: The Life of Fred Perry
The Last Champion: The Life of Fred Perry at Amazon
Related pages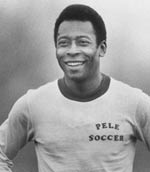 100 Famous sporting personalities – 100 Famous sporting personalities, including Muhammad Ali, Nadia Comaneci, Pele and Jesse Owens.
Famous 

English people – Famous English men and women. From Anne Boleyn and Queen Elizabeth I to Henry VIII and Winston Churchill. Includes the great poets – William Shakespeare, William Blake and William Wordsworth.