This is a list of 100 famous Germans, including statesmen such as: Adenaueur, Brandt, Merkel, and cultural figures such as Bach, Goethe and Gutenberg.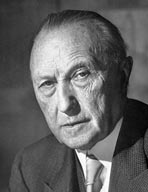 1. Konrad Adenauer (1876-1967) West Germany's first chancellor after the Second World War (1949-63). He played a key role in the re-integration of Germany in European and international affairs. He forged closer ties with France, US and the European Community.

2. Martin Luther (1483-1546) – Sought to reform the Roman Catholic Church which he felt had been corrupted and lost its original focus. Considered the father of Protestantism for his reforming zeal.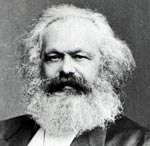 3. Karl Marx (1818 – 1883) – German philosopher, exiled to Britain for his radical views. Karl Marx wrote Das Capital and The Communist Manifesto, which was hugely influential in shaping left wing thought.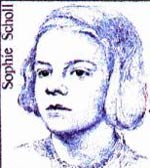 4. Sophie and Hans Scholl (1921/ 1918 -1943) – The Scholls opposed the Nazi ideology of Hitler's Germany and distributed anti-Nazi propaganda to students in Munich. Both were executed for high treason.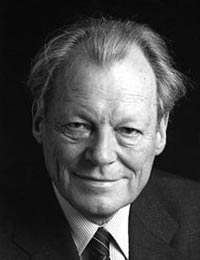 5. Willy Brandt (1913-1992) German politician and statesman. Opposed to Hitler, he fled to Norway in 1933. After war, he became Mayor of Berlin. As Chancellor of Germany he made famous gesture of reconciliation to victims of Nazi Germany in Warsaw. He sought rapprochement with the East and a united Europe.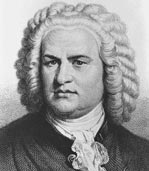 6. Johann Sebastian Bach (1685-1750) German composer and musician. Considered one of greatest composers of all time. Bach composed some of the most loved choral and orchestral works.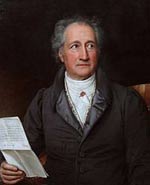 7. Johann Wolfgang von Goethe (1749-1832) Poet, playwright, author and statesman. Goethe was a prolific writer, notable works including: Faust, Wilhelm Meister's Apprenticeship and Elective Affinities. Also a noted polymath, Goethe left a rich cultural legacy.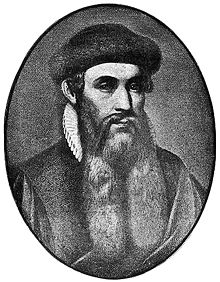 8. Johannes Gutenberg (1400-1468) Inventor of movable type printing in Europe . Gutenberg started a 'printing revolution; which enabled the spread of printed works across Europe. Also produced the 'Gutenberg Bible'.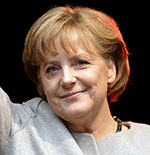 9. Angela Merkel (1954 – ) Leader of Christian Democrat Union (CDU). Merkel has been chancellor of Germany since 2005. Merkel has also gained a position as de facto leader of the European Union and has made many decisions affecting European integration and the European financial crisis.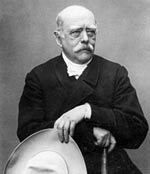 10. Otto von Bismarck (1815-1898) Politician responsible for creation of German Empire in 1871, and its first chancellor. Bismark is credited with uniting the states of Germany and pursuing a relative moderate foreign policy of keeping the peace.

11. Albert Einstein (1879-1955) German born theoretical physicist who came up with the general theory of relativity, which played a key role in the nuclear age. Einstein also a noted humanitarian who promoted peace.
Other Famous Germans
Adolph Kolping, priest (1813-1865)
Ludwig van Beethoven, composer (1770-1827)
Helmut Kohl, West German chancellor from 1982-1998, important figure for Germany's Reunification (born 1930)
Robert Bosch, inventor and industrialist (1861-1942)
Daniel Küblböck, singer (born 1985)
Konrad Zuse, computer inventor (1910-1995)
Josef Kentenich, priest (1885-1968)
Albert Schweitzer, physician and philanthropist (1875-1965)
Karlheinz Böhm, actor and charity activist (born 1928)
Wolfgang Amadeus Mozart, composer (1756-1791)
Helmut Schmidt, West German chancellor from 1974-1982 (born 1918)
Regine Hildebrandt, politician (1941-2001)
Alice Schwarzer, feminist journalist (born 1942)
Thomas Gottschalk, TV host (born 1950)
Herbert Grönemeyer, musician (born 1956)
Michael Schumacher, racing driver (born 1969)
Ludwig Erhard, West German chancellor, creator of the Wirtschaftswunder in the 1950s (1897-1977)
Wilhelm Conrad Röntgen, physicist (1845-1923)
Günther Jauch, television celebrity and journalist (born 1956)
Dieter Bohlen, television celebrity and music producer (born 1954)
Jan Ullrich, athlete (cycling) (born 1973)
Steffi Graf, athlete (tennis) (born 1969)
Samuel Hahnemann, physician (1755-1843)
Dietrich Bonhoeffer, theologian and Nazi victim (1906-1945)
Boris Becker, athlete (tennis) (born 1967)
Franz Beckenbauer, athlete (football), coach and organiser (born 1945)
Oskar Schindler, industrialist, Jews' saviour (1908-1974)
Nena, singer (born 1960)
Hans-Dietrich Genscher, politician (born 1927)
Heinz Rühmann, actor (1902-1994)
Harald Schmidt, comedian (born 1957)
Frederick II of Prussia ("Frederick the Great") king (1712-1786)
Immanuel Kant, philosopher, leading figure of the Enlightenment (1724-1804)
Patrick Lindner, singer (born 1960)
Hartmut Engler, singer (Pur) (born 1961)
Hildegard von Bingen, nun, writer and musician (1098-1179)
Otto Hahn – Chemist and campaigner against nuclear weapons (1879-1968)
Richard von Weizsäcker, Federal President from 1984-1994 (born 1920)
Claus Graf Schenk von Stauffenberg, military officer and Anti-Hitler activist (1907-1944)
Marlene Dietrich, actress and singer (1901-1992)
Robert Koch, physician (1843-1910)
Joschka Fischer, Foreign Minister and Vice Chancellor from 1998-2005 (born 1948)
Karl May, writer (1842-1912)
Loriot (Vicco von Bülow), satirist (born 1923)
Albertus Magnus, scholar (1200-1280)
Rudi Völler, athlete (football) (born 1960)
Heinz Erhardt, comedian (1909-1979)
Roy Black, singer and actor (1943-1991)
Heinz-Harald Frentzen, racing driver (born 1967)
Wolfgang Apel, animal rights activist (born 1951)
Alexander von Humboldt, scientist (1769-1859)
Peter Kraus, singer (born 1939)
Wernher von Braun, rocket scientist (1912-1977)
Dirk Nowitzki, athlete (basketball) (born 1978)
Campino, singer (Die Toten Hosen) (born 1962)
Franz Josef Strauß, politician (1915-1988)
Sebastian Kneipp, physician (1821-1897)
Friedrich Schiller, writer (1759-1805)
Richard Wagner, composer (1813-1883)
Katarina Witt, athlete (figure skating) (born 1965)
Fritz Walter, athlete (football), captain of 1954 world championship winners (1920-2002)
Nicole, singer (born 1964)
Friedrich von Bodelschwingh, priest (1831-1910)
Otto Lilienthal, aviation pioneer (1848-1896)
Marion Gräfin Dönhoff, editor (1909-2002)
Thomas Mann, writer (1875-1955)
Hermann Hesse, writer (1877-1962)
Romy Schneider, actress (1938-1982)
Sven Hannawald, athlete (ski jumping) (born 1974)
Elisabeth of Bavaria ("Sissi"), royal consort (1837-1898)
Willy Millowitsch, actor and comedian (1909-1999)
Gerhard Schröder, Chancellor from 1998-2005 (born 1944)
Joseph Beuys, artist (1921-1986)
Friedrich Nietzsche, philosopher (1844-1900)
Rudi Dutschke, student leader in the 1960s (1940-1979)
Karl Lehmann, priest (born 1936)
Meister Eckhart (1260- 1327) Mystic, philosopher and religious teacher.
Trümmerfrauen ("rubble women"), rebuilding Germany after the war
Carl Friedrich Gauss, mathematician and physicist (1777-1855)
Helmut Rahn, athlete (football), scorer of winning goal in 1954 (1929-2003)
Albrecht Dürer, artist (1471-1528)
Max Schmeling, athlete (boxing) (1905-2005)
Karl Benz, automobile pioneer (1844-1929)
Frederick II, emperor (1194-1250)
Reinhard Mey, singer-songwriter (born 1942)
Heinrich Heine, writer (1797-1856)
Georg Elser, Hitler assassin (1903-1945)
Konrad Duden, linguist (1829-1911)
James Last, composer (born 1929)
This list is partly inspired from a German TV programme Unsere Besten ("Our Best") shown on German public television (ZDF) in November 2003, similar to the BBC series 100 Greatest Britons. The idea was to create a list of greatest Germans – excluding controversial figures such as Adolf Hitler.
Infamous Germans
Related pages
Related pages