Paula Jane Radcliffe, MBE (born December 17, 1973) is an English long-distance runner. She is the current world record holder for the women's marathon, which she set during the 2003 London Marathon, with a time of 2:15.25. She won gold at the 2005 World Championships in Helsinki for the marathon.
Paula Radcliffe was born in Northwich, Cheshire and grew up in Bedfordshire, joining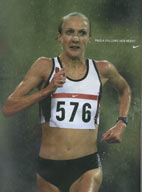 Bedford Athletic Club, where she displayed considerable talent. She studied French and German at Loughborough University. This also gave her the opportunity to pursue her running career. In 1992, she won the World Junior Cross-country title. By 1995, she was competing at a high level on the international scene. Competing in the 5000 metres, she finished fifth in the 1995 World Championships. This set a trend for Paula – running gutsy races, but just missing out on the medals. She became known for her style of pacemaking, running hard from the start with head bobbing from side to side.
Just missing out on medals in the shorter distances, encouraged Paula to increase her distance, and in 2002, she moved up to the marathon distance. This proved to be more suitable to Paula's talents, and she gained considerable success at this distance.
In her first year of marathon running, she won the London Marathon with a world best time for a women only race. She also set a world record time of 2:17:18 in the Chicago Marathon October 13, 2002.
Next year, in 2003, she smashed her own world record in New York, taking the time down to 2:15:25. She has set several of the fastest times in the women's marathon.
Her dominance at the marathon distance, made her a firm favourite for the 2004 Olympic Marathon in Athens. However, her preparation was disrupted by a leg injury and a stomach upset brought on by anti-inflammatory drugs. Despite struggling to keep down food, she entered the marathon, but had to withdraw in tears at 36 km. She attempted the 10,000 metres a few days later, but again had to withdraw in the race. As one of Britain's highest profile medal contenders, this made national headlines, and she admitted it was emotionally difficult to let people down. However, she later said the experience proved a motivating factor:
"I am not driven by any bitterness by what happened in Athens. I learnt a lot of lessons from it and probably came through it a stronger person in the end. There have been a lot of near misses, and that's taught me to keep persevering and that there is a chance it can come right."
After the Olympics, she came back to form winning the 2004 New York marathon and 2005 London marathon. Unfortunately, the London marathon was remembered for an unfortunate incident, when suffering from stomach cramps she stopped by side of road to answer a call of nature.
In August, 2005, she won her first gold medal in an international championships. Dominating the race, she won the marathon title in Helsinki, Finland. Her time was 2:20:57.
Paula Radcliffe is known for her strong anti-doping stance and also her frustration at racing against runners who have tested positive. She believes in tougher sentences for drug cheats.
"It's important that athletes can compete on a level playing field. And youngsters coming into the sport can know that if they are working hard and training hard, they'll see a true reflection of where they stand and what they can achieve worldwide and not be swayed by people who are cheating."
She criticised the re-instatement of Russian athlete Olga Yegerova after she tested positive for EPO. Radcliffe explained:
"At the 2001 world championships in Edmonton, my Great Britain team-mate Hayley Tullett and I held up a sign in the stands. "EPO CHEATS OUT," it read. Serious controversy ensued, but I had thought about it a great deal beforehand. It was the product of serious frustration. " (Paula Radcliffe)
She also wore a red ribbon to signal her support for more blood testing to catch dopers.
The Olympics have proved a disappointing experience for Radcliffe. In Beijing in 2008, she finished 23rd after cramping in the race.
"In my Olympic history I don't think I have achieved my potential as an athlete. That's what I want when I look back at my career. I want to be able to say I gave it my best shot. In Athens I didn't finish and in Beijing I was not able to give it my best shot because I did not have training and preparation behind me." (Guardian)
She desperately wanted to compete in her home Olympics, in London in 2012, but had to withdraw before the race due to an injury to her leg.
Paula married Gary Lough in 2001, they have two children, Isla and Raphael.
She was awarded an MBE in June 2002, and also BBC Sports Personality of the Year.
In 2012 London Olympics, she hoped to compete in the marathon but had to withdraw due to a foot injury. In 2015, she retired from athletics after finishing the London Marathon.
Citation: Pettinger, Tejvan. "Biography Paula Radcliffe", Oxford, UK. www.biographyonline.net, 1st Feb. 2013
Paula Radcliffe Personal bests
* 400 m – 58.9
* 800 m – 2:05.22
* 1000 m – 2:47.17
* 1500 m – 4:05.37
* 1 mi – 4:24.94
* 2000 m – 5:37.01+
* 3000 m – 8:22.20 (UK record)
* 2 mi – 9:17.4
* 4000 m – 11:35.21+
* 5000 m – 14:29.11 (UK record)
* 10,000 m – 30:01.09 (European record)
* 5 km road – 14:48+
* 4 mi road – 19:51+
* 5 mi road – 24:47+
* 8 km road – 24:05+ (World Best)
* 10 km road – 30:21 (WR)
* 15 km road – 46:41+ (World Best)
* 10 mi road – 50:01+ (World Best)
* 20 km road – 1:02.21+
* Half Marathon – 1:05:40 (World Best)
* 25 km road – 1:20:36+ (World Best)
* 30 km road – 1:36:36+ (World Best)
* 20 mile road – 1:43:33+ (World Best)
* Marathon – 2:15:25 (WR)
Paula: My Story So Far
Paula: My Story So Far at Amazon.com
Paula: My Story So Far at Amazon.co.uk
 Related pages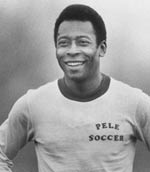 100 Famous sporting personalities – 100 Famous sporting personalities, including Muhammad Ali, Nadia Comaneci, Pele and Jesse Owens.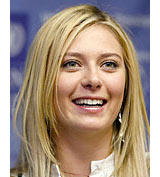 Female athletes Over 50 famous female athletes who have made contributions to tennis, football, cycling, athletics, gymnastics, golf and swimming.
Famous 

English people – Famous English men and women. From Anne Boleyn and Queen Elizabeth I to Henry VIII and Winston Churchill. Includes the great poets – William Shakespeare, William Blake and William Wordsworth.