A list of female leaders – heads of state, presidents, prime-ministers. Also, leaders in other fields such as civil rights.

Hatshepsut (1478-1458 B.C.) Hatshepsut was the second known female ruler of Egypt and is considered to be one of the most successful Egyptian pharaohs. She ruled for 23 years and oversaw a major expansion in Egyptian trading routes and also began many major building projects. After a few initial military victories, her reign was also characterised by comparative peace with her neighbours.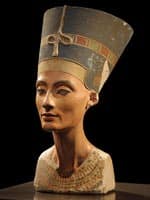 Neferneferuaten Nefertiti (1370 – c. 1330 BC) Nefertiti was an Egyptian Queen, the consort of Akhenaten. She ruled Egypt during a period of great wealth and religious revival. Nefertiti was immortalised in a bust by sculptor Thutmose created in 1345 B.C.

Cleopatra (69 BCE–30 BCE) The last Ptolemaic ruler of Egypt. Cleopatra sought to defend Egypt from the expanding Roman Empire. In doing so, she formed relationships with two of Rome's most powerful leaders, Marc Anthony and Julius Caesar.

Boudicca (1st Century CE) Queen of the British Celtic Iceni tribe, Boudicca united several tribes in revolt against the Roman occupation and Roman brutality. Initially successful, her army of 100,000 sacked Colchester and then London. She nearly succeeded in driving the Romans from Britain.

Eleanor of Aquitaine (1122–1204) The first Queen of France. Two of her sons Richard and John went on to become Kings of England. She led armies several times in her life and was a leader of the Second Crusade.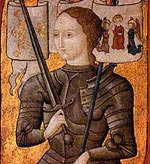 Joan of Arc (1412–1431) Joan of Arc inspired a French revolt against the occupation of the English. An unlikely hero, at the age of just 17, the diminutive Joan successfully led the French to victory at Orleans. Her later trial and martyrdom only heightened her mystique.

Queen Isabella I of Castile (1451 – 1504) Isabella ruled Castile with her husband King Ferdinand of Aragon, effectively united the Spanish provinces. She helped to reorganise the administration of government and improved the finances of the Royal Treasury. She allowed and financed the journey of Christopher Columbus and also set up the Spanish Inquisition.


Catherine de Medici (1519–1589) Born in Florence, Italy, Catherine was married to the King of France at the age of 14. And she was the queen of France from 1547 until 1559. She was involved in numerous efforts to increase the power of her favoured sons.

Elizabeth I (1533–1603) Queen of England during a time of great economic and social change, she saw England cemented as a Protestant country. She was considered an effective leader and rallied her country to defeat the Spanish Armada – which left Britain to become one of the world's dominant superpowers.

Catherine the Great (1729–1796) One of the greatest political leaders of the Eighteenth Century. Catherine the Great was said to have played an important role in improving the welfare of Russian serfs. She placed great emphasis on the arts and helped to cement Russia as one of the dominant countries in Europe.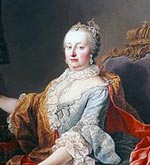 Maria Theresa (1740–1780) The only female ruler of the Habsburg Empire. Maria Theresa succeeded to the throne after the death of her father Charles VI. With great strength of will, Maria held together the disparate empire and instituted military, financial and education reforms which strengthened the international position of the Habsburg Empire.

Queen Victoria (1819–1901) British Queen. Presiding over one of the largest empires ever seen, Queen Victoria was the head of state from 1837 – 1901. Queen Victoria sought to gain an influence in British politics while remaining aloof from party politics. She came to symbolise a whole era of Victorian values and a figurehead for the British Empire.

Rani Lakshmibai (1828 – 1858) Indian Queen of Jhansi in North India (Uttar Pradesh) A leading figure in the Indian rebellion of 1857, which sought to overthrow the British Raj and control of India. She herself took part in the fighting and was killed in battle. She became a symbol of Indian resistance

Empress Dowager Cixi (1835 – 1908) A concubine of Xianfeng Emperor – after his death, she became a powerful figure gaining political power – 'ruling from behind the curtain'. She supported moderate reforms to the Chinese economy and state. After the failed Boxer rebellion, she began a policy of changing China into a constitutional monarchy.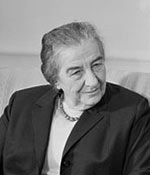 Golda Meir (1898-1978) One of the founders and fourth prime minister of Israel. Meir was considered one of the strong, uncompromising leaders of the new nation of Israel.

Sirimavo Bandaranaike (April 1916 – 10 October 2000) The first female Prime Minister in the world, Bandaranaike was the first non-heredity head of state in the modern world. She served three times as Prime Minister for Sri Lanka 1960–1965, 1970–1977 and 1994–2000.

Indira Gandhi (1917–1984) First female prime minister of India. She was in power from between 1966–77 and 1980–84. Accused of authoritarian tendencies she only narrowly avoided a military coup by agreeing to hold an election at the end of the "emergency period" of 1977. She was assassinated in 1984 by her Sikh bodyguards, in response to her storming of the Golden Temple.

Margaret Thatcher (1925–2013) The first female Prime minister of Great Britain, she governed for over ten years, putting emphasis on individual responsibility and a belief in free markets. Her leadership was characterised by uncompromising strength and conviction.
Queen Elizabeth II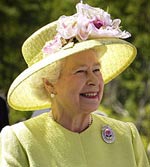 (1926– ) Since ascending to the British throne in 1952, Elizabeth has become the longest serving British monarch. She has witnessed rapid social and economic change and has been a unifying influence for Britain and the Commonwealth.

Nancy Pelosi (1940 – ) US Democrat politician and twice elected speaker of the House of Representatives. She served as one of the main opposition voices to the Presidency of Donald Trump. As leader of the House, she helped to pass the Affordable Care Act, economic stimulus of 2010 and Wall Street Reform Act.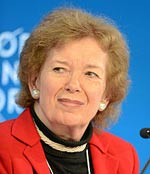 Mary Robinson (1944 – ) The first female President of the Irish Republic (1990-97). Robinson brought a higher profile to the post. During her tenure, she oversaw a period of economic growth and social change as Ireland liberalised its religious traditions within the political realm. She also served as UN High Comissioner for Human Rights (1997-2002)

Aung San Suu Kyi (1945– ) Burmese opposition leader. Awarded Nobel peace prize for opposition to military rule. Aung San Suu Kyi was placed under house arrest for many years due to her political principles.

Benazir Bhutto (1953–2007) The first female prime minister of a Muslim country. She helped to move Pakistan from a dictatorship to democracy, becoming Prime Minister in 1988. She sought to implement social reforms, in particular, helping women and the poor. She was assassinated in 2007.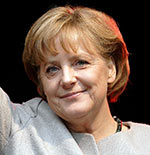 Angela Merkel (1954 – ) Merkel has been chancellor of Germany since 2005 and the de facto leader of the European Union during the European financial crisis and also increasing the role of Germany in foreign affairs. Since the Trump Presidency, some have given Merkel the label 'Leader of the free world.'

Theresa May (1956 – ) Theresa May was Britain's second female Prime Minister. She was elected after the EU referendum of 2016 and sought to negotiate a deal to leave the EU. When the deal failed to pass through Parliament, she announced she would step down.

Jacinda Ardern (1980 – ) New Zealand Prime Minister from October 2017. She led a minority government, becoming the youngest female leader of a country at the age of 37. In March 2019, she was widely praised for the way she led the country in the aftermath of the Christchurch mosque terrorist attack which left 51 dead.

Alexandria Ocasio-Cortez (1989 – ) Democratic Congresswomen. A leading figurehead for a socialist, progressive agenda including "Green New Deal," universal health care, and higher taxes on the rich. She is unofficially the leader of the new wave of progressive Democrats who come from outside the party hierarchy and wish the party to move in a more radical direction.
Civil rights leaders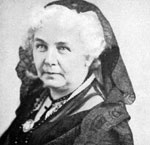 Elizabeth Cady Stanton (1815–1902) American social activist and leading figure in the early women's rights movement. She was a key figure in helping create the early women's suffrage movements in the US. She was the principal author of Declaration of Sentiments in 1848.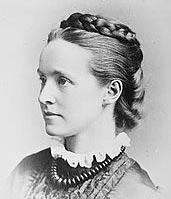 Millicent Fawcett (1846–1929) A leading suffragist and campaigner for equal rights for women. She led Britain's biggest suffrage organisation, the non-violent (NUWSS) and played a key role in gaining women the vote. She also helped found Newnham College, Cambridge.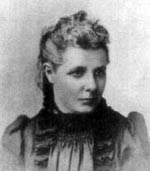 Annie Besant (1847–1933) British campaigner for social justice, an advocate of women's rights and later member of the Theosophist society. She also actively campaigned for Indian independence.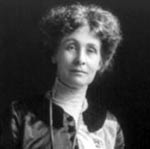 Emmeline Pankhurst (1858–1928) A British suffragette, Emily Pankhurst dedicated her life to the promotion of women's rights. She explored all avenues of protest including violence, public demonstrations and hunger strikes. She died in 1928, 3 weeks before a law giving all women over 21 the right to vote.

Eleanor Roosevelt (1884–1962) Wife and political aide of American president F.D.Roosevelt. In her own right Eleanor made a significant contribution to the field of human rights, a topic she campaigned upon throughout her life. As head of UN human rights commission she helped to draft the 1948 UN declaration of human rights.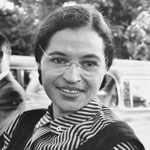 Rosa Parks (1913–2005) American civil rights activist. Rosa Parks' refusal to give up her bus seat in Montgomery, Alabama, indirectly led to some of the most significant civil rights legislation of American history. She sought to play down her role in the civil rights struggle but for her peaceful and dignified campaigning she became one of the most well-respected figures in the civil rights movements.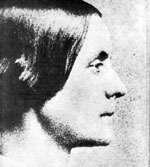 Susan B. Anthony (1820-1906)
Susan Anthony campaigned against slavery and for the promotion of women's and workers rights. She began campaigning within the temperance movement and this convinced her of the necessity for women to have the vote. She toured the US giving countless speeches on the subjects of human rights.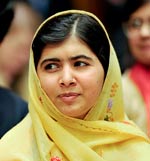 Malala Yousafzai (1997– ) Pakistani schoolgirl who defied threats of the Taliban to campaign for the right to education. She survived being shot in the head by the Taliban and has become a global advocate for women's rights, especially the right to education.
Spiritual and religious leaders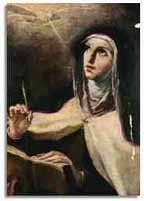 Saint Teresa of Ávila (1515-1582) – Spanish mystic, writer and reformer. St Terese of Avila was an influential and pivotal figure of her generation. She reformed and help to expand the Carmelite order.

Mira Alfasa (1878 – 1973) – Mother of the Sri Aurobindo Ashram. Mystic, occultist and spiritual Guru. Mira Alfasa was the spiritual partner of Sri Aurobindo and responsible for the running of the Ashram and setting up of Auroville – a universal town which would be free of nationality.

Mother Teresa (1910-1997) – Albanian Catholic nun. Mother Teresa devoted her life to the care and service of the poor, especially in India where she founded her Missionaries of Charity organisation.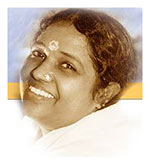 Amma Mata Amritanandamayi (1953 – )(1953 – ) Indian saint who has embraced millions of pilgrims from around the world. She runs a series of charities known as 'embracing the world' and Amrita Yoga.
Citation: Pettinger, Tejvan. "Female leaders", Oxford, UK – www.biographyonline.net. Published 15 July 2019.
Women Who Have Changed the World
Legends: Women Who Have Changed the World – Through the Eyes of Great Women Writers at Amazon
Famous Women Who Shaped World History
Famous Women Who Shaped World History at Amazon.
Related pages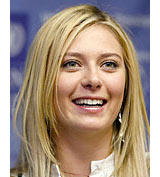 Female athletes – Over 50 famous female athletes from tennis, football, cycling, athletics, gymnastics, golf and swimming.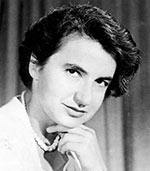 Female Scientists – A list of female scientists who have made important contributions to the field of science. Including Rosalind Franklin, Marie Curie, Barbara McClintock and Dorothy Hodgkin.
F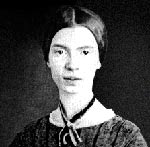 amous female authors – Authors and poets including Sappho, Jane Austen, Emily Bronte, Gabriela Mistral and J.K. Rowling.
Women's rights activists

– Prominent women who helped promote women's and civil rights. Including Margaret Fuller, Susan Anthony, Millicent Fawcett and Malala Yousafzai.

Women who changed the world – Famous women who changed the world. Features female Prime Ministers, scientists, cultural figures, authors and royalty. Includes; Cleopatra, Princess Diana, Marie Curie, Queen Victoria, and Joan of Arc.

Female biographies – A list of 100 famous women from Sappho and Cleopatra to Marilyn Monroe and Angela Merkel.