A list of inspirational black people who played a key role in the world and American history.

Martin Luther King (1929 – 1968) – King was a pivotal figure in the non-violent civil rights movement. During the 1950s and 1960s, he sought to improve race relations and overturn discrimination in American society. He is remembered for his powerful speeches which sought to bring about a united society – where race did not act as a barrier.

Nelson Mandela (1918 – 2013 ) – Mandela spent most of his life campaigning for an end to apartheid in South Africa. After over 20 years in prison, he was released and was able to be the first elected President in post-apartheid, South Africa. He was also admired for his forgiveness and willingness to reach out to the white community in South Africa.

Desmond Tutu (1931 – ) Leading figurehead in the South African anti-apartheid movement. Desmond Tutu is also a leading figure in speaking out for humanitarian and civil rights issues.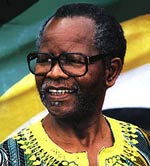 Oliver Tambo (1917 – 1993). President of the ANC (1960 – 1990). Tambo was a leading figure in promoting international opposition to the apartheid regime in South Africa.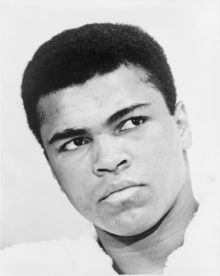 Mohammed Ali (1942 – ) Great boxer of the 1960s. Refused to fight in Vietnam. Then a controversial decision, he later became widely admired as a principled figure of great stature.

Kofi Annan (1938 – ) UN Secretary-General from Ghana who served two terms. Widely admired for his skills of patience and diplomacy.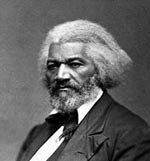 Frederick Douglass (1818-1895) A former slave, Douglass became a leading figurehead in the anti-slavery movement. One of the most prominent African American leaders of the Nineteenth Century. His autobiography of life as a slave, and his speeches denouncing slavery – were influential in changing public opinion.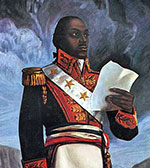 Toussaint Louverture (1743 – 1803) Leader of Haitian slave revolt. In 1791, he led the successful military revolt in Saint-Domingue and over the next years consolidated his power and influence restoring the plantation system with paid labour. Louverture enabled the colony to end slavery and in 1804 declared itself the independent Republic of Haiti.

Barack Obama (1961- ) – First US President of African origin. Obama served two terms as President and was awarded the Nobel Peace Prize.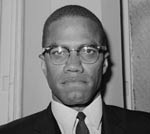 Malcolm X (1925-1965) – Member of the Nation of Islam which advocated black self-determination and separation of black and white people. He later disavowed racism and the Nation of Islam.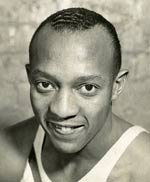 Jesse Owens (1913-1980) (athletics) Won four Olympic Golds at 'Hitler's Olympics', Berlin 1936. Owens maintained a dignified stance on civil rights, despite enduring discrimination during his life.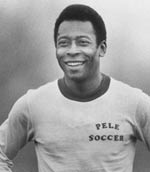 Pele (1940 – ) (Brazil, footballer) Pele was the greatest footballer of the century. Since retirement Pele become a global ambassador for sport and is a well-known advocate of overcoming poverty.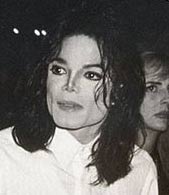 Michael Jackson (1958 – 2009) – Musician and singer. Famous for albums such as 'Bad' and "Off the Wall". Jackson was also a pioneer of music videos.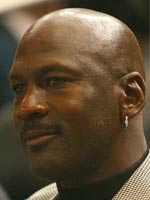 Michael Jordan (1963 – ) Considered the greatest basketball player of all time. He was six times NBA champion and played an influential role in popularising basketball in 1980s and 1990s.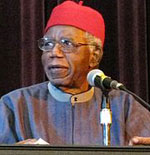 Chinua Achebe (1930 – 2013) Best selling Nigerian novelist. He wrote the 1958 classic, 'Things Fall Apart'

Haile Gebrselassie (1973 – ) Ethiopian record-breaking distance runner. Gebrselassie won two Olympic medals and four world titles at 10,000 metres.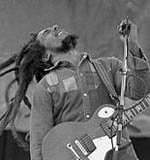 Bob Marley (1945 – 1981) Jamaican singer-songwriter. Cultural icon and global music star. A committed Rastafari who helped make reggae an international phenomenon.
Famous Black women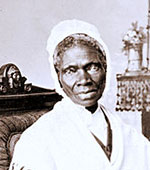 Sojourner Truth (1797 – 1883) African-American abolitionist and women's rights campaigner. In 1851, gave a famous extemporaneous speech "Ain't I a woman?" which supported equal rights for blacks and women.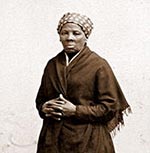 Harriet Tubman (1822 – 1913) – A Former slave who escaped and then helped many more to escape on the Underground Railroad.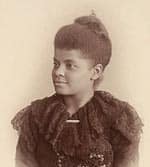 Ida Wells (1862 – 1931) Wells was a pioneering journalist and newspaper editor. She used her position to investigate the practice of lynching in the south. A fearless civil rights activist and female suffrage campaigner, she was a founder member of the NAACP in 1909.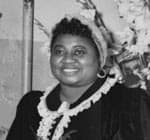 Hattie McDaniel (1895 – 1952) McDaniel was an actress, comedian, and singer-songwriter. She was the first African-American actress to be awarded an Oscar for best-supporting actress in the 1939 film "Gone With the Wind"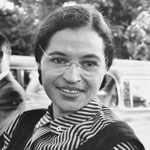 Rosa Parks (1913 – 2005) – Instrumental in the US civil rights movement of the 1950s and 60s. It was Parks who began an influential boycott of segregated buses in 1955.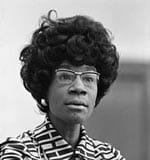 Shirley Chisholm (1924 –  2005) The first black Congresswoman. She was elected to the House of Representatives for NY in 1968. She used her time in Congress to campaign for women's and civil rights. She served from 1968 to 1983 and was the first black women to run for the Democratic Presidential nomination.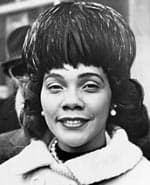 Coretta Scott King (1927 –  2006) Scott King was an author, musician, civil rights activist and wife of Martin Luther King. She played a prominent role in the civil rights campaigns, both before and after her husband's assassination. She founded the King Centre and campaigned for Martin Luther King Day to be a national holiday (established 1982)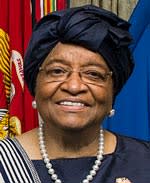 Ellen Johnson Sirleaf (1938 – ) Africa's first elected female Head of State. She served as president of Liberia from 2006 to 2018. She was jointly awarded the Nobel Peace Prize in 2011 for her work in supporting democracy and women's rights.

Oprah Winfrey (1954 – ) Influential US media personality with groundbreaking chat show and own book club. Winfrey is active in many liberal causes and promotion of civil rights.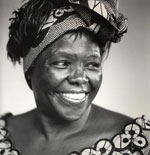 Wangari Muta Maathai (1940 – 2011) Kenyan environmental and political activist. Awarded the Nobel peace prize 2004 for "her contribution to sustainable development, democracy and peace."

Maya Angelou (1928 – 2014) American poet, writer and civil rights campaigner.  Her autobiography  I Know Why the Caged Bird Sings (1969) was received to wide-acclaim, she redefined the genre of autobiography to promote a different perspective on Africa-Americans.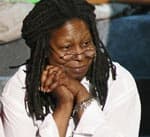 Whoopi Goldberg (1955 – ) American actress, comedian, author, and television host. Goldberg was the second black female actor to be awarded an Oscar for best supporting actress. She was also awarded an Emmy Award (tv) a Grammy Award (music industry) and a Tony Award (live theatre)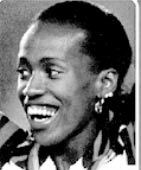 Jackie Joyner-Kersee (1962-) US, athletics. One of the most successful female track and field athletes. Won Olympic gold in Heptathlon and Long Jump.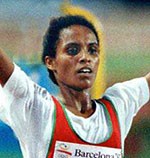 Deratu Tulu (1972 – ) (Ethiopia, athlete) The first Ethiopian female athlete to win Olympic gold. Tulu won gold at the 1992 Barcelona Olympics in the 10,000m.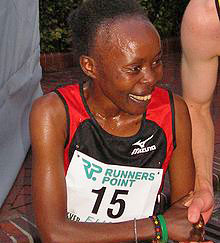 Tegla Laroupe (1973 – ) – Keynan long distance runner and global spokesperson for peace. Broke world records from 20km to the marathon. Now runs Tegla Loroupe Peace Foundation.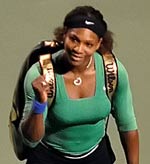 Serena Williams (1981 – ) (US, tennis) 23 single grand slam titles, 15 doubles titles. Also has won four Olympic gold medals. Williams is most decorated and highest earning female tennis player in history.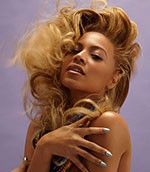 Beyonce (1981 – ) (US, singer) American singer, songwriter, record producer and actress. One of the best selling artists of the modern era. Also noted for positions on women and civil rights.
Citation: Pettinger, Tejvan. "Famous black people who changed the world", Oxford, UK – www.biographyonline.net. Published 12th Aug 2014. Last updated 1 February 2018.
50 Famous Black People who changed the world
Related pages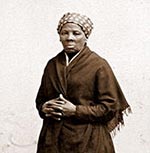 People in the anti-slavery movement – Men and women who campaigned for the end of slavery. This includes former slaves such as Harriet Tubman and Frederick Douglass, and political campaigners, such as William Wilberforce and Abraham Lincoln.

People who made a difference. Men and women who made a positive contribution to the world – in the fields of politics, literature, music, activism and spirituality.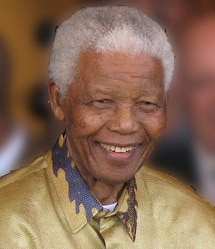 Famous Africans – A list of famous Africans. Includes Nelson Mandela, F.W. De Klerk, Haile Selassie, Archbishop Desmond Tutu, Anwar Sadat, Kofi Annan and Wangari Maathai.