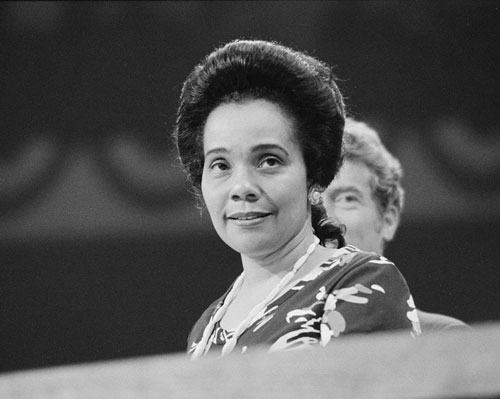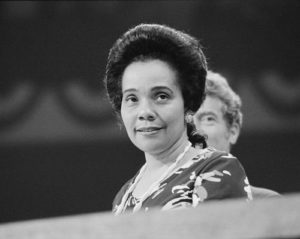 Coretta Scott King was a civil rights activist, author and wife of Martin Luther King. She was particularly active in the 1960s civil rights movement which led to sweeping changes in legal rights and perception of black Americans. After her husband's assassination in 1968, she took a more prominent role in acting as leader and spokesperson for the civil rights cause so identified with her husband. She founded the King Centre and lobbied for a national holiday – Martin Luther King Jr. Day. It was passed by Congress on 2 November 1983.
Birth
Coretta Scott was born in Alabama on 27 April 1927. Her parents were descended from African-American slaves. Her father Obie worked as a policeman and started his own business. He also owned a lumber mill which was burned to the ground by a white mob after he didn't lend it to white neighbours. She grew up with an obvious sense of discrimination and racism, and following the lead of her parents became committed to striving to overcome the inequities of American society.
Despite owning property, the family were not wealthy and from the age of ten, Coretta contributed to the family's finances by working in the fields picking cotton. Despite working in the fields, her mother was determined all her children would get a good education, and her mother drove a bus nine miles to take Coretta and several black children to a segregated school, called Lincoln Normal school.
Education
Coretta was a good student and also an excellent singer. During her childhood, she also enjoyed physical exercise and was something of a tomboy. In 1945, she enrolled in Antioch College, Yellow Springs, Ohio. Her sister had been the first black student to enrol in the school, which had sought to promote integrated education. Coretta followed in the footsteps of her sister and applied for an inter-racial scholarship fund. She later won a scholarship to New England Conservatory of Music in Boston.
It was in Boston that she first met Martin Luther King Jr. She was impressed by the qualities of this young aspiring minister. They shared similar views and outlook on politics, religion and the need for action on civil rights. If anything Coretta was more political than her husband and was worried that marrying a pastor might curtail her activism, but she says they developed a close bond – both personal and political.
"The media never understood Martin so they will never understand Coretta. I didn't learn my commitment from Martin, we just converged at a certain time." – Coretta Scott King [1]
Late in 1965, Martin Luther King was asked by a reporter if he had educated Coretta on civil rights issues, he replied. "She educated me."
Marriage to Martin Luther King
They became close and after close scrutiny paid by King's parents, they were married on 18 June Day 1953. Coretta insisted on removing the word "obey" from the marriage vows. At the time, Coretta was highly regarded as a singer and had completed a degree in voice and piano at the New England Conservatory. However, she knew that by marrying Martin Luther King, she would have to forsake her own music career as they both became more committed to the civil rights movement and his career as a pastor.
After their marriage, they moved to Montgomery, Alabama in the deep south. They had four children, and Coretta divided her time between looking after her family, performing the duties of a pastor's wife and supporting the civil rights struggle. Shortly after they found themselves in the middle of the Montgomery Bus boycott – precipitated by Rosa Parks refusal to give up her seat on a segregated bus.
Martin Luther King became the leader of the boycott – which soon spread to become national news. King's prominent position in the civil rights movement led to frequent death threats and intimidation by opponents of integration and the civil rights movement. In 1956, seven weeks into the protest, a small bomb was thrown through the front window of the King's family home. Despite threats of violence, Coretta decided she would always stay with her husband and not retreat to a safer place. She later explained:
"This was a very trying time, when everyone seemed frightened. I realized how important it was for me to stand with Martin. And the next morning at breakfast he said, 'Coretta, you have been a real soldier. You were the only one who stood with me.'" – Coretta Scott King
It was a difficult time to balance the need to protect her family but also dealing with the real sense of hatred felt from those who opposed the civil rights movement and wished to hold on to racism and segregation.
"Hate is too great a burden to bear. It injures the hater more than it injures the hated." – Coretta Scott King
Although Coretta gave up her classical music career, she continued to pursue music with the local Baptist church. She became a member of the choir and developed the concept of 'Freedom Concerts' – music performances and poetry readings designed in a way to give cultural support to the civil rights movement. Like her husband, she was committed to the ideal of non-violence. In 1959, the couple visited followers of Mahatma Gandhi in India where they learnt more about non-violent protest.
As well as the threats of violence, Corretta Scott King had to deal with the FBI campaign against her husband. The FBI had been bugging Martin Luther King for several years. And when he was away, the FBI sent audio tapes – giving evidence of her husband's infidelity and affairs. The FBI also recorded their telephone and could hear her next understandably bitter conversation to her husband. She later expressed great resentment at the actions of J. Edgar Hoover, who used his position of power to undermine King and the whole civil rights movement.
When King was arrested and sentenced to four months hard labour (on a technical charge of driving with Alabama license while being a resident of Georgia) She feared for his safety and worried the white authorities in the south wanted to silence him by any means necessary. In 1960, she was rung by Bobby Kennedy – the brother of John F. Kennedy – who helped secure the release of her husband Martin. This was an important moment for securing a link between African-Americans and the Kennedy's.
In 1963, John F. Kennedy was assassinated, an event that seared into the consciousness of Coretta.
"It seemed worse than seeing a member of my own family dying … a feeling of complete despair. After that, Malcolm X's assassination disturbed me more than anything else. I was depressed for several days." – Coretta Scott King [1]
Nevertheless, after Lyndon Johnson assumed the presidency, Coretta used her influence to try and help pass the Civil Rights Act of 1964. She also spoke to Malcolm X shortly before his assassination. Later in the year, she accompanied her husband Martin Luther King on his trip to Oslo, Norway to receive the Nobel Peace Prize
In 1965, she took part in the Selma-Montgomery marches, which was pivotal for highlighting the brutality of southern segregationists and also offering hope for the ability of white and black people to work together to promote peace and civil rights for all.
The assassination of Martin Luther King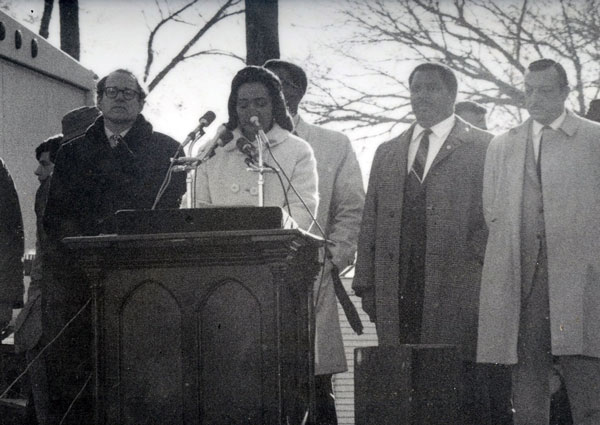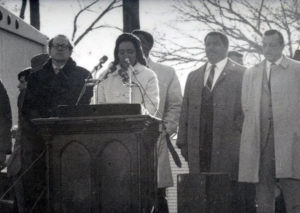 On 4 April 1968, Martin Luther King Jr. was assassinated in Memphis, Tennesee. The heart-breaking news was made more difficult by the challenge of explaining to her very young children of the death of their father. However, she made the decision to continue her husband's work and follow her own ideals for leading the movement.
'I'm more determined than ever that my husband's dream will become a reality." – Coretta Scott King in 1968
After the assassination, she received support from many people including Robert Kennedy, Jacqueline Kennedy and former vice-president Richard Nixon. Four days after her husband's death she led a march of sanitation workers in Memphis City Hall – which had been planned by her husband. Corretta addressed everyone at the microphone. Shortly after his death she wrote a memoir My Life with Martin Luther King, Jr. (1969)
In the aftermath of her husband's assassination, Corretta took a more prominent leadership role in the civil rights movement which had been so dominated by her husband's leadership. She founded the Martin Luther King Nonviolent Social Change (popularly known as the King Centre) in Atlanta and began to broaden the scope of the foundation to include opposition to the Vietnam War, world peace, and wider social issues such as rights for LBGT and campaigns to end poverty. Her public opposition to the Vietnam War led the FBI to undertake extensive surveillance.
Corretta also was keen to promote the role of women in the civil rights movement. She herself often found herself in the shadow of her more famous husband. She often remarked that people often saw her as the quiet wife of her husband.
"I am made to sound like an attachment to a vacuum cleaner – The wife of Martin, then the widow of Martin, all of which I was proud to be. But I was never just a wife, nor a widow. I was always more than a label." – Coretta Scott King [1]

"However I felt that as women, we had much to contribute. In fact for the longest time, way before I married Martin, I had believed that women should allow our essence and presence to shine, rather than letting ourselves be buried or shunted to the sidelines." – Coretta Scott King [1]
She feared the quiet sacrifices of many African-American women were at the root of the movement's success and she felt their role and been underplayed. She was the first woman to deliver the class day address at Harvard (1968), and the first woman to preach at a statutory service at St. Paul's Cathedral in London
Coretta felt there should be a national holiday for at least one African American, and at the time, her husband was the best candidate. She lobbied hard for several years until 1983 when President Ronald Reagan signed into law Martin Luther King Jr. Day.
As well as civil rights, Coretta believed that reducing poverty and unemployment were vital goals of society. In fact, she felt reducing unemployment would reduce many of the social problems stemming from poverty. Speaking in 1968, she was critical of Congress reluctance to support welfare relief.
"Our Congress passes laws that subsidize corporations, farms, oil companies, airlines, and houses for suburbia, but when they turn their attention to the poor they suddenly become concerned about balancing the budget and cut back on funds for Head Start." – Harvard class day address (1968)
During the 1980s, Coretta Scott King was a vocal opponent of apartheid in South Africa and she used her position to lead nationwide demonstrations against South African racial policies. In 1985, she was arrested along with three of her children for protesting outside the South African embassy in Washington. She was also vocal in her support for nuclear disarmament and pacifist causes. She often criticised US foreign policy intervention such as the 2003 invasion of Iraq. She also spoke in support of rights for gay and lesbian groups. her vocal support was not always welcomed by the civil rights movement, who felt she should stick to civil rights, But Coretta felt it was important to include everyone in the defence of civil rights and equality.
"I believe all Americans who believe in freedom, tolerance and human rights have a responsibility to oppose bigotry and prejudice based on sexual orientation." – Shadow in the Land : Homosexuality in America (1989) by William Dannemeye
Death
In 2005, aged 77 her health began to fail. She suffered a stroke and also from ovarian cancer. She began to cancel speaking arrangements. On 30 January 2006, she passed away in Rosarito Beech, Mexico. Her funeral was held on 7 February 2006 and was attended by Presidents George, W.Bush, Bill Clinton and Jimmy Carter.
Citation: Pettinger, Tejvan. "Coretta Scott King Biography", Oxford, UK. www.biographyonline.net, published 18 September 2019.
Coretta: My Life, My Love, My Legacy
Coretta: My Life, My Love, My Legacy at Amazon.com
The Autobiography of Martin Luther King
The Autobiography of Martin Luther King at Amazon.com
Related

Famous Black People. A list of inspirational black men and women. Including Martin Luther King, Nelson Mandela, Oprah Winfrey, Barack Obama, Desmond Tutu, Mohammad Ali, Harriet Tubman and Rosa Parks.
People who fought for human/civil rights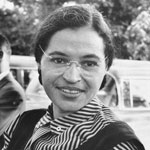 – People who campaigned for equality, civil rights and civil justice. Includes Abraham Lincoln, Harriet Tubman, Martin Luther King and Rosa Parks.