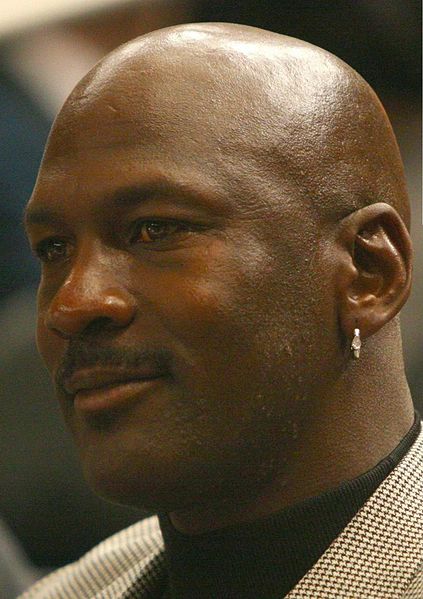 Michael Jordan (MJ) is considered the greatest basketball player of all time. He was voted NBA most valuable player a record five times. Playing most of his career for the Chicago Bulls, he won six NBA Championships. Michael Jordan also became one of the most marketed sportsmen, with lucrative endorsements with Nike, helping to make the Nike Air shoe one of best-known trainers in the world. His career and high profile coincided with a rapid growth in the popularity of NBA basketball, and his personal achievements are considered a major factor in boosting the popularity of basketball. The NBA Website says of Michael Jordan:
"A phenomenal athlete with a unique combination of fundamental soundness, grace, speed, power, artistry, improvisational ability and an unquenchable competitive desire, Jordan single-handedly redefined the NBA superstar." (NBA)
Michael Jordan was born in Brooklyn, New York. But, his family moved to North Carolina where he grew up. As a sophomore, at times, he struggled to get in the High School Team due to his low height. Instead, he concentrated on other sports, such as baseball. But, as a late developer, he grew to 6 foot 3 inch and this helped him to dominate the junior court. Michael Jordan attended the University of North Carolina where he was named College Player of the Year but the Sporting News. In 1984, he was picked in the NBA draft by the Chicago Bulls.
In 1984, he was also selected to be in the US Olympic basketball team, where, with the team, he won the gold medal.
The 1984 season saw the emergence of Michael Jordan as a supreme player. Crowds at the Chicago Bulls increased as people came to see this exciting new talent. Jordan had excellent shooting statistics, but, he also had a distinct and rare ability to excite the crowds with his great dexterity, acrobatic dunks and dives. He seemed to float around the court with effortless ease. Jordan became more than just the best player on the pitch, he exuded something unique and stylish. He also gained a reputation for being one of the best defensive players in basketball. He managed to combine this athletic excellence with a humility that endeared him to the public even more. He later said that what he achieved was only possible because of former great players who taught and helped him to evolve.
In the late 1980s, Jordan led an increasingly successful Chicago Bulls team. They won their first championship in 1991 and went on to win six titles in the space of nine years. Along the way, Jordan broke many of the long-standing NBA records. In 1988-89, he led the league with 32.5 points per game.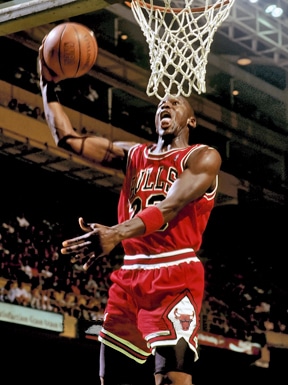 In 1992, Jordan again returned to the Olympics. This time as a full professional – Jordan was part of the 'Dream Team'. The US easily won the Olympic gold – with their opponents often admitting they felt honoured to be on the same court as Michael Jordan and the 'dream team'.
However, in 1993, a series of personal difficulties caused him to temporarily retire from the game. His father was murdered during an armed robbery, devastating Jordan who saw his father as his closest confidant. He was also struggling with his own gambling issues.
For a short time, he made a foray into baseball, playing the 1994 season for the Birmingham Barons. But, in the 1994-95 season, he came back to his primary love – basketball. Despite losing some of his youthful speed, Jordan still had the magic touch and led the Chicago Bulls to the semifinals with some stellar performances. The next year, 1995-96, he led the Chicago Bulls to another title.
Jordan continued to play until past his 40th birthday in the 2002-03 season.
After he finally retired, he had played a total of 1,072 games, with a points per game average of 30.1 and a total of 32,292 points.
After making his final retirement, Jordan has concentrated on management and ownership.
In June 2006, he bought a minority stake in the Charlotte Bobcats and later gained outright ownership, becoming the first former NBA star to become the majority owner of a league franchise.
In June 2010, Jordan was ranked by Forbes Magazine as the 20th-most powerful celebrity in the world with $55 million earned between June 2009 and June 2010. According to the Forbes article, Jordan Brand generates $1 billion in sales for Nike.
"Limits, like fears, are often just an illusion"
– Michael Jordan 2009
In 1999, he was named the greatest North American athlete of the 20th century by ESPN, and was second to Babe Ruth on the Associated Press's list of athletes of the century. He was inducted into the Basketball Hall of Fame in 2009.
Michael Jordan Career Highlights
6× NBA Champion (1991, 1992, 1993, 1996, 1997, 1998)
5× NBA Most Valuable Player (1988, 1991–1992, 1996, 1998)
14× NBA All-Star (1985–1993, 1996–1998, 2002–2003)
6× NBA Finals MVP (1991–1993, 1996–1998)
10× NBA scoring champion (1987–1993, 1996–1998)
3× NBA steals champion (1988, 1990, 1993)
NBA Defensive Player of the Year (1988)
10× All-NBA First Team (1987–1993, 1996–1998)
Olympic Games
Gold 1984 Los Angeles United States
Gold 1992 Barcelona United States
Points
Points 32,292 (30.1 ppg)
Rebounds 6,672 (6.2 rpg)
Assists 5,633 (5.3 apg)
Michael Jordan: The Life
Michael Jordan: The Life at Amazon
Related pages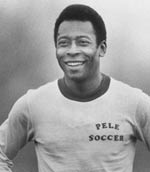 100 Famous sporting personalities – 100 Famous sporting personalities, including Muhammad Ali, Nadia Comaneci, Pele and Jesse Owens.

Famous Americans – Great Americans from the Founding Fathers to modern civil rights activists. Including presidents, authors, musicians, entrepreneurs and businessmen. Featuring Thomas Jefferson, Abraham Lincoln, Madonna, Oprah Winfrey.
External links