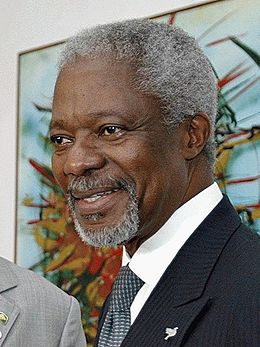 Kofi Annan was born into a family of traditional chiefs of the Fante tribe in Ghana, He rose to become Secretary-General of the United Nations, winning the Nobel Peace Prize in 2001. He is famed for his calm and dignified manner – ideal for his work as a global peacekeeper.
Kofi Annan was born in Kumasi, Gold Coast (now Ghana) on 8 April 1938. He attended a Methodist boarding school before attending the Kumasi College of Science and Technology. Even as a student he was considered a natural leader. After college, he gained a scholarship to study in the US at Mcalester College, Minnesota. He later studied in Geneva before returning to the US to study management at MIT.
In 1962, he gained his first job in the UN, working as an officer for the World Health Organisation. Apart from a few years, he would remain in the United Nations for most of his career. In 1980, he gained an important post at the UN High Commission for Refugees in Geneva, and in 1983, director of administrative management services at the UN Secretariat. He steadily gained promotion within the UN and in 1993 gained his most prominent role as Under-Secretary-General of the Department of Peacekeeping Operations. In 1995, he played a key role in deputising for the then secretary-general Boutros Boutros Ghali in allowing NATO forces to intervene in Bosnia.
UN Secretary-General
He was elected Secretary-General in 1996 after the candidacy of Boutros Boutros-Ghali was blocked by the US. He became one of the few insiders to be awarded the top job of Secretary-General and he served as Secretary-General for two terms from 1997 to 2007. In 2001 he was jointly awarded the Nobel Peace Prize.
"We can love what we are, without hating what, and who, we are not."
– Kofi Annan – Nobel Prize acceptance speech 2001
After gaining the top position, he sought to reform the United Nations in a way which would make it more effective. He reformed the UN based on his own personal experience of working with the organisation. He sought to reduce unnecessary administration and regain a clarity of purpose through the introduction of strategic management. Under Annan the UN also sought to reach out into wider society through private partnerships and national UN bodies. For the Millenium, Annan also strove to renew the United Nations by emphasising their potential for improving the lives of people. In his report "We the peoples: the role of the United Nations in the 21st century," He stated:
"No calling is more noble, and no responsibility greater, than that of enabling men, women and children, in cities and villages around the world, to make their lives better"

– Kofi Annan
Iraq War
One of the most challenging experiences for Kofi Annan was after the 9/11 terrorist attacks in the US and the US war on terror. In particular, Kofi Annan tried to persuade the US and UK to not to invade Iraq without the legal backing of the UN. He later said he felt the war was not in conformity with the UN Charter and was illegal. Annan sought to diffuse tensions between the UN and US, but also – in his final farewell statement to the UN, he sought to invoke President Harry S. Truman, one of the architects of the UN,  in encouraging the US to return to a multilaterist approach and not just allow domestic right-win critics to drown out the good that the UN does.
Kofi Annan was widely liked by both fellow UN workers and even critics of the United Nations. For example, Muhamed Sacribey, the Bosnian Ambassador to the UN was very critical of the United Nations involvement in Bosnia. But, he exempted Kofi Annan. When asked why he replied simply: "Because he is honest"
He is known for his ability to get the best out of people but remains a man of principle and does not hesitate to express his convictions. His popularity with UN staff is partly because of his wish to:
"Put the individual human being at the centre of everything the United Nations does,"
He is also known for his stoic calm amidst great uncertainty. He yogic detachment and inner peace are well suited to his task of international diplomacy.
"The World is not ours to keep. We hold it in trust for future generations."

– Kofi Annan
Kofi Annan is married to Nane Annan from Sweden. She is a lawyer and painter and has been a strong supporter of the United Nations. They have had three children. After his retirement from the UN, he  was involved in other humanitarian work, such as the UN-Arab League special envoy to Syria. He also led the Rakhine Commission on reports of sectarian violence in Myanmar.
Death
Annan died, after a short, unspecified illness, on 18 August 2018, in Bern Switzerland, he was 80 years old. He was given a state funeral in Accra, Ghana.
Citation: Pettinger, Tejvan. "Biography of Kofi Annan", Oxford, UK. www.biographyonline.net, Last updated 5 March 2020.
Interventions: A Life in War and Peace
Interventions: A Life in War and Peace Kofi Annan at Amazon
Related

People who changed the world – Famous people who changed the course of history including Socrates, Newton, Jesus Christ, Muhammad, Queen Victoria, Catherine the Great, Einstein and Gandhi.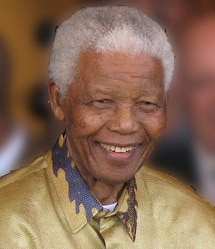 Famous Africans – A list of famous Africans. Includes Nelson Mandela, F.W. De Klerk, Haile Selassie, Archbishop Desmond Tutu, Anwar Sadat, Kofi Annan and Wangari Maathai.