Geoff Boycott was an international cricketer, specialising as an opening batsmen. He was known for his defensive, steady style. His stubborn character was matched by his stubborn style of playing – refusing to give his wicket away due to a silly shot. He may not have been the most exciting player, but he scored valuable runs for both Yorkshire CC and England. Since his retirement he has worked as a commentator for BBC.
Geoffrey Boycott OBE (born 21 October 1940)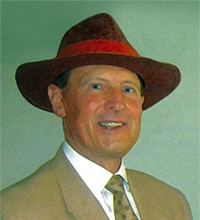 Geoffrey was born in Fitzwilliam, near Wakefield in Yorkshire in 1940. At school he was a promising cricketer, and also good footballer. He left school at 17, to pursue a career as a cricketer – though for several years he could only play as an amateur. However, in 1962, he made his debut for Yorkshire CC and went onto be one of their most capped players. In an illustrious playing career, he scored 32,000 runs at an average of 57.85. He was made captain in 1971, but sacked in 1978 after failing to win a trophy.
In test cricket, Boycott scored 8,114 runs in 108 matches, at an average of 47.72 It was a long career, but he never gained the English captaincy. He was playing in 1981 Ashes series, aged 40, and went to West Indies the following winter. He had a total of 16 opening partners for England.
In 1982, he joined the rebel tour of South Africa, gaining him a three year ban from international cricket. This effectively ended his international career.
Always an opinionated character, Boycott often caused friction with other big players of the day such as Brian Close, Fred Trueman and Ian Botham. Botham once said of Boycott: that he was "totally, almost insanely, selfish". Botham could scarcely hide his joy when Boycott's international career was over. In one incident in 1978 Ian Botham said he intentionally ran out Boycott to improve the run rate.
After retiring he has been in demand as a commentator. Although his opinionated nature has got him into trouble, it has also made him one of the most sought after commentators. (There's rarely a dull moment when Boycott is commentating.)
Once, after witnessing a dropped catch, he said "I reckon my mum could have caught that in her pinny"
Cricketers
Sir Gary Sobers

Freddie Flintoff

Monty Panesar
External links