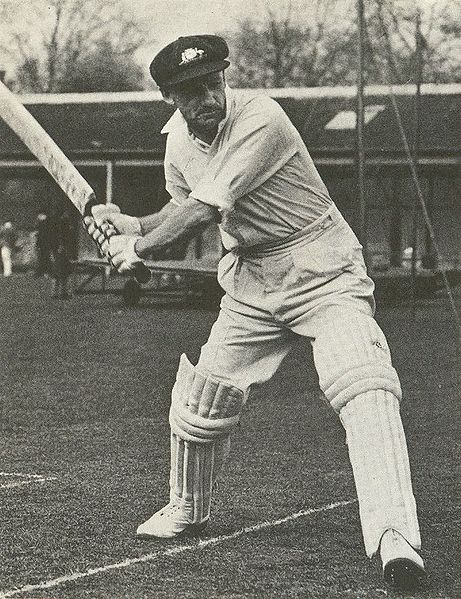 Sir Donald Bradman (27 August 1908 – 25 February 2001)
"I was never coached; I was never told how to hold a bat."
Sir Donald Bradman is the greatest batsman ever to grace the game. His test average remains far above anyone else. In 52 tests he managed 29 hundreds and scored just below 6,000 runs at an average of 99.94. If he had scored 6 runs on his last test innings at Lords in 1948, he would have finished with an average of 100. However, the greatest cricketer of the era was out for a duck – a paradoxical end to a stupendous career.
Donald Bradman was so dominant that the English team resorted to 'bodyline' bowling on the Australian tour of 1933. It was in the era of the great depression when cricket provided a relief from the gloom of the Great Depression. The Australians were up in arms at the 'un-cricket' like nature of the English bowling. The tactics were criticised back in England and were even raised in parliament. Don Bradman finished the series with an average of 'only' 53. If it had not been for the second world war, Don Bradman's career would have been even more amazing.
During the war, he initially volunteered for the RAF but was later persuaded to join the army (a safer option). However, in 1941, he suffered a bout of fibrositis. Due to the pain, he was invalided out of the army and suffered bouts of fibrositis throughout his life.
After the war, he was able to return to the national side. His final tour was the 1948 tour of England, which captivated a nation. It was said, Bradman was second only to Churchill in the degree of fame. Despite his waning powers, he still managed to score 11 centuries and 2,432 runs on tour. The Australians won the tour 4-0. In the last test at Lords, Bradman went out to bat with an average of 101. He was given a standing ovation as he left the famous Lords pavilion. But, he was bowled for 0. England lost by an innings and he never batted again. He said later:
"I'm very sorry I made a duck, I'd have been glad if I'd made those four extra runs to have an average of 100. I didn't know it at the time and I don't think the Englishmen knew it either. I think if they had known it they may have been generous enough to let me get four"
After retirement, Sir Donald Bradman remained a great ambassador for the sport. He was knighted for his services to cricket and remained open to an adoring public, even though he remained publicity shy throughout the period. In 2001, the Australian Prime Minister, John Howard, said he was the greatest living Australian.
Citation: Pettinger, Tejvan. "Biography of Donald Bradman", Oxford, UK. www.biographyonline.net, 15th Dec 2008. Last updated 18 February 2018.
The Legacy of Sir Donald Bradman
The Legacy of Sir Donald Bradman at Amazon.
Related pages

Sports people – Famous sportsmen/women. Including football, athletics, tennis, rugby, cricket, boxing. A list of 100 sports stars, such as Muhammad Ali, Serena Williams, Pele and Usain Bolt.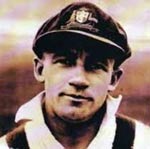 Famous Australians – Great Australians including Sir Howard Florey, Kylie Minogue, Saint Mary MacKillop and Andrew Banjo Paterson.