A look at some of the greatest and most famous Australians. If you want to complain about Kylie Minogue being number one, you can do so here. Rankings aren't everything. But, these are some really great Australians. (work in progress)

Kylie Minogue (1968 – ) Actress and singer. Kylie rose to fame starring in the soap opera "Neighbours". She then released four best-selling pop albums, before changing direction – continually reinventing her music and image. Diagnosed with breast cancer in 2005, she has sought to raise awareness of the issue.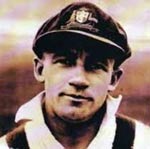 Sir Donald Bradman (1908 – 2001) – Cricketer who dominated the game in the 1930s and 1940s. Finishing with a test average of 99.94, Bradman was so far ahead of his contemporaries, that no one has come close to his dominance. A quintessentially modest Australian rural boy, who drew great admiration from beyond the game of cricket.
Saint Mary MacKillop (1842 – 1909) – Saint. Looked after orphaned children and Aboriginal children in Australia's outback. She established several schools and institutions which offered education to the rural poor.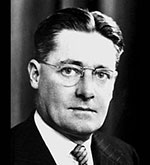 Howard Florey (1898 –  1968) Australian doctor who played a major role in turning penicillin into a practical drug. Florey pioneered the first clinical trials at the Radcliffe Hospital Oxford. Florey's experience led to millions of lives being saved within a short time of his clinical trials.

John Curtin (1885 – 1945) – Australian Prime Minister during World War Two. He led the Labour Party from 1935 to 45 and served as Prime Minister from 1941-45 during the Second World War. His leadership marked Australia's evolution as nation independent from Britain.

Andrew Banjo Paterson (1864 – 1941) – Australia's bush poet. He wrote ballads and poems about Australian outback like. He was the composer of 'Waltzing Matilda' a popular song often considered the unofficial national anthem of Australia.

Paul Hogan (1939 – ) – Actor/ Comedian and producer. Hogan starred in his own TV series before playing major film roles such as Crocodile Dundee and Strange Bedfellows. He went on to produce his own films.

Edith Cowan (1861 – 1932) – Campaigner for women's and children's rights. She established the Children's Protection Society and lobbied for the creation of a children's court. She was the first women to serve on a local board of education and in 1921, became the first women to enter Parliament in 1921.

Shane Warne (1969 – ) (cricket) One of the greatest leg-spin bowlers of all time. Warne took over 1,000 wickets in international cricket and became nominated by Wisden as one of the five 'Cricketers of the Century.'

Sir Henry Parkes (1815 – 1896) – Parkes served as Premier for the colony of New South Wales at different times between 1872 and 1891. He established the Federal Convention in 1891 and made a strong case for bringing the different six colonies of Australia together as one country.

Sir Charles Kingsford Smith (1897 – 1935) – Flying pioneer. In 1928, Smith made the first trans-Pacific flight from America to Australia. In the heroic age of aviation, he achieved many notable aviation firsts, such as the first flight across Australia and the first flight between Australia and New Zealand. He disappeared during a flight to England.

The Rev Dr John Flynn (1880 – 1951) – A Presbyterian minister who founded the Royal Flying Doctor Service – visiting patients in the outback by plane. It was effectively the world's first air ambulance.

Sir Marcus Oliphant. – An inventor who helped develop magnetron for Radar, and the Nuclear Bomb. He developed the fissile component of the atomic bomb used in Hiroshima. He later remarked that he was "sort of proud that the bomb had worked, and absolutely appalled at what it had done to human beings." He became a critic of nuclear arms.

Olivia Newton-John (1948 – ) – Singer/ Actress, entrepreneur and activist. Newton-John starred in the hit musical film Grease (1978). She has sold 100 million records worldwide and has been involved in environmental and health charities.

Naomi Watts (1968 – ) – British/Australian Actress and film producer.  Received a nomination for Academy Award for best actress in performance of 21 Grams (2003) and The Impossible (2012) She has starred in many independent productions with dark themes.

Sir John Monash (1865 – 1931) – Military commander who restored pride after initial failings at Gallipoli. Monash is considered one of the best Allied general of the First World War and he led the successful Allied attack at the Battle of Amiens on August 1918, which saw major territorial gains for the Allies.

Bob Hawke (1929 – 2019) – Labour Party Prime Minister from 1983 – 1991. He instituted social reforms such as free health care and environmental policies. He also made Australia fully independent from the UK.

Eddie Mabo (1936 – 21 January 1992) – An indigenous Australian from the Torres Strait Islands. He challenged the idea of 'terra nullius' and helped eventually to win land rights for Aboriginals

Allan Border (1955 – ) –  Cricketer. Border was in his time the leading test match scorer, amassing 11,174 Test runs. He also led Australia as captain during their unexpected 1987 World Cup win and later Ashes series.

Robert Menzies – Prime Minister who served for a total of 18 years (1939-41 and 1949-61). He helped create the Liberal Party and shaped Australian post-war society. He promoted immigration, higher education and sent troops to American wars in Korea and Vietnam.

Sister Elizabeth Kenny (1880 – 1952) – Kenny was a self-trained bush nurse, who developed her own treatment of polio patients, which involved warm presses and massage to help liberate the limbs of afflicted patients; her innovative physical therapy revolutionised the treatment of polio.

Rupert Murdoch (1931 – ) – Media Mogul who created his own media company News Limited. Over the post-war years, he expanded his media empire gaining control over key sections of the western media. He is one of the most influential people in the world.

Evonne Goolagong (1951 – ) – Australian tennis player from an Aboriginal family, she became Australia's leading no.1 player. She was world number one for several years and won 14 Grand Slam tournament titles. She also led Australia to three Fed Cup titles.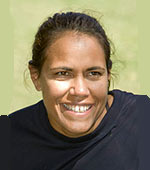 Cathy Freeman (1973 – ) – Indigenous Australian 400m runner. She won silver in the 1996 Olympics and won gold in her home 2000 Sydney Olympics.

Dame Elisabeth Murdoch (1909 – 2012) – (philanthropist) Mother of Rupert Murdoch. Elisabeth was known for being actively engaged in philanthropy. Working as a volunteer for animal charities and supporting a wide range of interests from prison reform to children in care and the arts.

Germaine Greer (1939 – ) (feminist, writer) – World famous writer and social activist. Greer is noted for her feminist work 'The Female Eunuch" which is seen as an influential 2nd generation feminist work.

Cate Blanchett (1969 – ) (actress) Blanchett is one of the world's most successful actresses with two Academy Awards and three Golden Globes. She has starred in some of the most successful films of the 2000s, including,  The Aviator (2004),  Elizabeth (1998), The Lord of the Rings (2001–2003) and Notes on a Scandal (2006), Elizabeth: The Golden Age (2007), and I'm Not There (2007)

Dame Joan Sutherland (1926 – 2010) (singer ) One of greatest bel canto opera singers. She played a role in reviving the bel canto style of opera singing and she was known for her powerful voice with a great range of intonation.

Clive James (1939 – 2019) – (writer, broadcaster) James became known for his deadpan and dry wit, which he used to great effect in his travel writings and tv shows.

John Bradfield (1867 – 1943) (engineer) Designer of some of Australia's most recognisable structures, including the Sydney Habour Bridge and the Bradfield railway scheme.

Greg Norman (1955 – ) Legendary golf player who spent 331 weeks as world number one.  He won 20 PGA golf titles and twice the Open Championship. One of the most charismatic figures in the game of golf.

Albert Jacka – Military hero in Gallipoli World War One. In Gallipoli, he was awarded the Victoria Cross for bravery single-handedly holding a trench on his own. He later served in the trenches of the Western Front.

Caroline Chisholm – Helped migrant women to find decent accommodation and better conditions in early Nineteenth-Century Australia, especially in Sydney and New South Wales. She is a saint in the Church of England.

Betty Cuthbert (1938 – 6 August 2017) – Olympic track gold medallist. She won four Olympic gold medals in 100m, 200m, 4*100m relay and 400m. Including three at '56 Melbourne games.

Heath Ledger (1979 – 2008) – Actor, photographer and music video director. Starred in films such as Brokeback Mountain and The Dark Knight. Died early from drugs overdose.

Nicole Kidman (1967 – ) – Actress, producer and singer. Won Academy Award for role in The Hours (2002) Won five Golden Globe Awards and was twice named in Time Most influential 100 people in the world.

Steve Irwin (1962 – 2006) Zookeeper and tv presenter who gained the nickname 'Crocodile Hunter'. He was well-known for tv documentaries which involve film wildlife at close range. He was killed by a stingray while filming in the Great Barrier Reef.

Ian Thorpe (1982 – )- Olympic swimmer who represented Australia from the age of 14. He won five Olympic gold medals and 13 World Championship medals, including being the first person to win six in one championship.

Geoffrey Rush (1951 – ) – Actor. Rush is an acclaimed actor on the screen, theatre and tv. He has a wide range of accolades including Academy Award, TV Emmy Award and Tony Award for theatre. He has starred in The Kings Speech, Shakespeare in Love and Frida.

Rod Laver (1938 – ) – Tennis Player. Laver was the dominant tennis player of his era, winning 200 singles titles and completing the Gram Slam of all major opens twice in 1962 and '69. He was successful as both amateur and professional and his career marked the start of the Open Era.

Margaret Court (1942 – ) Court was one of the most successful female tennis players of all time. She won 24 major titles and was the first woman to win the singles Grand Slam in 1970. Since retiring from tennis she has become a Christian minister and courted controversy for her views on gay rights.

Errol Flynn (1909 – 1959) Flynn was an Australian born American actor who was a Hollywood star during the 1940s and 50s. He rose to fame as Robin Hood in  The Adventures of Robin Hood (1938) He was also the lead actor in many Westerns, such as Dodge City (1939), Santa Fe Trail (1940) and San Antonio (1945) He has a hedonistic lifestyle.

Elle Macpherson (1964 – ) Model, actor and tv presenter. Elle Macpherson nicknamed "The Body" after appearing on several covers of Sports Illustrated. She has also started several business ventures, such as skin care products and beauty lines.

Nancy Wake. (1912 – 2011) Born in New Zealand, Wake grew up in Sydney. She was in France at the start of WWII. She drove an ambulance during the Battle of France, then with her French husband, served in an escape ring for Allied serviceman. She was very successful in escaping capture, the Gestapo suspected her and called her the "White mouse" In 1943, she herself escaped to Britain, where she received training by the SOE and was parachuted back in to support the Marquis uprising against the Germans in 1944.
Citation: Pettinger, Tejvan. "Famous people from Australia", Oxford, UK. www.biographyonline.net, published 19 April 2020.
Related pages

Famous people from New Zealand – a list of 100 most famous people from New Zealand, including politicians, sportspeople, artists, writers, military leaders and actors.

Great Briton list – Top 100 famous Britons as voted by a BBC poll. Including Winston Churchill, William Shakespeare, Thomas Cromwell and Queen Elizabeth I.