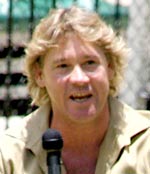 Stephen Robert Irwin (February 22, 1962 – September 4, 2006), nicknamed "The Crocodile Hunter", was an Australian wildlife expert and television personality. His program 'The Crocodile Hunter' was internationally broadcast and helped cement his reputation as an enthusiastic wildlife presenter. He was killed in 2006 by a Sting Ray, whilst filming a documentary about the Great Barrier Reef.
Steve Irwin was born in Essendon, Melbourne, Australia. When he was eight the family moved to Queensland. Both parents worked with animals and wildlife, and this helped kindle Steve's interest in animals – especially reptiles and crocodiles.
"I think my path would have always gone back to or delivered me to wildlife. I think wildlife is just like a magnet, and it's something that I can't help."
– Steve Irwin
He was given a large python on his sixth birthday and regularly helped his parents feeding animals and maintaining the animals in the Beerwah Reptile and Fauna Park, which they founded. By his ninth birthday, he was already wrestling with crocodiles, gaining a unique sixth sense in dealing and living with animals.
After graduating from high school in 1979, he started working as a crocodile trapper – moving crocodiles from populated area to his Reptile park. He also became a volunteer in Queensland's East Coast crocodile management program.
Steve was given greater control in running the family Reptile Park, and in 1992, he renamed it Australia Zoo and sought to develop the business.
In 1991, he met his future wife Terri Raines at a demonstration of catching crocodiles. They married shortly later in 1992 – coming together with a shared love of animals and reptiles.
Steve's first foray into TV came accidentally after Australian TV used footage of him catching crocodiles for a one-off TV program. However, this led to a full series called the Crocodile Hunter, which was shown on Australian TV from 1996. The series proved tremendously popular for its fun and engaging style and real-life action of dealing with a variety of reptiles and animals. The series was shown around the world, and it led to future programs, such as 'The Ten Deadliest Snakes in the World". Steve believed that he helped to educate Australians with how to deal with snakes and avoid deadly snake bites.
"You know, you can touch a stick of dynamite, but if you touch a venomous snake it'll turn around and bite you and kill you so fast it's not even funny."
Steve had a direct and exuberant style, which entertained audiences. He also had a good engaging sense of humour, speaking on ABC 2004, Irwin said:
"Crikey, mate. You're far safer dealing with crocodiles and western diamondback rattlesnakes than the executives and the producers and all those sharks in the big MGM building."
Sometimes, he was criticised for 'provoking' wildlife. But, he felt his contribution was to promote conservatism and respect for the environment by sharing his passion for animals and the natural world in a way which engaged people.
"My belief is that what comes across on the television is a capture of my enthusiasm and my passion for wildlife."
– Steve Irwin
Sir David Attenborough praised Irwin for introducing many to the natural world, saying
"He taught them how wonderful and exciting it was, he was a born communicator."
Death of Steve Irwin
In 2006, he was filming a new series – "Ocean's Deadliest" in the Great Barrier Reef of the coast of Port Douglas in Queensland. In a piece of shallow water, he came very close to a stingray. The stingray then pierced him in the chest, near the heart with a deadly stingray. The crew members tried to administer CPR, but Irwin was declared dead at the scene.
He left two children, Bindi Sue, and Robert Clarence.
Citation: Pettinger, Tejvan. "Biography of Steve Irwin", Oxford, www.biographyonline.net, 30th Jan. 2013
Related pages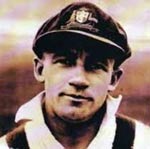 Famous Australians – Great Australians including Sir Howard Florey, Kylie Minogue, Saint Mary MacKillop and Andrew Banjo Paterson.