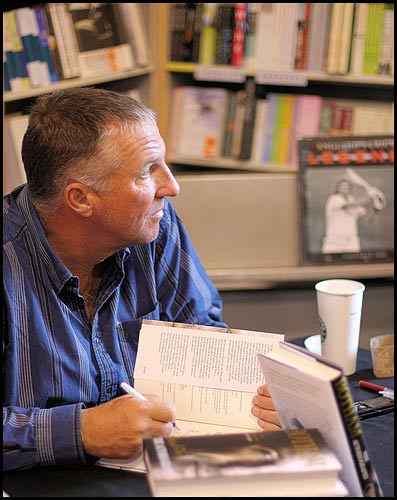 Ian Botham is a retired English Test cricketer, who was one of the most entertaining all-rounders of his generation. His flamboyant batting and successful bowling had the capacity to win games and excite the spectators. His greatest moment came in the 1981 Ashes test at Headingley – where Ian Botham led England to the most spectacular and unpredictable recovery against Australia.
Short Biography Ian Botham
Ian Terence Botham OBE was born November 24, 1955, in Heswall, Cheshire. He later moved to Yeovil, Somerset where he began playing cricket – playing for Somerset under 15s. As a youngster he was also a talented footballer – for a short time, he played for Scunthorpe United, before settling on cricket as his chosen sport.
After leaving school early, he played for Somerset, making his first-class debut in 1974, aged 18. After 12 seasons of playing for Somerset, he resigned in 1986, in protest at the sacking of his West Indian friends Sir Vivian Richards and Joel Garner. He later played for Worcestershire, Durham and Queensland in Australian cricket.
He gained his Test debut for England in 1977. He went on to an illustrious international career. He took 383 wickets at an average of 28.4 and scored 5,200 runs at an average of 33.54. The figures on their own are not spectacular, but Botham frequently made a big impact in important games. He could also score at a quick rate and some of his innings were memorable, even if didn't score a century. He had tremendous power and could hit the ball out of the ground, though he also had a good technique. His swing bowling was effective for his ability to move the ball – even when his pace slowed down in later years, he could make a big difference.
Ian Botham was always a big character in the team, he became as famous for his on-field exploits as his off-field exploits. He had quite a few run-ins with the more 'stuffy establishment.' – especially the members at Lords. For example, he got into trouble for smoking cannabis in 1986. He also fell out with other players, notably Geoff Boycott – who Botham once famously ran out for scoring too slowly.
In 1980, Ian Botham was made captain of England. However, it was not a success. He lost form, England didn't do well, and not everyone in the dressing room was enamoured of Botham's style. After first two tests in the Ashes series of 1981, Botham resigned the captaincy, with England trailing 1-0 and struggling to have any hope of winning series. In the second test at Lord's Botham scored a pair.
In the third test at Headingley, Brearley was made captain. The test got off to a bad start for England. Australia scored a big innings total 401-9. But, in reply, England could only make 174 – with Botham top scoring on 50 not out. In the follow-on on Saturday, England's top order again failed. On Saturday evening, bookmakers offered odds of 500-1 for England to win.
On Sunday, Botham came to the crease when England were 105 for 5. But, England then lost Boycott and Bob Taylor, leaving England on 135-7. Defeat looked inevitable. No-one in the ground expected England to have the faintest chance. But, as Graham Dilley joined Ian Botham in the middle, Botham let fly and played an innings of superb quality and attacking flair. Hitting the ball over the ground, he accelerated to 149 not out. He was ably supported by the England tail (Dilley scored 56) and Chris Old (29).
Still, England's lead was just 129. There was only a faint chance of winning, but Botham had restored England's pride. However, Bob Willis bowled with exceptional talent to bowl out the Australians for 111. Willis finished with 8 for 43. England had won a classic game by just 18 runs. It was only the second team to win a game after following on. Botham was the hero. It was a huge psychological boost for England. At the time, the economy was in deep recession, and the headlines about England cricket and been unrelentingly critical, but this turned the whole mood of the nation. A packed Headingley celebrated the most unlikely of wins.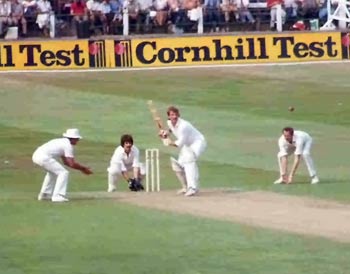 In the next test match, England won by 29 runs – helped by a spell of bowling by Botham where he took 5 wickets for 1 run.
England won the ashes in the Old Trafford test, where Botham again was the Man of the Match with a peerless 118, which included six sixes, including two off the fast bowler Lillee. England won the final test at the Oval to take the series 3-1.
Botham was named the man of the series, scoring 399 runs and taking 34 wickets. He was awarded BBC Sports Personality of the year in 1981.
As well as his cricketing career, he was a prolific charity fundraiser. To raise funds he undertook gruelling walks. Several times he walked from Lands End to John O Groats. These walks received high publicity and raised substantial funds. His motivation for undertaking charity walks occurred when he went to a hospital in Somerset to receive treatment for a broken toe. By mistake, he took a wrong turn into a terminally ill children's ward and was moved by the fact many children had only a few weeks to live.
After retiring from cricket he worked as a commentator for Sky Sports, becoming a regular voice on TV.
He married Kathryn Waller (Kathy, now Lady Botham) in 1976. They had three children Becky, Sarah and Liam.
Significant awards include:
1978 – Elected one of Wisden's Five Cricketers of the Year.
1992 – Awarded OBE
2004 – BBC Sports Personality of the Year Lifetime Achievement Award.
Ian Botham Career statistics
Competition
Tests
ODI
FC
LA
Matches
102
116
402
470
Runs scored
5200
2113
19399
10474
Batting average
33.54
23.21
33.97
29.50
100s/50s
14/22
0/9
38/97
7/46
Top score
208
79
228
175*
Balls bowled
21815
6271
63547
22899
Wickets
383
145
1172
612
Bowling average
28.40
28.54
27.22
24.94
5 wickets in innings
27
0
59
3
10 wickets in a match
4
n/a
8
n/a
Best bowling
8/34
4/31
8/34
5/27
Catches/stumpings
120/–
36/–
354/–
196/–
Source: [Cricket Archive]
Photo Ian Botham book signing Steve Flickr CC
photo middle Steve Howe CC
Related pages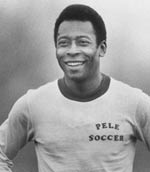 100 Famous sporting personalities – 100 Famous sporting personalities, including Muhammad Ali, Nadia Comaneci, Pele and Jesse Owens.