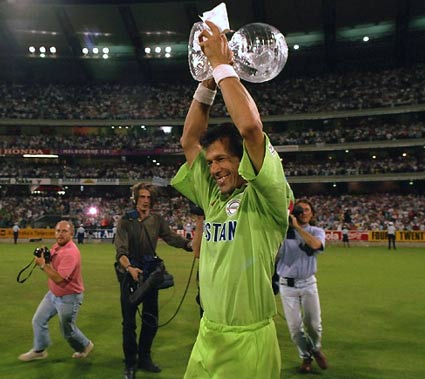 Imran Khan was born in 1952 in Pakistan. He had a distinguished career as an international cricketer, representing Pakistan for nearly two decades. He retired after helping Pakistan to the 1992 World Cup. Since retiring from cricket, Imran Khan has spent his time in charitable works and also founding a new Pakistani political party.
Imran Khan began his first class career in Lahore, Pakistan. Only two years later, he made his test debut against England at Birmingham. In 1973, he went to Oxford University where he represented the University Blues side. In 1975, he returned to Pakistan where he became an integral part of the Pakistan Test Side.
Imran Khan achieved the rare allrounders – triple – over 3,000 runs and 3,00 wickets. It took him only 75 tests to achieve this target, the second fastest behind Ian Botham.
In 1982, he was appointed captain to Pakistan, a position he held for nearly 10 years, including a 2 year break due to a shin injury.
He was able to retire in fitting style. In 1992, he captained Pakistan to victory in the 1992 world cup over England. It was the first and only time that Pakistan had won the world cup. Due to lack of regular batsmen, Imran had promoted himself to opening the batting with Javed Miandad; he also took the winning wicket. However, his victory speech was criticised by some for failing to be inclusive focusing on his own achievements and future goals.
Since retiring from cricket, Imran Khan has been involved in many charitable works such as funding for Cancer hospitals in Pakistan. He was also made Chancellor of the University of Bradford (a city with a large Pakistani immigrant population)
Imran Khan and Politics
In 1996, Imran Khan founded the Pakistan Tehreek-e-Insaf (PTI) with a proposed slogan of "Justice, Humanity and Self Esteem. The party has never done well electorally failing to move beyond the personality of Imran Khan. Imran Khan is the only person to get elected. Imran Khan has been critical of the ruling elites dominating Pakistan; he hopes that Pakistan will move to a real democracy. He has also been critical for the US led intervention in northern Pakistan, ostensibly aimed at flushing out Al Quada, but in practise leading to many civilian casualties.
Imran Khan and Jemima Goldsmith
On May 16 1995, Imran Khan married Jemima Goldsmith. The marriage lasted 4 years and produced two children. They broke up as Gemima found it difficult to adjust to life in Pakistan. Imran admitted the marriage had been hard.
Photo top: Imran Iqbal CC (wiki commons)