Prince Charles (1948 – ) (also known as the Prince of Wales) is the eldest child of Queen Elizabeth II and Prince Philip, Duke of Edinburgh, and is next in line to the throne. He married Princess Diana in 1981, though the marriage ended in divorce; he remarried Camilla Parker-Bowles in 2005. As Prince of Wales, he has cultivated a wide range of charitable and environmental interests, such as the Prince's Trust aiming to help young people.
Short Bio of Prince Charles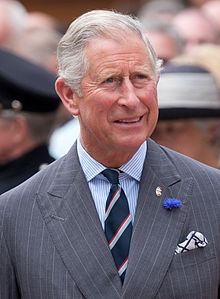 Prince Charles was born on 14 November 1948 at Buckingham Palace, London, England. When Charles was only three years old, his mother, Elizabeth II, was crowned in 1952,
In his early years, he was educated by his governess, Catherine Peebles; but at the age of 8 went to Hill House School in West London, and later Gordonstoun boarding school in Scotland. Prince Charles later reported hating school; he said he was frequently bullied and felt miserable. He reportedly gave it the name "Colditz in kilts"
After Gordonstoun, Prince Charles went to Trinity College, Cambridge, where he received a lower second class degree in Anthropology and archaeology. He was the first member of the Royal Family to receive a degree. He also spent time at the University of Wales, where he began to learn Welsh – the first English Prince of Wales to try. He later served in the Royal Navy.
On 1 July 1969, when he was 20 years old, Charles was formally credited with the title Prince of Wales, at Caernarfon Castle, North Wales.
"I, Charles, Prince of Wales, do become your liege man of life and limb and of earthly worship and faith and truth I will bear unto you to live and die against all manner of folks. "(Oath of Fealty, 1 July 1969.)
In his 20s, there was considerable interest in the love life and romances of Prince Charles; he seemed to enjoy the bachelor lifestyle and was frequently seen at parties. During this time he had a string of girlfriends (who were often considered unsuitable) and never looked like settling down.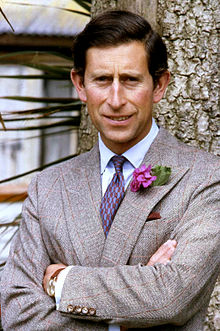 In his early 30s, his parents, and father in particular put pressure on Charles to choose a wife and get married. It was felt his continued dalliances were creating instability. The requirements of his wife were that she had to be a Protestant and virgin. Around this time he met Diana Spencer – a young nursery assistant. Charles was taken by her youthful cheerfulness, kindness and warm-heartedness. He said although he did not love her, he felt he could over time. The two increasingly spent time together, generating substantial media coverage. Charles felt his father put an ultimatum to him – either marry Diana or separate. Because Diana met the criteria for his wife, he proposed to the 19-year-old, and she accepted.
The engagement was announced in February 1981. At a photocall, Diana was asked whether she was in love, she replied without hesitation. But, Charles replied more nervously "Well, yes, whatever it is that love may be." It is said that Camilla, a long time friend of Charles helped to approve Diana as a partner. Charles also said in a radio interview, shortly after the engagement, that he was:
"Delighted and frankly amazed that Diana is prepared to take me on."
The Prince of Wales and Lady Diana were married at St Paul's Cathedral on 29 July 1981. It was a huge global event, with many heads of state in attendance, and watched by a global audience in its billions.
This made Lady Diana a global icon and source of intense media interest. Every move and action she undertook received widespread coverage and the following paparazzi. Over the next 15 years, Charles would be increasingly overshadowed by his more glamorous wife. From the early part of their marriage, difficulties arose. To Diana, it was quite a shock to be brought into the Royal Family. She often felt isolated and fell out with many of the staff and members of the Royal Family. Prince Charles perhaps hoped he would grow to love Diana more, but in practice, he grew more distant. He continued his adulterous affair with Camilla Parker-Bowles and even had her hosting evenings at Highgrove.
The marriage produced two sons Prince William and Prince Harry – which give the couple something to share, but it was not enough to prevent the marriage falling apart, and the two increasingly lived apart. Charles in Highgrove, and Diana in Kensington Palace.
By 1992, the marriage was effectively over, and in the media, increasingly acrimonious allegations were aired about whose fault it was.
In 1997, Diana, Princess of Wales was killed in a car accident in Paris. Charles was praised for his handling of this tragic situation. He over-ruled Royal protocol and argued that Diana should still be considered a member of the royal family, and be given a formal royal funeral. After Diana's passing, Charles was a single parent in looking after his boys. Though, there appears to be a strong bond between father and sons.
After his marriage broke down, Charles admitted committing adultery, and he increasingly brought Camilla into a public role. This was temporarily halted after Diana's death due to ill feeling towards Camilla. But, by 2003, Camilla had moved into Highgrove and Clarence House with Charles. They married on Feb 10, 2005, in a civil ceremony at Windsor Castle. Due to lingering public resentment over Camilla's affair with Charles, it was announced that should the Prince become King, Camilla would not be known as Queen Camilla, but Her Royal Highness, The Princess Consort.
Although he has rarely been out of the headlines for his romantic issues, he has been a hard-working Prince of Wales, actively involved in many charities and local communities. His flagship charity is the Prince's Trust, which aims to support young people, especially disadvantaged young people make a better start in life.
He also has an eclectic range of interests from organic gardening to art, music, architecture and homoeopathic medicine. Sometimes his alternative views have caused consternation at the palace, but he appears to have a great belief in certain ideas such as organic farming. On architecture, his views have often been controversial for his strident criticism of modern architecture.
"A large number of us have developed a feeling that architects tend to design houses for the approval of fellow architects and critics, not for the tenants." (30 May, 1984.)
But, his outspoken views have also received widespread support.
He has also expressed an interest in different religions, such as Islam and Greek Orthodox Christianity. Speaking on Islam in 1993, Charles said:
"Medieval Islam was a religion of remarkable tolerance for its time, allowing Jews and Christians the right to practise their inherited beliefs, and setting an example which was not, unfortunately, copied for many centuries in the West. .. It has helped to create modern Europe. It is part of our own inheritance, not a thing apart." (Oxford Centre for Islamic Studies, 27 October 1993.)
Charles has a particular interest in Romania, a country he has expressed a deep love for.
It is assumed Charles is frustrated about having to wait so long for an opportunity to serve as the Head of State. If he becomes King after September 2013, he will be the oldest person to become King. His sons William and Harry have squashed any ideas the throne should pass straight to William from their mother Elizabeth.
Citation: Pettinger, Tejvan. "Biography of Prince Charles", Oxford, UK www.biographyonline.net. Published 1 December 2013. Last updated 20 February 2018.
Harmony: A New Way of Looking at Our World – by Prince Charles
Harmony: A New Way of Looking at Our World – by Prince Charles at Amazon
Related pages

Royalty – Famous Kings and Queens throughout history. Including Henry VIII, Tsar Nicholas II, Queen Victoria and Catherine the Great.
Famous 

English people – Famous English men and women. From Anne Boleyn and Queen Elizabeth I to Henry VIII and Winston Churchill. Includes the great poets – William Shakespeare, William Blake and William Wordsworth.

Great Briton list – Top 100 famous Britons as voted by a BBC poll. Including Winston Churchill, William Shakespeare, Thomas Cromwell and Queen Elizabeth I.
External links
Official website of 'The Prince's Trust'
Photo bottom: Prince Charles by Allan Warren.