Prince Harry is the second child of Princess Diana and Prince Charles. He is third in line to the throne after, Prince Charles, and his brother Prince William.
Prince Harry was born on 15th September 1984 at St Mary's, London.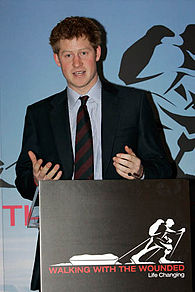 He was christened Prince Henry Charles Albert David and is commonly known as Harry.
He studied at Mrs Mynors School, Wetherby School, Ludgrove School; and from 1998, he joined his brother to do his GCSEs and A-Levels at Eton College.
After finishing school, he took a gap years visiting Australia, Argentina and Africa. He lived in a variety of conditions meeting many people much less fortunate than himself; he made a documentary about orphans he met in Lesotho. He later set up a charity 'Sentable' with Prince Seeiso of Lesotho to help the orphans.
During his teenage years, he gained a reputation for being somewhat of a party animal. He was caught under-age drinking, smoking cannabis and infamously dressing up as a Nazi at a fancy dress party. Worried by his tendency to ill-discipline, he was encouraged to join the army. In May 2005, he enrolled at Royal Military academy in Sandhurst where he began a year long training course as an officer cadet.
During February 2008, he completed two months service in Helmand, Afghanistan, though he was disappointed to be largely shielded from frontline duties because of his status.
He was an officer in the Household Cavalry.
From 2009, he gained an increasingly public profile in the UK as along with his brother he took on more public duties. They have sought to continue the legacy of their mother, Princess Diana, organising a concert in honour of her mother on 1st July 2007 at Wembley Stadium.
In 2012, Prince Harry was a high profile representative of Great Britain at the Olympic Games, including being the representative of the Royal family at the closing ceremony.
Shortly after, it was reported that Prince Harry went to a naked party in America and was photographed in compromising postures. However, with the good will of recent public events, he was largely able to shake off this unwelcome reminder of his 'freer' attitude to life.
He had a long relationship with Chelsea Davy, but they later split up with Chelsea Davy saying she was uncomfortable with the media focus.
In 2013, he returned from a tour in Afghanistan, serving in the army.
In 2018, he announced his engagement to Meghan Markle and the couple married in a ceremony at Windsor Castle. After frequent press intrusions, Prince Harry made a public statement criticising the press treatment of the couple.
Related pages