Lady Diana Frances Spencer, (July 1, 1961–August 31, 1997) was the first wife of Charles, Prince of Wales. From her marriage in 1981 to her divorce in 1996, she was called "Her Royal Highness The Princess of Wales". After her divorce from the Prince of Wales in 1996, Diana ceased to be the Princess of Wales and also lost the resulting Royal Highness style.
After her divorce, officially, she was called Diana, Princess of Wales.
Diana was often called Princess Diana by the media and the public, but she did not possess such a title and was not personally a princess, a point Diana herself made to people who referred to her as such. Contrary to belief, being Princess of Wales does not make one a princess in one's own right. It merely indicates that one was married to a Prince of Wales.
An iconic presence on the world stage, Diana, Princess of Wales was noted for her pioneering charity work. Yet her philanthropic endeavours were sometimes overshadowed by her difficult marriage to Prince Charles. In the 1990s she made many public revelations about the difficult marriage – her affairs and Prince Charles' affair with Camilla Parker-Bowles.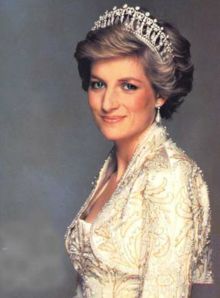 From the time of her engagement to the Prince of Wales in 1981 until her death in a car accident in 1997, the Princess was arguably the most famous woman in the world, the pre-eminent female celebrity of her generation: a fashion icon, an image of feminine beauty, admired and emulated for her high-profile involvement in AIDS issues, and the international campaign against landmines. During her lifetime, she was often referred to as the most photographed person in the world.
Early years of Princess Diana
See: Childhood photos
Diana Frances Spencer was born as the youngest daughter of Edward Spencer, Viscount Althorp, and his first wife, Frances Spencer, at Park House on the Sandringham estate. On the death of her paternal grandfather, Albert Spencer, 7th Earl Spencer, in 1975, Diana's father became the 8th Earl Spencer, and she acquired the courtesy title of The Lady Diana Spencer and moved from her childhood home at Park House to her family's sixteenth-century ancestral home of Althorp. A year later, Lord Spencer married Raine, Countess of Dartmouth, the only daughter of the romance novelist Barbara Cartland, after being named as the "other party" in the Earl and Countess of Dartmouth's divorce.
Diana was educated at Riddlesworth Hall in Norfolk and at West Heath Girls' School (later reorganized as the New School at West Heath, a special school for boys and girls) in Sevenoaks, Kent, where she was regarded as an academically below-average student, having failed all of her O-level examinations. In 1977, aged 16, she left West Heath and briefly attended Institut Alpin Videmanette, a finishing school in Rougemont, Switzerland (Diana's future husband was also dating her sister, Lady Sarah at that time). Diana was a talented amateur singer, excelled in sports and reportedly longed to be a ballerina.
Diana's family, the Spencers, had been close to the British Royal Family for decades. Her maternal grandmother, Ruth, Lady Fermoy, was a longtime friend of, and a lady-in-waiting to Queen Elizabeth the Queen Mother.
The Prince's love life had always been the subject of press speculation, and he was linked to numerous women. Nearing his mid-thirties, he was under increasing pressure to marry. In order to gain the approval of his family and their advisors, including his great-uncle Lord Mountbatten of Burma, any potential bride had to have an aristocratic background, could not have been previously married, should be Protestant and, preferably, a virgin. Diana fulfilled all of these qualifications.
Reportedly, the Prince's former girlfriend (and, eventually, his second wife) Camilla Parker Bowles helped him select the 19-year-old Lady Diana Spencer as a potential bride, who was working as an assistant at the Young England kindergarten in Pimlico. It was at this kindergarten school that the famous iconic snap of a 19-year-old Lady Diana Spencer was taken by John Minihan with the morning sun to her back, her legs in silhouette through her skirt.
Buckingham Palace announced the engagement on 24 February 1981. Mrs Parker Bowles had been dismissed by Lord Mountbatten of Burma as a potential spouse for the heir to throne some years before, reportedly due to her age (16 months the Prince's senior), her sexual experience, and her lack of suitably aristocratic lineage.
Wedding of Prince Charles and Princess Diana
The wedding took place at St Paul's Cathedral in London on Wednesday 29 July 1981 before 3,500 invited guests (including Mrs Parker Bowles and her husband, a godson of Queen Elizabeth the Queen Mother) and an estimated 1 billion television viewers around the world.
Diana was the first Englishwoman to marry the heir to the throne since 1659 when Lady Anne Hyde married the Duke of York and Albany, the future King James II (although, unlike Charles, James was heir presumptive and not the heir apparent). Upon her marriage, Diana became Her Royal Highness The Princess of Wales and was ranked as the third most senior royal woman in the United Kingdom after the Queen and the Queen Mother.
The Prince and Princess of Wales had two children, Prince William of Wales on 21 June 1982 and Prince Henry of Wales (commonly called Prince Harry) on 15 September 1984.
Princess Diana – Break up of Marriage with Prince Charles
In the mid-1980s her marriage fell apart, an event at first suppressed, but then sensationalised, by the world media. Both the Prince and Princess of Wales allegedly spoke to the press through friends, accusing each other of the blame for the marriage's demise. Charles resumed his relationship with Camilla Parker Bowles, whilst Diana became involved with James Hewitt and possibly later with James Gilbey, with whom she was involved in the so-called Squidgygate affair. She later confirmed (in a television interview with Martin Bashir) the affair with her riding instructor, James Hewitt. Another alleged lover was a bodyguard assigned to the Princess's security detail, although the Princess adamantly denied a sexual relationship with him. After her separation from Prince Charles, Diana was allegedly involved with married art dealer Oliver Hoare and rugby player Will Carling. She did publicly date heart surgeon Hasnat Khan before becoming involved with Dodi Fayed.
The Prince and Princess of Wales were separated on 9 December 1992; their divorce was finalised on 28 August 1996. The Princess lost the style Her Royal Highness and instead was styled as Diana, Princess of Wales. However, since the divorce, Buckingham Palace has maintained that Diana was officially a member of the Royal Family since she was the mother of the second and third in line to the throne.
Princess Diana Charity work
Starting in the mid-to-late 1980s, the Princess of Wales became well known for her support of charity projects, and is credited with considerable influence for her campaigns against the use of landmines and helping the victims of AIDS.
In April 1987, the Princess of Wales was the first high-profile celebrity to be photographed knowingly touching a person infected with the HIV virus. Her contribution to changing the public opinion of AIDS sufferers was summarised in December 2001 by Bill Clinton at the 'Diana, Princess of Wales Lecture on AIDS', when he said:
"In 1987, when so many still believed that AIDS could be contracted through casual contact, Princess Diana sat on the sickbed of a man with AIDS and held his hand. She showed the world that people with AIDS deserve no isolation, but compassion and kindness. It helped change world opinion, and gave hope to people with AIDS with an outcome of saved lives of people at risk."
Princess Diana also made clandestine visits to show kindness to terminally ill AIDS patients. According to nurses, she would turn up unannounced, for example, at the Mildmay Hospice in London, with specific instructions that these visits were to be concealed from the media.
Princess Diana and Landmines Campaign
Perhaps her most widely publicised charity appearance was her visit to Angola in January 1997, when, serving as an International Red Cross VIP volunteer [1], she visited landmine survivors in hospitals, toured de-mining projects run by the HALO Trust, and attended mine awareness education classes about the dangers of mines immediately surrounding homes and villages.
The pictures of Diana touring a minefield, in a ballistic helmet and flak jacket, were seen worldwide. (In fact, mine-clearance experts had already cleared the pre-planned walk that Diana took wearing the protective equipment.) In August that year, she visited Bosnia with the Landmine Survivors Network. Her interest in landmines was focused on the injuries they create, often to children, long after the conflict has finished.
She is widely acclaimed for her influence on the signing by the governments of the UK and other nations of the Ottawa Treaty in December 1997, after her death, which created an international ban on the use of anti-personnel landmines. Introducing the Second Reading of the Landmines Bill 1998 to the British House of Commons, the Foreign Secretary, Robin Cook, paid tribute to Diana's work on landmines:
"All Honourable Members will be aware from their postbags of the immense contribution made by Diana, Princess of Wales to bringing home to many of our constituents the human costs of landmines. The best way in which to record our appreciation of her work, and the work of NGOs that have campaigned against landmines, is to pass the Bill, and to pave the way towards a global ban on landmines."
As of January 2005, Diana's legacy on landmines remained unfulfilled. The United Nations appealed to the nations which produced and stockpiled the largest numbers of landmines (China, India, North Korea, Pakistan, Russia and the United States) to sign the Ottawa Treaty forbidding their production and use, for which Diana had campaigned. Carol Bellamy, Executive Director of the United Nations Children's Fund (UNICEF), said that landmines remained "a deadly attraction for children, whose innate curiosity and need for play often lure them directly into harm's way".
Death of Princess Diana
On 31 August 1997, Diana was involved in a car accident in the Pont de l'Alma road tunnel in Paris, along with her friend and lover Dodi Al-Fayed, and their driver Henri Paul. Fayed's bodyguard Trevor Rees-Jones is the only person who survived the wreckage. The death of the Princess has been widely blamed on reporters who were reportedly hounding the Princess and were following the vehicle at a high speed. Ever since the word paparazzi has been associated with the death of the Princess.
Citation: Tejvan Pettinger, Oxford, UK. www.Biography Online Published 01/06/2006. Updated 22 Feb 2018.
Diana: Princess of Wales by Mario Testino
Diana: Princess of Wales by Mario Testino at Amazon.
Princess Diana: Her Life Story, 1961-1997
Princess Diana: Her Life Story, 1961-1997 at Amazon
Related pages

Women who changed the world – Famous women who changed the world. Features female Prime Ministers, scientists, cultural figures, authors and royalty. Includes; Cleopatra, Princess Diana, Marie Curie, Queen Victoria, and Joan of Arc.
Famous 

English people – Famous English men and women. From Anne Boleyn and Queen Elizabeth I to Henry VIII and Winston Churchill. Includes the great poets – William Shakespeare, William Blake and William Wordsworth.