Diana was born on July 1, 1961, at Park House near Sandringham, Norfolk. Her full name at birth was Diana Frances Spencer. She was born into an aristocratic family with Royal blood in the ancestry. Her father was Viscount Althorp and her mother, Viscountess Althorp. Unfortunately, at the age of six, Diana's parents split up and got divorced. As a result of the divorce, there was a messy custody battle which left an emotional scar upon Diana. Diana later revealed how she remembers hearing the crunch of her mother's footsteps on the gravel outside as she left the house.
Picture – Diana as a Child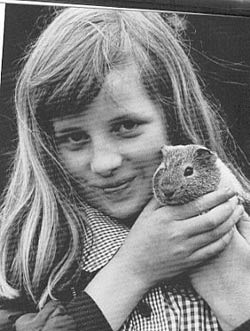 It was her father, the Earl of Spencer, who mostly brought up Diana. When he became the 8th Earl of Spencer, he moved the family to Althorpe, near Northampton where she lived for the rest of childhood years. Later his father got remarried to the daughter of famous writer Barbara Cartland. However, there was often disharmony between Diana and her brother, and their new stepmother.
Diana was educated at Boarding school, before spending several years at West Heath Public School in Kent. Here she did very well in sport, especially swimming. She had aspirations to become a ballet dancer, but at 5 feet 8 was deemed to be too tall. On the academic front, Diana was not bright and eventually failed all her O Levels. She later recalled happy memories from her childhood years.
Diana with Brother Charles (Earl Spencer)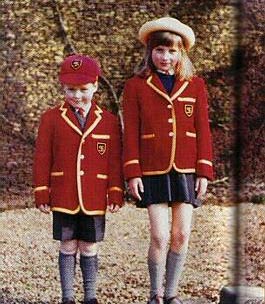 After leaving the school, she got a job as a nanny and part-time cook. Later she took an assistant teaching post at a kindergarten school in Knightsbridge, London. It was while working as an assistant here that she was first introduced to her future husband, Charles. The romanticised courtship gained intense media speculation, and in 1981 they were married at St Paul's Cathedral London. The wedding was watched by millions from around the globe.
Diana: Princess of Wales by Mario Testino
Diana: Princess of Wales by Mario Testino at Amazon.
Princess Diana: Her Life Story, 1961-1997
Princess Diana: Her Life Story, 1961-1997 at Amazon
Related pages

Women who changed the world – Famous women who changed the world. Features female Prime Ministers, scientists, cultural figures, authors and royalty. Includes; Cleopatra, Princess Diana, Marie Curie, Queen Victoria, and Joan of Arc.
Famous 

English people – Famous English men and women. From Anne Boleyn and Queen Elizabeth I to Henry VIII and Winston Churchill. Includes the great poets – William Shakespeare, William Blake and William Wordsworth.
Related pages
Short Biography Princess Diana