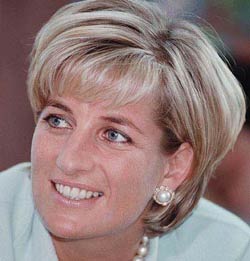 "I am not a political figure. The fact is I am a humanitarian figure. I always have been and I always will be."
– Princess Diana
Timeline
July 1st 1961–Diana Frances Spencer is born to Frances and Edward John (Johnnie) Spencer. Her father would later become the 8th Earl Spencer.
1967–Diana's parents divorce. Her mother leaves the family house and the parents enter a bitter custody battle for children. Diana and Charles spend time at both parents house.
1967–Their father wins custody of Diana and Charles. Diana is enrolled in Silfield day school.
1970–Diana is sent to her first boarding school, Riddlesworth Hall in Norfolk.
July 1977–Diana finishes her schooling at West Heath secondary school in Kent.
1977–Earl Spencer marries the Raine, Countess of Dartmouth, daughter of romance novelist Barbara Cartland. Her relations with the Spencer children are difficult
1977–Prince Charles first met Diana as a 16 year old at Althorpe.
1981 February 24th The engagement is announced. A reporter asks if they are in love–Diana: "Of course". Charles: "Whatever 'in love' means".
1981 July 29—Married at St. Paul's Cathedral. Some 600,000 people lined the streets of London, hundreds of millions more watch on TV.
June 21, 1982–Diana gives birth to Prince William known as Wills, who is second in line to the throne after his father.
March 1983–Charles and Diana begin a 6-week visit to Australia and New Zealand.
September 15, 1984–Birth of Prince Henry, known as Harry.
July 1991–Diana hugs an AIDS patient at an English hospital.
Oct 23-29, 1991–Charles and Diana, accompanied by their sons, visit Ontario on their 3rd and final trip to Canada together.
March 29, 1992–Diana's father dies of a heart attack in a London hospital.
June 1992–Andrew Morton's biography, Diana, Her True Story written with her tacit approval, details her depressions, bulimia and unhappy married life.
Dec 9, 1992–Buckingham Palace announces the separation of the Prince and Princess of Wales.
May 1994–Diana and a Finnish student save a man from drowning in a pond in London's Regent's Park.
June 1994–Charles confesses to adultery during Jonathan Dibble's TV Documentary Charles: The Private Man, The Public Role.
November 1994–Dimbleby's biography The Prince of Wales, written with Charles' cooperation, details the affair with Camilla Parker-Bowles beginning in 1972 and says that Charles married Diana to please his father. Another book, Princess in Love by Anna Pasternak, describes an affair between Diana and Capt. James Hewitt from 1986-1991.
November 1995–Diana declares on the BBC's Panorama that she would like to be the "Queen of people's hearts" and admits that she was unfaithful to her her husband with Hewitt, whom she "adored".
August 28, 1996–Charles and Diana are divorced. Diana gets a reported $30 million settlement, and the two partners get equal access to the children. Though still able to use the title "Princess", Diana is no longer "Her Royal Highness".
Jan 1997–Diana goes to Angola and launches her campaign against landmines.
June 25, 1997–Christie's auction house in New York City sells 79 of her gowns, raising $4.5 million for AIDS and cancer research projects.
August 1997–Diana goes to Bosnia to further her campaign against landmines.
August 31, 1997–Diana, Al Fayed and their driver, Henri Paul, died in a high-speed car crash in a Paris tunnel.
September 4, 1997–The Queen bows to public pressure to participate in the mourning and, in an unprecedented gesture, announces the Union Jack will fly at half-mast at Buckingham Palace.
September 6, 1997—Funeral of Princess Diana. The procession and ceremony are watched on television in 60 countries around the world. Her body is taken to an island on the Althorpe estate for burial.
Diana: Princess of Wales by Mario Testino
Princess Diana: Her Life Story, 1961-1997
Related pages
See also