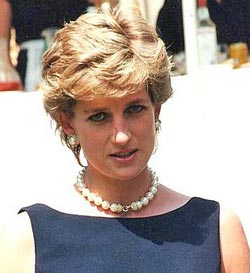 Diana, Princess of Wales (1 July 1961 – 31 August 1997) was an iconic figure of the late 20th Century. She epitomised feminine beauty and glamour. At the same time, she was admired for her ground-breaking charity work; in particular, her work with AIDS patients and supporting the campaign for banning landmines. Married to Prince Charles in 1981, she received the title of "Her Royal Highness Princess Diana of Wales" She is the mother of Prince William and Prince Harry 2nd and 3rd in line to the throne respectively. During her life she was often said to be the most photographed person in the world, appearing on the cover of People magazine more than anyone else.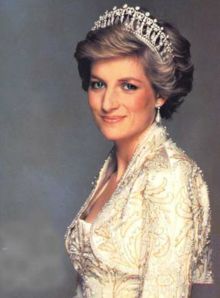 Diana was born to an aristocratic family with links to the Royal Family. Her father was Edward Spencer, Viscount Althorp. Edward Spencer was a direct descendant of Charles II. Her mother was Frances Viscountess Althorp and was distantly related with the Queen Mother; she was also of American descent.
When Diana was young, her parents divorced with her father winning a bitter battle for custody of the children. Diana grew up in the family home of Park House, before moving to Althorp in 1975.
Diana was educated at Riddlesworth Hall boarding school, before spending several years at West Heath Public School in Kent. Here she did very well in sport, especially swimming. She had aspirations to become a ballet dancer, but at 5 feet 8 was deemed to be too tall. On the academic front, Diana was not bright and eventually failed all her O Levels, but despite academic difficulties, later recalled happy memories from her childhood years. After leaving the school, she got a job as a nanny and part-time cook. Later she took an assistant teaching post at a kindergarten school in Knightsbridge, London.
Engagement and marriage to Prince Charles
Diana first met Charles, Princess of Wales in 1977, when she was 16 (at the time he was dating her sister). In 1980, they met at a polo game and Charles invited her to the royal yacht Britannia in Cowes. After this was successful and they got on well, he invited her to Balmoral to meet the Queen, the Queen Mother and the Duke of Edinburgh. The Queen and Duke of Edinburgh were increasingly anxious for Charles to marry. With Diana meeting all the necessary requirements for a potential bride of the future king, the Duke of Edinburgh encouraged Charles to make a commitment. Charles proposed on 6 February 1981 and it was made official on 24 February 1981
On 29 July 1981, Diana and Charles were married at St. Paul's Cathedral. Some 600,000 people lined the streets of London, hundreds and millions more watch on TV with an estimated one billion worldwide.  It was seen as a 'fairytale wedding' and the general public soon warmed to the innocence and beauty of Princess Diana. During their marriage, they had two sons, Prince William and Prince Harry. She was a devoted mother and sought to bring them up to respect diversity and the challenges of the role that was destined for them. In particular, she wanted them to have a wide experience of life and not remain closeted in royal circles. Diana often resisted royal protocols when it came to her sons.
"I will fight for my children on any level so they can reach their potential as human beings and in their public duties" – Princess Diana
Divorce
However, in the mid-1980s, strains started to appear in the marriage, and under much publicity, the marriage broke up leading to a divorce in 1992. Diana later said in interviews that almost as soon as they were married, Charles was in contact with Camilla Parker-Bowles and it was difficult to have a marriage with three people in it. She also said Charles only married her under pressure from his father to get married to a suitable bride sooner rather than later. After she knew Charles was being unfaithful, she began having different affairs herself – including with Captain Hewitt, whom she adored. The emotional turmoil of the marriage and breakup was difficult and  Diana suffered various health problems such as bulimia, depression and a sense of inadequacy.
"The public… they wanted a fairy princess to come and touch them, and everything will turn into gold and all their worries would be forgotten. Little did they realise that the individual was crucifying herself inside because she didn't think she was good enough." – Princess Diana
This was documented by Andrew Morton whose biography, Diana, Her True Story was written with her tacit approval.
After their official divorce on 28 August 1996, she received a reported $30 million settlement with equal access to her children. She was no longer able to use the title "Her Royal Highness" but, could keep the title "Princess." In a BBC Panorama interview the year before, Nov 1995, she said her preference was to be "Queen of people's hearts"
Charity work
As Princess of Wales, Diana was expected to take part in various official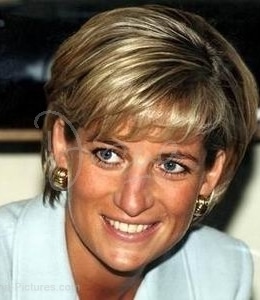 engagements, such as the opening of hospitals. This provided a natural outlet for her to become involved in various types of charitable work. Her natural sympathy and oneness with patients was much admired.
"I've always though that people need to feel good about themselves and I see my role as offering support to them, to provide some light along the way…." – Diana
In 1987, Princess Diana was one of the first well-known celebrities to be photographed with a victim of AIDS. This was important in changing attitudes to the disease. At the time, many thought the disease could be contacted by touch alone.
She was one of the first very high profile people to be pictured touching those afflicted with AIDS this had a significant impact in changing people's opinions and attitudes to the disease it was certainly a charity not following the protocol and tradition of the Royal family. As Princess Diana said:
"HIV does not make people dangerous to know. You can shake their hands and give them hug heaven knows they need it" – Princess Diana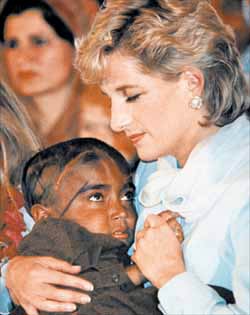 Diana had a very personable touch. She was very at ease in meeting people from any background and even if they were ill or in hospices. The patients would react very favourably to her meetings, they warmed to her life energy and heartfelt sympathy. Part of her appeal was her sympathy and natural compassion. She could empathise with people's suffering, having suffered much herself.
To the media, Diana often portrayed a very stoic and positive energy, but an aide suggested that at the same time these engagements often drained Diana emotionally at the end of some engagements she felt depleted.
"I am not a political figure. The fact is I am a humanitarian figure. I always have been and I always will be." – Princess Diana
In June 1998, she sold 79 of her dresses at Christie's auction house in New York, raising $4.5 million for AIDS and cancer research charities. She also became involved in the campaign to bad landmines. In January 1997, she visited mine fields in Angola to inspect the clearing of landmines and this had a lasting impact on her.  Her personal support is said to have been a significant factor in encouraging Britain and then other countries to support the Ottawa Treaty which sought to introduce a ban on the use of anti-personnel landmines.
When Robin Cook brought the second reading of the landmines bill to the house in 1998 he made a point of paying tribute to the contribution of Princess Diana.
Shortly before her death, June 18th, Princess Diana met with Mother Teresa. Both admired each other. Mother Teresa always said, "Diana is my daughter." With utmost humility, Diana said "I am a very, very small Mother Teresa.
Despite the pervasive press intrusions into her private life, Diana remained very popular because people could identify with her. Her hands on approach to charity work gave the impression of a new type of Royal, who was no longer so remote.
"Everyone needs to be valued. Everyone has the potential to give something back if only they had the chance." – Princess Diana
Death
Diana died on 31st August 1997, in a car crash involving Dodi Al-Fayed in Paris.  It was said they were being chased by paparazzi at the time the fatal accident occurred. The inquest noted that the driver was also under the influence of drugs and drink. Controversy still surrounds her death, with inquests failing to satisfy all parties. The death of Diana had a profound impact on the British public and those in other countries. It led to an unprecedented outpouring of grief and sympathy. Over 1 million bouquets of flowers were laid at Buckingham Palace. Her funeral was watched by countless millions around the world. Her final resting place was at an island on her family home of Althorp.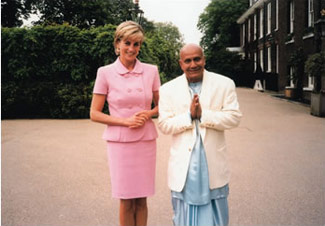 Sri Chinmoy said of Princess Diana
"Princess Diana, your heart of sympathy covers the length and breadth of the world. There shall come a time when the entire world will value you most sincerely, most lovingly and most wholeheartedly." (2)
Citation: Pettinger, Tejvan. "Princess Diana Biography", Oxford, UK. www.biographyonline.net, Published 01/08/2013. Updated 1st March 2020.
Diana: Princess of Wales by Mario Testino
Diana: Princess of Wales by Mario Testino at Amazon.
Princess Diana: Her Life Story, 1961-1997
Princess Diana: Her Life Story, 1961-1997 at Amazon
Related pages

Women who changed the world – Famous women who changed the world. Features female Prime Ministers, scientists, cultural figures, authors and royalty. Includes; Cleopatra, Princess Diana, Marie Curie, Queen Victoria, and Joan of Arc.
Famous 

English people – Famous English men and women. From Anne Boleyn and Queen Elizabeth I to Henry VIII and Winston Churchill. Includes the great poets – William Shakespeare, William Blake and William Wordsworth.
References
(1) The Real Diana. Biography of Diana, Princess of Wales, Lady Colin Campbell.
(2) Princess Diana at Sri Chinmoy.org