Prince William is the eldest son of Prince of Wales and Diana, Princess of Wales. He is second in line to the throne after his father, Charles.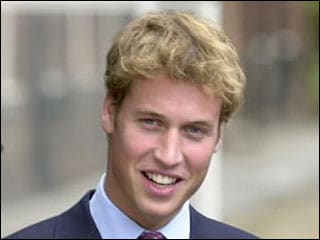 After marrying Kate Middleton in 2011, his official title became The Duke of Cambridge.
He was born on 21st June 1982 at St Mary's Hospital, London. He was later christened Prince William Arthur Phillip Louis.
His schools included Mrs Mynors School, Wetherby, Ludgrove and from July 1995 Eton College. His A-Levels included Geography, Biology and History of Art.
After a gap year where he visited Chile, Belize and working on British dairy farms. He went to St Andrew's to study Geography. It was as a student at St Andrew's that he met his future wife, Kate Middleton – when they were living in a shared house. William said that they were friends for quite a while before becoming romantically involved:
When I first met Kate I knew there was something very special about her. I knew there was possibly something that I wanted to explore there. But we ended up being friends for a while and that was a good foundation.
During his childhood and student years, Prince William was largely kept out of the media spotlight, with only very rare interviews and photo opportunities. There was a temporary truce between the royal family and the media – influenced by the circumstances surrounding Princess Diana's death. When asked about what it was like to be a prince, William replied
We're very lucky. You know, we have lots of things that we are very fortunate to have. You know, we have a house, you know? We have, you know, all these sort of nice things around us. And so, you know, we're grateful for that because so many people don't have that. We have, you know, relative stability and stuff like that. And, you know, lots of things that, you know, everyone would, you know, love to have.
– Prince William (interview NBC, July 2007)
After graduating from St Andrews, he joined the Royal Military Academy in Sandhurst to train as an officer cadet. He later trained to be a helicopter pilot with the RAF and took on a role as a fully operational Search and Rescue pilot with the RAF based in Anglesey, Wales.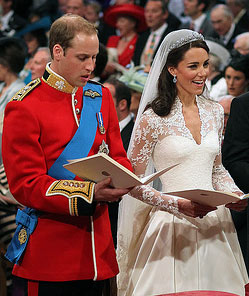 After a long relationship with Kate Middleton, the two became engaged and were married at St Paul's Cathedral in May 2011. It set a record worldwide TV audience, with over 1 billion people tuning in to watch the event. After the problems faced by the Royal family in previous years, Prince William has helped foster a new positive image for the Royal family. The public's support for the monarchy has risen. In fact, his relative popularity has caused people to wish the crown to skip a generation and go straight to William, missing out Prince Charles and his second wife, Camilla Parker-Bowles. However, William has publicly stated this should not happen.
Since 2007, he has taken on an increasingly public role. He has been keen to bear in mind his mother's legacy and her charity work. He played a role in helping to win the Olympics for London, and, with his brother Prince Harry, was visible at many events during the 2012 Olympics.
In December of 2012, it was announced, Catherine, his wife was pregnant with their first child. Prince George of Cambridge was born 22 July 2013.
Related pages

Great Briton list – Top 100 famous Britons as voted by a BBC poll. Including Winston Churchill, William Shakespeare, Thomas Cromwell and Queen Elizabeth I.

Royalty – Famous Kings and Queens throughout history. Including Henry VIII, Tsar Nicholas II, Queen Victoria and Catherine the Great.