Gabrielle Bonheur "Coco" Chanel (19 August 1883 – 10 January 1971)
"Fashion is not something that exists in dresses only. Fashion is in the sky, in the street, fashion has to do with ideas, the way we live, what is happening."
– Coco Chanel
Coco Chanel was a leading French modernist designer, whose patterns of simplicity and style revolutionised women's clothing. She was the only designer to be listed in the Time 100 most influential people of the Twentieth Century. In the 1960s, a Broadway musical was made about her life starring Katharine Hepburn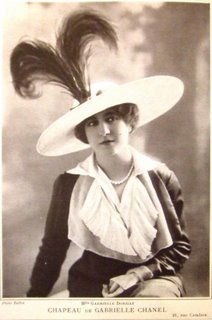 It was in the 1920s, that Coco Chanel left a lasting mark on Women's fashion and design. Up until the First World War, women's clothing had been quite restrictive and tended to involve full length skirts which were impractical for many activities. Coco Chanel helped create women's clothing that was simpler and more practical. She also introduced trousers and suits for women – something which had not been done before.
"Fashion has become a joke. The designers have forgotten that there are women inside the dresses. Most women dress for men and want to be admired. But they must also be able to move, to get into a car without bursting their seams! Clothes must have a natural shape."
– Coco Chanel
She also created her famous Chanel No.5 scent and this has been a lasting trademark.
Most sources suggest she was born in 1883, though this was a closely guarded fact – with Coco not keen on revealing her birth date.
Orphaned from an early age, she worked with her sister in a milliner in Deauville. Later, she opened a shop in 1912 and after a spell of nursing during the first world war founded a couture house in the Rue Cambon in Paris.
"In 1919 I woke up famous. I'd never guessed it. If I'd known I was famous, I'd have stolen away and wept. I was stupid. I was supposed to be intelligent. I was sensitive and very dumb."
Coco Chanel : Her Life, Her Secrets (1971), p. 95
It was in the post war period that she felt the need for a revolution in women's clothes. She began by liberating women from the bondage of the corset and encouraged a casual but elegant range of clothes.
With a black sweater and 10 rows of pearls Chanel revolutionized fashion'
– Dior on Coco Chanel.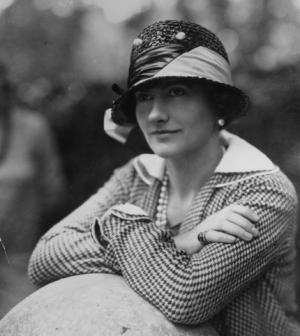 The 1920s were a significant period of liberation for women. It was a decade where women received the vote in several western countries. It was also a time, when women were increasingly seen in professions and jobs, previously the reserve of men. Her fashion symbolised some of these social and political changes.
Significant items of clothing Coco Chanel helped pioneer included:
the collarless cardigan jacket
the bias cut dress – labelled a Ford by one critic because everyone had one.
The shoe string shoulder strap.
The floating evening scarf
The wearing together of junk and real jewels.
In 1938 she retired from the fashion business. However, 16 years later she made a determined comeback after becoming fed up at seeing French fashion become dominated by men.
Her first post war collection was not well received by the critics but it proved immensely popular with the general public. Rich and famous women once again adopted the Chanel look and she had shown her lasting influence on the industry.
In order to be irreplaceable one must always be different.
– Coco Chanel
She prided herself on her great taste, fashion and practicality combined with an awareness of what people wanted. It was this that made her the most recognisable name in world fashion.
Coco Chanel during World War Two
At the start of the Second World War in 1939, Chanel closed her shops stating that war was not a time for fashion. 3,000 of her workers lost her jobs – it was seen as partly retaliation for previous conflicts with workers, where her workers had sought better wages and conditions.
During the German occupation of Paris, Chanel was involved in a romantic liason with a German officer, Hans Gunther von Dincklage. This helped her to gain a luxury apartment in the Ritz for the duration of the war. Combined with her political beliefs which expressed sympathy for various aspects of the German cause, Chanel's wartime record has been placed under much scrutiny. In September 1944, she was interrogated by the Free French Purge Committee, the épuration. She was released due to lack of evidence. Some sources suggest that Winston Churchill directly intervened to enable Chanel to be released – Churchill was possibly worried that if sent to trial, Chanel would embarrass the government with her links to top ranking Nazi's and sympathisers in the British establishment.
After the war, Chanel moved to Switzerland where she resided until 1954. The post-war period saw the emergence of new male designers, such as Christian Dior, who began to eclipse Chanel's branding. However, in 1954, she returned to Paris and reopened her couture house. Her post-war label was successful in America and Britain, but less so in France. Many Frenchmen continued to hold her record against her.
Many biographers have said that Coco Chanel remains an enigma – a life full of contradiction and hard to ascertain her real motives.
Citation : Pettinger, Tejvan. "Biography of Coco Chanel", Oxford, www.biographyonline.net 26 Oct. 2009
Coco Chanel books
Related pages