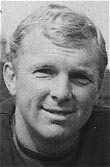 Bobby Moore was England's iconic captain during the 1966 World Cup Final, leading the English team to victory in the final against Germany. It is currently England's only World Cup win and remains the most famous English sporting achievement of the 20th Century. Bobby Moore was also widely admired for his gentlemanly conduct both on and off the field.
Over his international career, he was awarded 108 caps for England – then a record for an outfield player. His record has subsequently been beaten by David Beckham, though in an era pre-dating substitution, Moore played for the entirety of the game, unlike modern caps. He also played for West Ham for over 15 years before finishing his career with second division Fulham.
Bobby Moore was considered to be one of the world's best defenders. He combined a great understanding and reading of the game with a superb level of fitness, discipline and commitment. He wasn't the quickest defender or most naturally talented player, but he had excellent timing and frequently showed his capacity to intercept and predict the movement of attacking players. Such were his powers of reading the game and knowing what would happen, Jock Stein said of Bobby Moore: "there should be a law against him. He knows what's happening 20 minutes before everyone else."
He was widely regarded as a great gentleman of the game. Pele said he was one of the fairest defenders he had played against. In the 1970 World Cup, many see Bobby Moore's perfect tackle of Jairzinho as one of the greatest tackles of all time (in one of the classic world cup games.) As a defender and player, Bobby Moore was widely regarded as a commanding, authoritative presence. But, his imperious authority was always based on honesty, and fair-minded play. In an age of highly paid football stars and the immense influence of money in the game, Moore represents, to many, the Corinthian Spirit of honest endeavour.
Bobby Moore was born in Barking, Essex on the 12th April 1941. As a youngster, he played for cricket for Essex youth team, but his greatest love was for football. In 1956 he made his youth debut for West Ham United, and in 1958, made his first appearance for the senior club. He went onto play 544 games for West Ham in the next 16 years. He moved to Fulham for the 1974-77 years before finishing his playing career abroad, including the US soccer league.
In the early 1980s, he made a largely unsuccessful move into football management for Oxford City and Southend United. He also struggled with various failed business opportunities, being badly advised on financial matters. However, he was still very highly regarded in the game. He died in 1993, aged just 51, from bowel cancer. He was widely mourned and the Bobby Moore foundation was set up to raise funds for bowel cancer. He is regarded as one of the greatest England players of all time.
Sir Alf Ramsey who was England's manager for the 1966 World Cup, paid this tribute to Bobby Moore:
"(he was) my captain, my leader, my right-hand man. He was the spirit and the heartbeat of the team. A cool, calculating footballer I could trust with my life. He was the supreme professional, the best I ever worked with. Without him England would never have won the World Cup."
Bobby Moore was awarded the BBC sports personality of the year award in 1966, the first footballer to achieve the award.
Citation: Pettinger, Tejvan. "Biography of Bobby Moore", Oxford, UK. www.biographyonline.net, 28th May 2007. Updated 1st February 2017.
Bobby Moore: The Definitive Biography
Bobby Moore: The Definitive Biography at Amazon
Bobby Moore Video
Related pages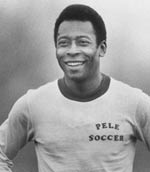 100 Famous sporting personalities – 100 Famous sporting personalities, including Muhammad Ali, Nadia Comaneci, Pele and Jesse Owens.
Famous

English people – Famous English men and women. From Anne Boleyn and Queen Elizabeth I to Henry VIII and Winston Churchill. Includes the great poets – William Shakespeare, William Blake and William Wordsworth.

Great Briton list – Top 100 famous Britons as voted by a BBC poll. Including Winston Churchill, William Shakespeare, Thomas Cromwell and Queen Elizabeth I.