Barnes Neville Wallis (1887-1979)
Sir Barnes Wallis, was an English scientist, engineer and inventor, best known for his development of the 'bouncing bomb' used in the destruction of the Ruhr dams during the 'dambuster raid' of the Second World War.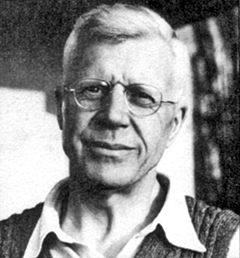 Barnes Wallis was born in Ripley, Derbyshire, leaving school aged 17 to work at an engineering works at Blackheath, London. In 1913, he took an opportunity to work for the aircraft design at Vickers. In 1913, aircraft design was in its infancy, but the First World War, increased the importance attached to the development of aircraft technology. Barnes enjoyed his work and in 1922, took an external degree in engineering via the University of London's external programme.
Barnes Wallis played a key role in developing the airships of the 1920s and early 1930s. He designed a geodesic design in the Vicker's R100 spaceship. Airship development was abandoned after the Hindenburg disaster, but his geodesic airframe was adapted for conventional planes. The structure gave pilots a better chance of returning home, even after experiencing a direct hit from anti-aircraft fire.
With the onset of the Second World War, Barnes sought for ways to develop strategic bombing to enable the allies to take the war effort into Germany. His first design was for a ten tonne super bomb, which would have required a more powerful plane – Victory Bomber to actually be able to carry it. This plan never came to fruition. But, in 1942, he began work on a surface torpedo bomb which would enable the destruction of dams protected from conventional bombs.
In 1943, the allies were under pressure from the Soviet Union to open a second front against Germany. However, at the time, Britain didn't feel ready to invade mainland Europe. Therefore, a high priority was placed on strategic bombing as a way of attacking the enemy and showing Stalin they were serious in defeating Germany.
However, despite the high priority of bombing, Wallis had great difficulty getting his ideas accepted by the military command. To be fair, they were presented with many ambitious ideas, which often lacked practicality. Also, the idea was quite unique. Wallis had designed a bomb that was designed to bounce along the water for a certain distance before hitting the target and then sinking down to explode near the base.
Despite frequent rejections, Wallis had great faith in his design. He worked around the clock to develop prototypes. He even started by bouncing marbles in a swimming pool in his back garden. Eventually, after speaking directly to Bomber Harris, Wallis was given the go ahead to develop a bomb, and a date for a potential attack was set for May of 1943. This gave Wallis little time to develop a working model which could be used by pilots.
To his great disappointment, his first bombs real bombs failed to bounce and exploded on impact. This necessitated more modifications and asking the pilots to fly at an even lower height. Wallis managed to make the new bombs just in time and in May 1943, his bombs were successfully used in 'Operation Chastise' – attacking the Mohne, Eder and Sopre dams in the Ruhr area. Though the military benefit of the attacks was less than perhaps initially damaged. It was a great morale boost, and the image of devastation were used by Churchill next time he saw Stalin. The project was later made famous in the 1954 film The Dam Busters – with Michael Redgrave playing Barnes Wallis.
After the Dam Busters raid, Wallis worked on deep penetration earth quake bombs and other technical developments for Vickers. He worked until his retirement in 1971. He was knighted in 1968.
He married Molly Bloxm in April 1925, and remained married for 54 years until his death in 1979.
Citation : Pettinger, Tejvan. "Biography of Barnes Wallis", Oxford, www.biographyonline.net, 14th Feb. 2010
Related pages
Books on Barnes Wallis