Padre Pio (1887-1968)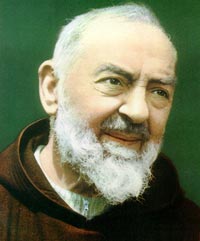 Saint Pio (Pius) of Pietrelchina was a Capuchin Catholic priest from Italy, who is venerated as a saint. During his lifetime, he became known for bearing the stigmata (wounds of Christ). His followers attributed several miracles to his intervention. Other people, including those from within the Catholic Church, were more sceptical about his supernatural experiences. However, despite being scrutinised by the church during much of his life, his reputation rose during the papacy of John Paul II; Padre Pio was canonised on 16 June 2002.
Padre Pio was born Francesco Forgione on May 25, 1887, in Pietrelcina, in Campania, southern Italy. His parents were poor peasant farmers; they were also deeply religious and celebrated the main religious festivals of the region. From an early age, Pio displayed strong religious inclinations and voluntarily undertook penances, such as sleeping on a stone, even when young.
Francesco helped his family looking after livestock until he was ten years old, and so he gained only a limited education. When he first applied to join the Capuchin order, he was told he had to go and gain more education first. After gaining some private tuition, in 1903 at the age of 15, he entered the novitiate of the Capuchin Friars at Morcone, where he took the name Friar Pio. The Capuchins are an offshoot of the Franciscan order, founded by St Francis of Assisi. The Capuchins seek to return to the extreme austerity, simplicity and poverty envisaged by St Francis. Thus the young Padre Pio took vows of poverty, chastity and obedience.
After entering the friary of St Francis, Pio experienced both severe illnesses and moments of religious ecstasy. It was said that strange sounds could be heard from his room. Padre Pio said he would frequently be attacked by the devil and the sounds were from the battles taking place. Despite being severely ill, he was ordained a priest in 1910 at the Cathedral of Benevento.
In 1916, he moved to the Our Lady of Grace Capuchin Friary, located in San Giovanni Rotondo in Foggia. Apart from military service, he would stay there until his death.
During the First World War, Padre Pio was drafted into the medical corps of the Italian army. Due to ill health, he had to take time away from his service. He was finally discharged due to ill health in March 1918.
On returning to the Friary, Padre Pio became a spiritual director responsible for confession, daily communion and direction of other members of the community.
Padre Pio had a great impact on those who came into contact with him. Many parishioners were inspired by his teachings and felt he had a spiritual capacity to solve their problems. In particular, he advised people to pray, meditate and try to recognise God in all things.
"Through the study of books one seeks God; by meditation one finds him"
Above all, he encouraged his Christian followers to seek to do the will of God and be detached from personal desire. One famous saying of his was
"Pray, Hope and Don't Worry"
A key feature of Padre Pio's life was his persistent illness and suffering. He experienced a whole range of illness, including bronchitis, a painful kidney stone, chronic gastritis, arthritis, hernia and a tumour on his ear. He felt that suffering could be taken as a way to approach God. Padre Pio said that suffering in the right spirit could take the soul to God.
From an early age, he reported experiencing the stigmata – the wounds of Christ, especially in the hands. He stated that a red mark appeared on his hands, accompanied by acute pain. He wrote that he prayed for the wounds to be taken away because he was embarrassed by the visible wounds. The wounds temporarily disappeared but continued to experience the pain, which was often worse on specific days.
In 1918, during the last year of the First World War, he had an intense experience. Inspired by Pope Benedict VX call for Christians to pray for the end of the war, Padre Pio offered himself as a victim for the end of the war. He then recalled having a vision where Christ appeared and pierced his side. He experienced intense pain, and fellow friars noted that Padre Pio looked as if he had died, and was constantly weeping for the next few days.
However, on 20 September 1918, he again experienced the wounded Christ come to him. But, this time his pain was taken away and Padre Pio now felt a profound religious ecstasy. But, his stigmata wounds returned and remained permanent throughout the next 50 years.
Padre Pio reveals how he welcomed the pain but was deeply humiliated by the outer signs.
"Dear Father, I am dying of pain because of the wounds and the resulting embarrassment I feel deep in my soul. I am afraid I shall bleed to death if the Lord does not hear my heartfelt supplication to relieve me of this condition. Will Jesus, who is so good, grant me this grace? Will he at least free me from the embarrassment caused by these outward signs? I will raise my voice and will not stop imploring him until in his mercy he takes away, not the wound or the pain, which is impossible since I wish to be inebriated with pain, but these outward signs which cause me such embarrassment and unbearable humiliation."
Although Padre Pio sought to keep his stigmata private, his experience became increasingly well known. From 1919, people increasingly came to visit this extraordinary Friar. People started to attribute to him divine gifts, such as levitation, miracle healings, prophecy and the ability to survive on little food and sleep. Others claimed he was able to appear in two places at once (bilocation).
Padre Pio became well known for his very long masses. He would frequently slip into long contemplative pauses in between various parts of the service. When asked to shorten mass, Padre Pio replied
'God knowns that I want to say Mass just like any other priest, but I cannot do it.'
People around Padre Pio felt he was man constantly absorbed in prayer. Pope Paul VI said in 1971
"What fame he had. How many followers from around the world. Why? Was it because he was a philosopher, a scholar, or because he had means at his disposal? No, it was because he said Mass humbly, heard confessions from morning until night and was a marked representative of the stigmata of Our Lord. He was truly a man of prayer and suffering."
He loved to pray the rosary and encouraged other people to do the same. Padre Pio was in the tradition of mystics who sought union with God. He felt through prayer and meditation, the soul could be brought into union with God.
"It is now God Himself who acts and operates directly in the depths of my soul, without the ministry of the senses, either interior or exterior. . .All I can say of this low res onepresent state is that my soul has no concern for anything but God."
My usual manner of praying is this: I no sooner begin to pray than my soul becomes enveloped in a peace and tranquillity that words cannot describe. . .All I can say about this prayer is that my soul seems to be completely lost in God and that in those moments it gains more than it could in many years of intensive spiritual exercises.
Padre's unique gifts made him a controversial figure. Some claimed his divine gifts were fraudulent. In the 1920s, the Vatican banned Padre Pio from hearing confessions and saying mass. But, despite official misgivings, there was a groundswell of popular support for Padre Pio. When the Vatican contemplated moving Padre Pio to another friary, it had to be abandoned after seeing the strength of opposition from local people.
In 1933, Pope Pius Xi reversed the ban and allowed Padre Pio to restart his public celebration of mass.
In 1940, he announced plans to open a hospital in San Giovanni Rotondo called – 'Home to relieve suffering". The hospital opened in 1956, with help from Barbara Ward, a British humanitarian who helped secure a grant from the United Nations Relief and Rehabilitation Administration.
During the 1950s and 60s, his fame continued to spread. He was subject to further investigations by the Holy See, who sought to establish the nature of Padre Pio's miracles. On September 21, 1968 – one day after the 50th anniversary of receiving the stigmata, Padre Pio felt immense tiredness and became increasingly weak. On 22 September, despite great frailty, he celebrated his last mass to a large number of pilgrims.
On September 23rd, he made his last confession and renewed his Franciscan vows. He died in his cell in San Giovanni Rotondo, early in the morning. His last words were Gesu, Maria (Jesus, Mary)
Padre Pio was buried on September 25 in the Church of Our Lady of Grace, to a requiem Mass attended by over 100,000 people. The Church of Our Lady of Grace is now one of the greatest places of Christian pilgrimages in the world.
It is said, that a young Pope John Paul II (then Father Karol Wojtyla) visited Padre Pio in 1947, for confession. Cardinal Stickley says that the Wojtyla reported Padre Pio had predicted he would one day ascend to 'the highest post in the Church though further confirmation is needed.'
After his death, his popularity grew. (When he was alive, he had said. "After my death, I will do more. My real mission will begin after my death.") There are an estimated 3 million members of Padre Pio prayer groups around the world. Pope John Paul II declared Padre Pio a saint on June 16, 2002.
On 3 March 2008, his body was exhumed from its crypt so that it could be put on public display. Over 800,000 people applied to file past his body.
Citation: Pettinger, Tejvan. "Biography of Padre Pio", Oxford, UK – www.biographyonline.net. Last updated 3rd August 2013.
Padre Pio: The True Story
Padre Pio: The True Story at Amazon
Related pages

Spiritual figures – Famous saints, mystics and religious figures. Including Jesus Christ, The Buddha, Lord Krishna, St Teresa of Avila.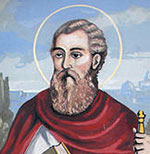 Christians – Famous Christians from Jesus Christ and the early Apostles to Catholic Popes and saints. Includes St Francis of Assisi, St Catherine of Sienna and St Teresa.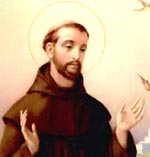 Famous saints – Famous saints from the main religious traditions of Christianity, Hinduism, Islam, Judaism and Buddhism. Includes St Francis of Assisi, Mirabai and Guru Nanak.
External links