Population of Scotland: 5,313,600 (9% of UK population 64m)
Area: 33% of UK landmass including 790 islands. (660 uninhabited)
Capital: Edinburgh
Patron Saint: Saint Andrew
Scotland's major cities
Glasgow – 592,820
Edinburgh – 486,120
Aberdeen – 217,120
Dundee – 144,290
Inverness – 56,660
Stirling – 89,850
Mountains: Ben Nevis is the highest peak in the UK at 1,346m.
There are 600 square miles of freshwater lakes, including Loch Ness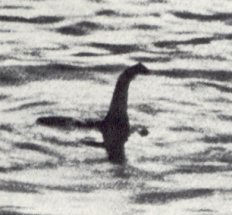 Loch Ness Monster is a famous and enduring myth of an ancient sea creature still inhabiting the deep loch of Loch Ness in the Scottish Highlands. It became world famous in 1934 after a hoax photograph was widely circulated.
The first recording of the Loch Ness monster was 565 AD where a follower of St. Columba related being attacked by a 'water beast.'
Scottish dogs.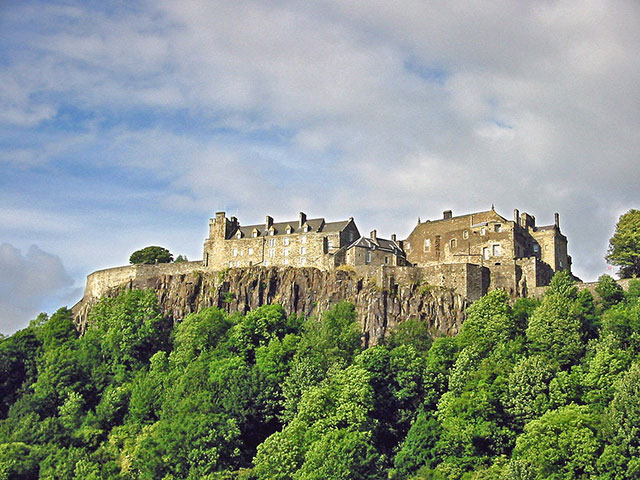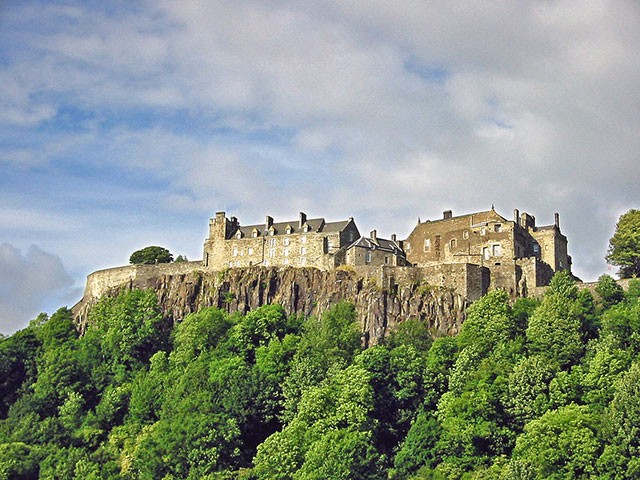 There are over 2,000 castles recorded being built in Scotland, most of which are still standing. Famous castles include Stirling Castle (above) Balmoral and Edinburgh Castle. Usually, these were built as defensive mechanisms.
Scottish culture and tradition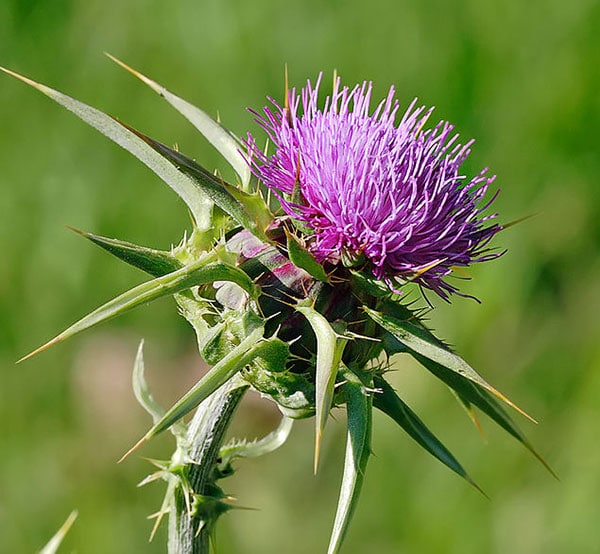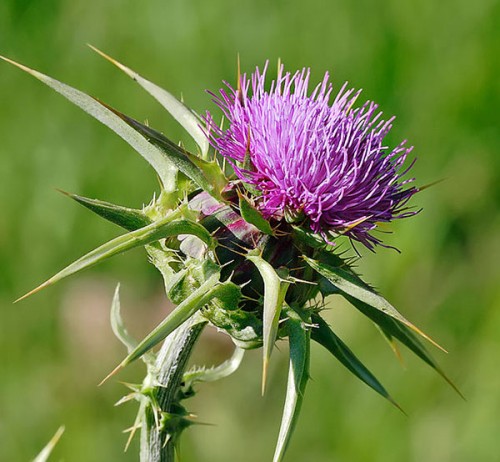 A symbol of Scotland is the Scottish thistle. This dates back to the era of Viking conquests of Scotland. According to one legend, a Norse army was trying to sneak up on a Scottish camp at night. But standing on a thistle, caused him to exclaim in pain and give up their position.
The unofficial Scottish national anthem is "Flower of Scotland" composed 1967 by folk musician Roy Williamson; it refers to Battle of Bannockburn 1314.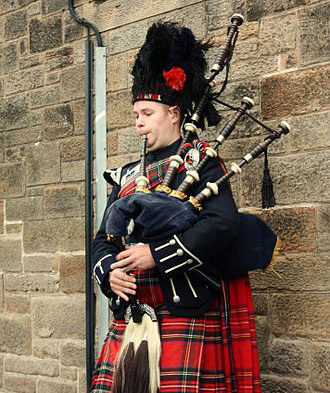 Bagpipes are the traditional instrument of Scotland. They are a wind instrument with a large bag of air. They have been associated with Scotland since the Sixteenth Century when a French historian noted their use at the Battle of Pinkie Clough in 1547.
The bagpipes are the official instrument of the sport of curling – a sport closely linked to Scotland.
Kilts. Tartan kilts became a popular dress for Highland chieftains in the Seventeenth Century. The word kilt means to tuck up the clothes around the body.
A tailored kilt became adopted by Highland regiments of the British army.
Tartan is a style of weaving and colouring. In the Ninetieth Century, tartan styles became increasingly differentiated and associated with different clans and families, including the British Royal family.
In 1746, after the Jacobite uprising, it became a criminal offence to wear a kilt (and all items of Highland dress). It fell out of use, but in the Nineteenth Century became a popular symbol of Scottish culture in not just highlands, but also low land. Queen Victoria dressed her children in kilts when on vacation in Balmoral.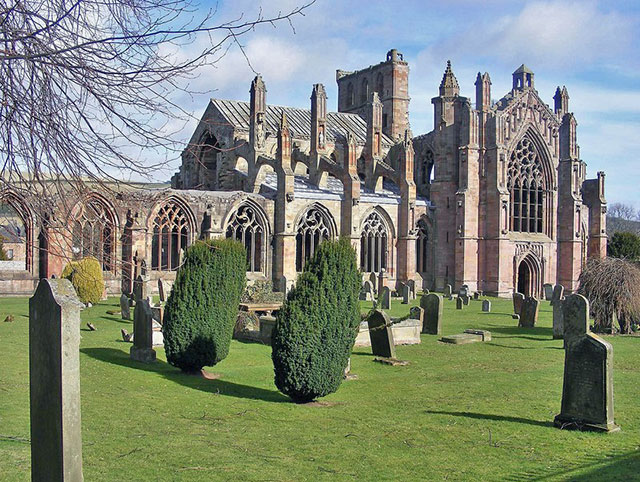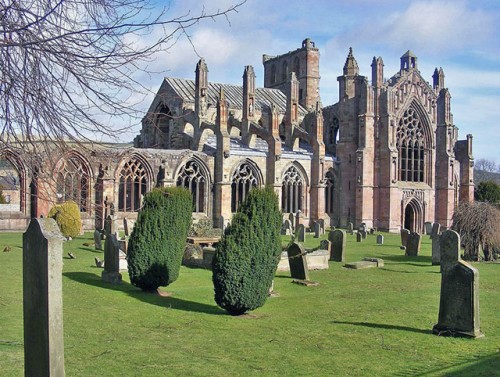 Rosslyn Chapel was found in the mid-15th century. Originally a Catholic church it was reopened in Nineteenth-Century as an Episcopal Church. It has featured in theories of links to the Knights Templar, the Holy Grail and Freemasonry.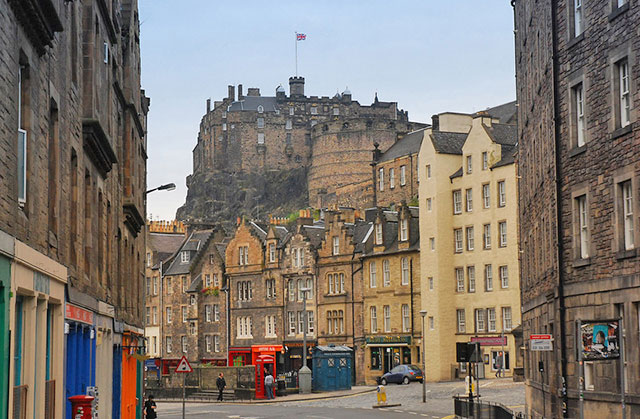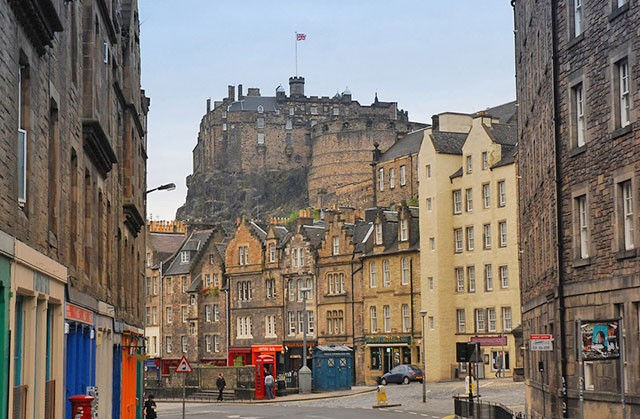 The Edinburgh Festival was founded in 1947, as two independent festivals The Edinburgh International Festival and Edinburgh Fringe Festival. It is was one of best known cultural and artistic festivals in Europe.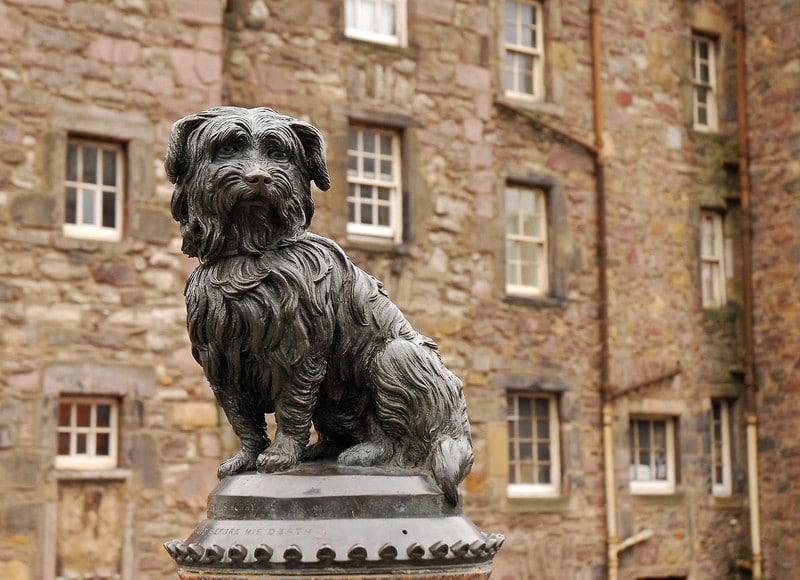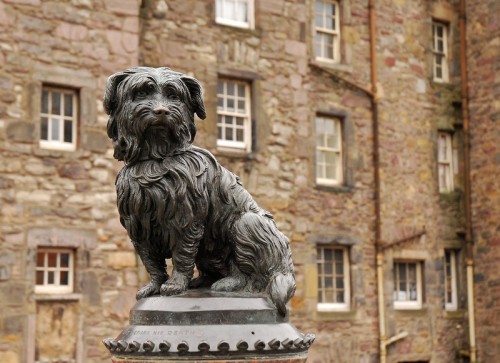 Scotland has a long tradition of breeding domesticated animals, including the Scottish Terrier, Shetland Sheepdog, Skye Terrier, Border Terrier
Greyfriar's Bobby is one of the most famous dogs. There is a statue in Edinburgh; the dog gave up his life for the owner.
St Andrews is considered the home of golf and is one of the oldest golf clubs in the world, founded in 1843.
St Andrews University is the third oldest English speaking university. Alumni include Prince William, the Duchess of Cambridge (Catherine Middleton), and Alex Salmond.
Scotland vs England
On the official coat of arms for the United Kingdom, on the left is the lion of England and on the right – the Unicorn of Scotland.
The lion and unicorn had long been seen as enemies. The gesture of King James to place lion and unicorn on the same image was seen as a symbolic union of two countries.
In Celtic mythology, the Unicorn symbolises innocence, purity, healing powers, life, but at the same time masculinity and divine power.
Scotsman William Paterson founded the Bank of England in 1694 and the Bank of Scotland a year later.
England-Scotland is the oldest national footballing rival. It was the first international fixture, played in 1872 in Glasgow. (it was a 0-0 draw)
The England-Scottish games were also important for developing team tactics.
Scottish journalists have often referred to England as the "Auld Enemy" – a fierce rivalry in rugby union and football.
Aberdeen won the European Cup Winners' Cup in 1983. One of the smallest towns to win a major European trophy.
Celtic were the first British winners of the European Cup in 1966-67. The Celtic team players were all born within a 30-mile radius of Glasgow.
Random facts about Scotland
11% of Scottish people have red hair – a higher percentage than in any other country. 40% carry the recessive gene.
61% of American Presidents are of Scots or Scots-Irish descent.
The first two Prime Ministers of Canada were Scottish John A. Macdonald (1815-1891) and Alexander Mackenzie (1822-1892)
Four Prime Ministers of New Zealand were born in Scotland. – Robert Stout (1844–1930), b. Lerwick, Thomas Mackenzie (1854–1930), b.Edinburgh; Peter Fraser (1884–1950), born Tain; Edward Stafford,  born Edinburgh.
Australia's most successful early Prime Minister Rt Hon. Andrew Fisher 1862–1928 was born in Kilmaurs, East Ayrshire, Scotland and started the. He also founded the government-owned Commonwealth Bank.
Around five million Americans and Canadians identify with Scotland.
Prior to 1707 union, the Scots had their own currency the pound Scots, which was pegged at a value of 12 pounds Scots = 1 pound sterling.
The shortest scheduled flight in the world is one-and-a-half miles long from Westray to Papa Westray in the Orkney Islands of Scotland. The journey takes 1 minute 14 seconds to complete
Edinburgh was the first city in the world which had its own fire brigade.
Haggis a traditional Scottish food, is made with the heart, liver and lungs of a sheep, boiled in its stomach.
The deep-fried Mars bar is said to have originated at a chip shop in Aberdeen in 1995.
The 'Glasgow effect' refers to the unexplained poor health and low life expectancy of residents of Glasgow, possibly related to poor nutrition and environmental factors.
With a population of 1.2 million in greater Glasgow, life expectancy at birth is 71.6 years for men, nearly seven years below the national average of 78.2 years, and 78 years for women, over four years below the national average of 82.3
The life expectancy for men in the Calton area of Glasgow was 54 years (2001)
Scotland has always had its own judicial system. Juries can return a verdict of "guilty", "not guilty" and "not proven."
Scottish Inventions
The raincoat (1824) Charles Macintosh invented a raincoat 'mac' made out of a lightweight waterproof material.
Television (1925) developed by John Logie Baird.
Telephone (1876) by Alexander Graham Bell
Penicillin (1928) The antibiotic was discovered by Alexander Fleming.
History
Scotland is derived from Scotia, the Latin name for the Gaels.
During Roman occupation of Britain, the Caledonian tribes in Scotland resisted Roman rule.
In 122 AD during the reign of emperor Hadrian, the Romans built Hadrian's wall, to provide defensive positions. It was effectively the northern limit of the Roman empire.
20 years later they built Antoine Wall at the Firth of Forth, to keep out northern tribes.
The Kingdom of the Picts is seen as a development of a Scottish identity.
11th century at the latest, Scotia was being used to refer to (Gaelic-speaking)
9th century Kingdom of Scotland emerges (traditionally 843)
(1295–1560).  Scotland and France sealed a treaty on 23 October 1295, known as the Auld Alliance. Scottish kings refusal to fight for Edward I against French was a start of Wars of Scottish Independence.
(1296–1328) Wars of Scottish Independence
(24 June 1314) A significant Scottish victory in the First War of Scottish Independence. Scottish king Robert the Bruce, defeating Edward II at Stirling Castle.
1502, James IV of Scotland signed the Treaty of Perpetual Peace with Henry VII of England and married Henry's daughter Margaret Tudor.
1513 Battle of Flodden, Scottish King James IV, invaded England, as part of the French alliance. At Braxton, Northumberland, King James IV died in battle becoming the last king from the British Isles to die in battle.
1603, King James VI of Scotland became King of England and King of Ireland.
1698 Many Scottish nobles went bankrupt investing in a trading colony in Panama.
1 May 1707 Scotland a political union with England on 1 May 1707 to create the new Kingdom of Great Britain.
1715 and 1745 Jacobite Risings, predominantly from Scottish Highlands and with support of the French. In 1744 Jacobite uprising led by 'Bonnie Prince Charles' who claimed the Stuart line to the throne.
16 April 1746 Battle of Culloden, Jacobites defeated leading to Highland clearances and attack on Scottish clan system.
18th Century Scottish Enlightenment – A period of scientific, social and philosophical developments. With Scotland at the epicentre of global thought and ideas. Great thinkers included David Hume (philosophy) and Adam Smith (economics).
1997 Scottish devolution referendum voted for new Scottish Parliament.
12 May 1999 Scottish Parliament founded in Holyrood, Edinburgh.
2015 Referendum on Scottish independence. 55% to 45% voted to stay in the union.
Citation: Pettinger, Tejvan. "Facts about Scotland", Oxford, UK. www.biographyonline.net, Published 1st Feb 2016. Last updated 30th January 2017.
Scotland
Scotland  at Amazon
Related pages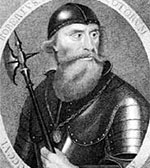 Robert the Bruce (1274 – 1329) Born north of Girvan in Ayrshire. King of Scots (1309-1329). Leader of the revolt against English rule during wars of Scottish independence.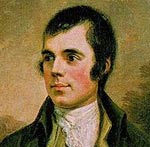 Robert Burns (1759 – 1796) Born Alloway, Burns was a romantic poet, considered the National Poet of Scotland. Burns often based his poetry on traditional folk songs. He wrote  'Auld Lang Syne'.

Alex Ferguson (1941 – ) Football manager, born Glasgow. Ferguson achieved unprecedented success with Aberdeen and Manchester United becoming the most successful British manager of modern times.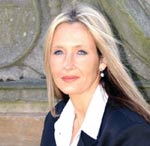 J.K.Rowling (1965 – ) Author of the Harry Potter Series – which has become the best selling book series of all time. In 1993 moved to Edinburgh has been active speaking on social and political issues, such as Scottish independence.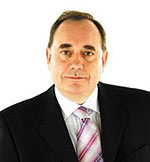 Famous Scottish people – Influential men and women including Robert the Bruce, Alexander Fleming, John Logie Baird and William Wallace.

Great Briton list – Top 100 famous Britons as voted by a BBC poll. Including Winston Churchill, William Shakespeare, Thomas Cromwell and Queen Elizabeth I.
Miscellaneous facts
Scots soldiers of the Garde Écossaise fought alongside Joan of Arc against England during the Hundred Years War. Part of the Auld Alliance.
Economy
Major Scottish exports
Food and drink (esp. whisky)
Refined petroleum (North Sea oil)
Business services
Machinery and equipment
Electronic products